PETA activists decrying the cruelty of the exotic-skins industry took to the streets outside Hermès' New York City flagship store on Madison Avenue, just one day after a showdown at the company's annual meeting of shareholders. In a striking visual display, PETA supporters donned gas masks, hazmat suits and high heels and carried "purses" plastered with the bold message "Prevent Pandemics: Ban Exotic Skins."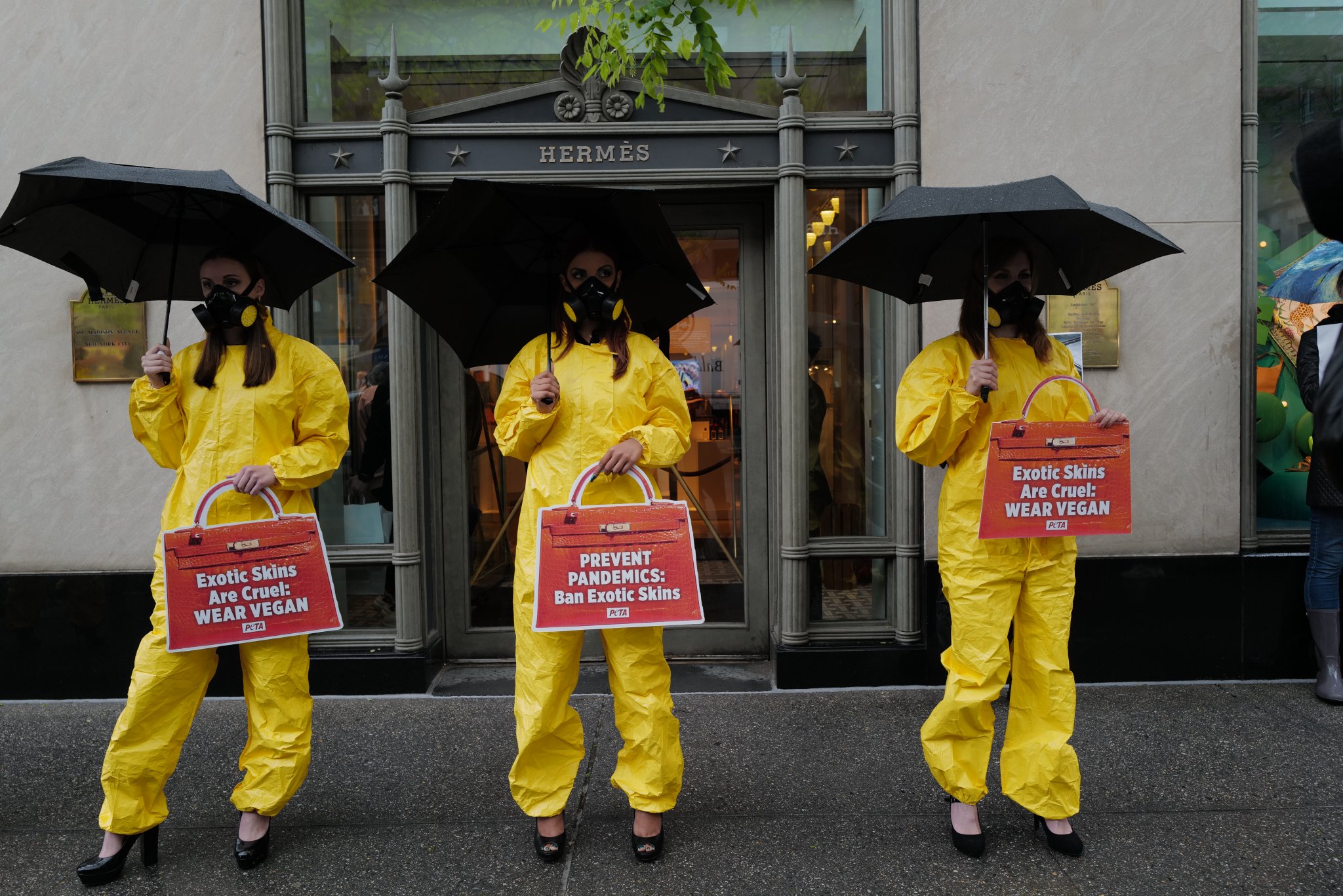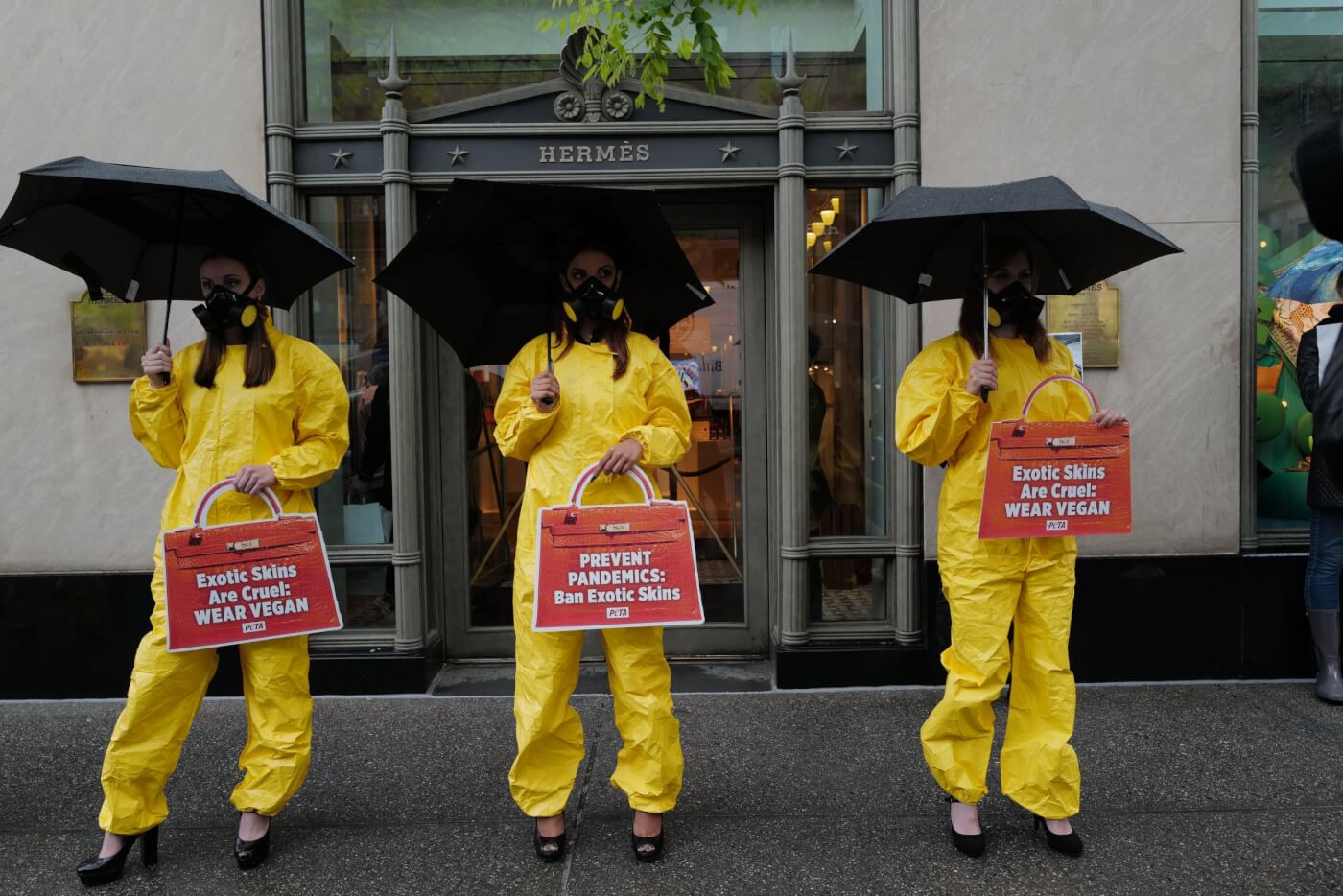 PETA's point? A sustainable and ethical business model simply cannot include the breeding, confining, killing, and processing of tens of thousands of sentient crocodiles, alligators, and ostriches every year.
While PETA is pleased that Hermès has started to follow the lead of other designers by introducing more animal-friendly materials, such as mushroom leather, we'll continue to urge the company to ban exotic skins and immediately scrap plans to build what would be Australia's largest crocodile factory farm, holding as many as 50,000 animals.
Conservation and health experts—including the United Nations and the World Health Organization—have highlighted humanity's "broken relationship with nature" and warned that the next pandemic could come from the fashion industry. Confining sick and stressed wild animals near each other increases the risk of zoonotic diseases. Much like a "wet market," where COVID-19 originated, such farms create a breeding ground for pathogens, like salmonella, E. coli, and West Nile virus—all of which crocodilians have been found to carry and can pass on to humans.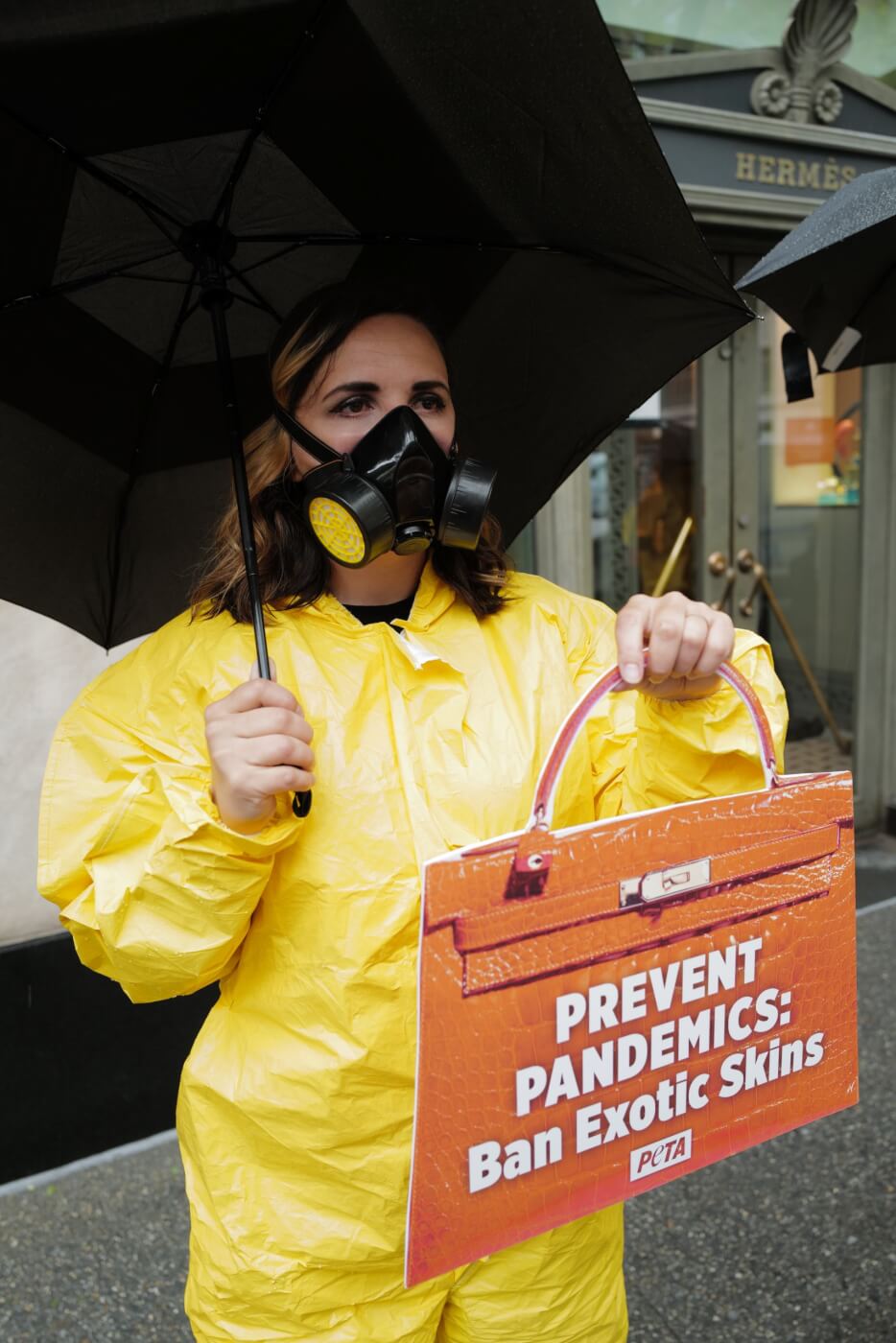 PETA's Inside Effort: Shareholder Activism at Hermès' Annual Meeting
Yesterday, during the company's annual meeting, PETA—an Hermès shareholder—planned to urge it to ditch skins from alligators, crocodiles, ostriches, and all other exotic animals.
Our simple question was this: When will Hermès join brands Chanel, Jil Sander, Vivienne Westwood, and others and ban the use of exotic skins in its collections? Executives refused to address our question, so we called in our reinforcements in hazmat suits and high heels for today's protest.
PETA first became an Hermès shareholder in 2015, after releasing an investigation into crocodile and alligator farms in Zimbabwe and Texas that exposed the appalling conditions in which animals were raised and killed before their skins were sent to Hermès-owned tanners. In 2016, we released shocking footage of an ostrich leather supplier to Hermès.
Take Action for Animals!
Please speak out for crocodiles, curious and sensitive animals who just want to be left alone to swim free, build nests, and protect their young. Denying them and other animals their freedom supports speciesism, and we need your help to end it. It only takes a minute using your phone or computer, so what are you waiting for?