Following an intensive yearlong PETA campaign, the National Institutes of Health (NIH) has announced that  it's ending the cruel psychological experiments on baby monkeys conducted by Stephen Suomi, who led this horrendous project at NIH for more than 30 years. His laboratory is being closed down, and he will no longer be involved in any experiments on animals.
The decision—which was first confirmed by Rep. Brendan Boyle's office—came as PETA was preparing to release troubling new videos and e-mails obtained from NIH showing that the experiments had continued through this year and that NIH officials had lied about the project's status to members of Congress, the media, and others.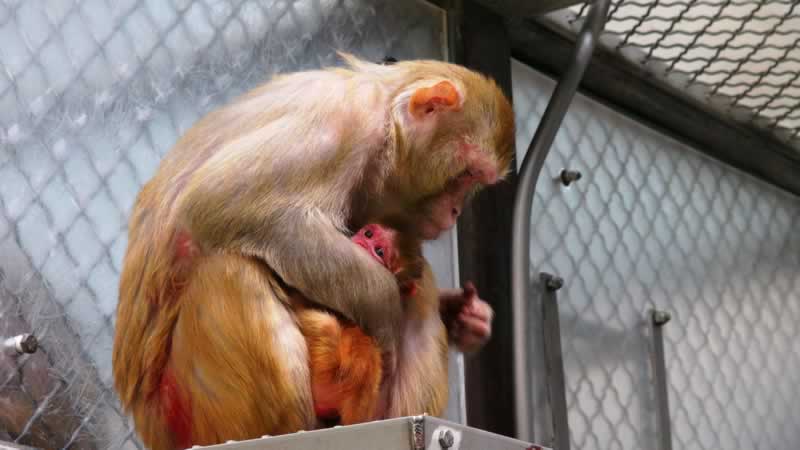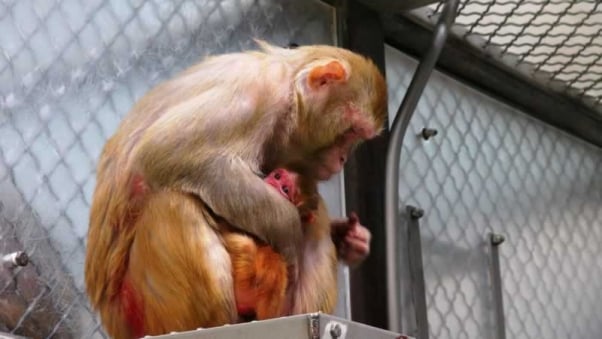 PETA's campaign began last fall when we released disturbing video footage of cruel and archaic maternal-deprivation experiments in which infant monkeys were torn away from their mothers at birth, terrorized with loud sounds and fake snakes, intimidated by human experimenters, addicted to alcohol, and forced to live alone in tiny cages in order to worsen their psychological distress. The trauma inflicted on the infants by NIH psychologically and physically crippled many of the monkeys for life.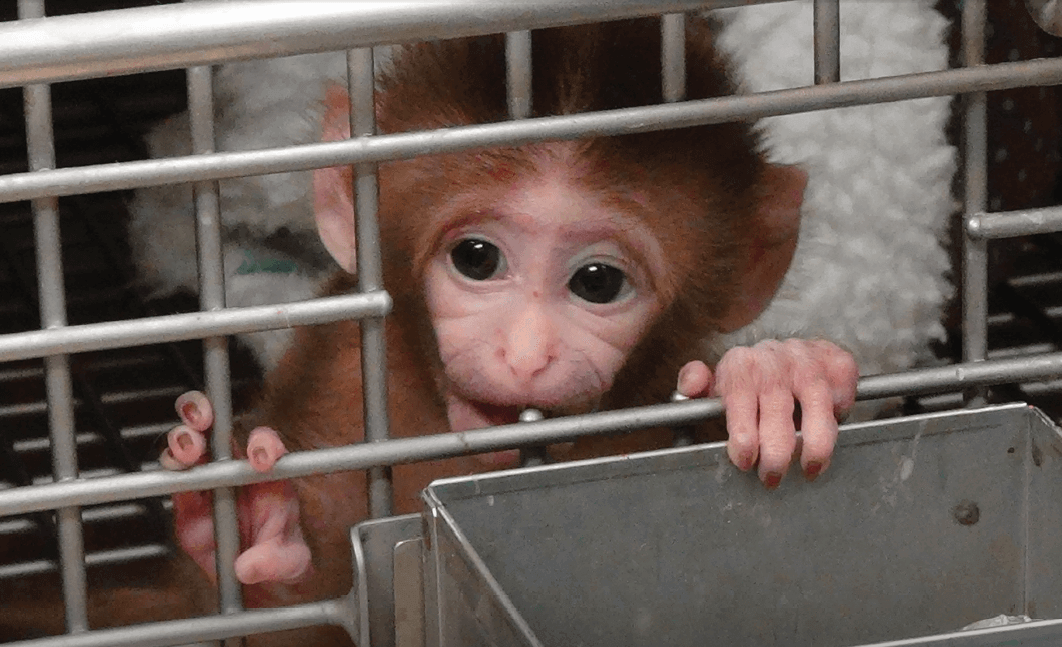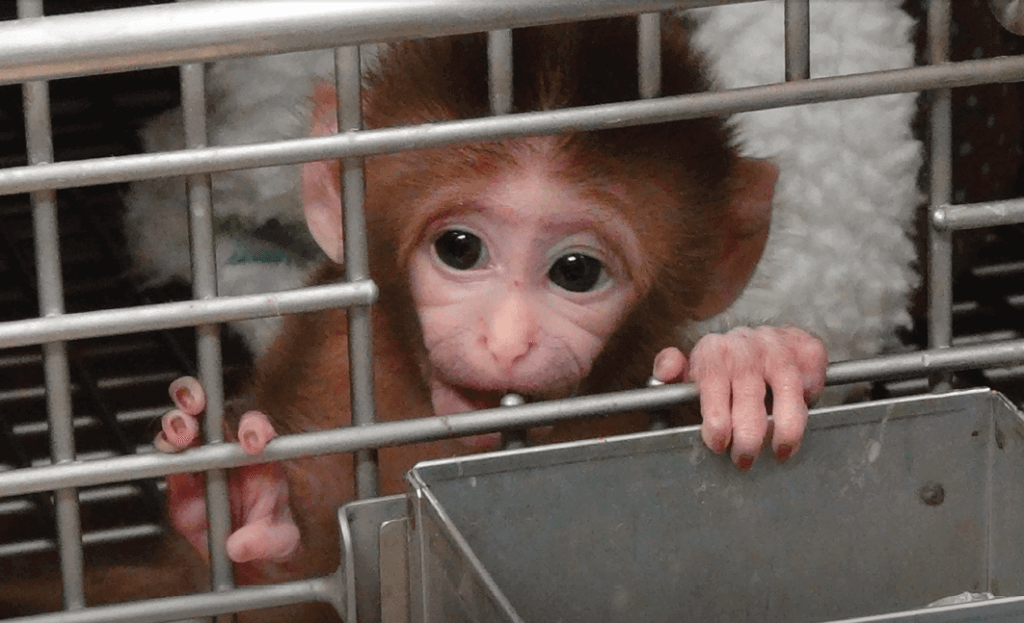 PETA's effort to stop baby monkeys from being terrorized and tortured at NIH included colorful protests, hard-hitting advertising campaigns, a disruption of an NIH seminar, and even a D.C.-wide guerilla street art installation by renowned artist Dan Witz.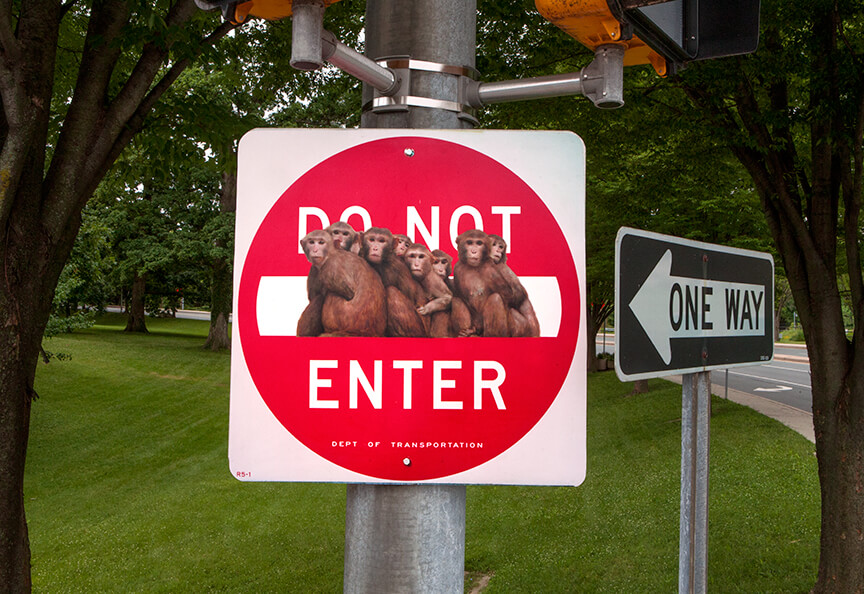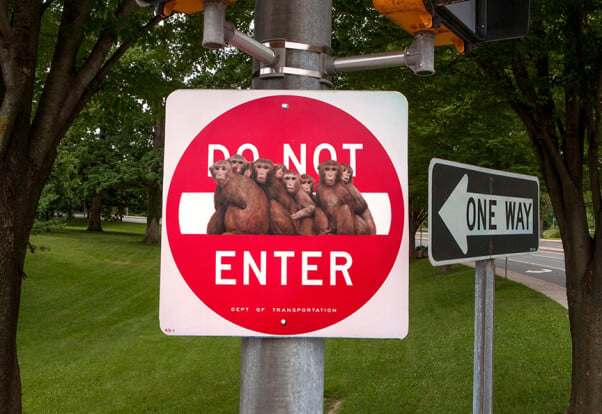 Dan Witz
More than a quarter million PETA supporters wrote to and called government officials to plead with them to take action. Celebrities—including actor James Cromwell, TV icon Bob Barker, celebrity psychotherapist Dr. Jenn Berman, conservative strategist Mary Matalin, members of Congress—led by Rep. Lucille Roybal-Allard—and various scientists criticized the experiments. Dr. Jane Goodall noted that in addition to being inhumane, the experiments were not applicable to humans and could easily be replaced with superior human-based research tools.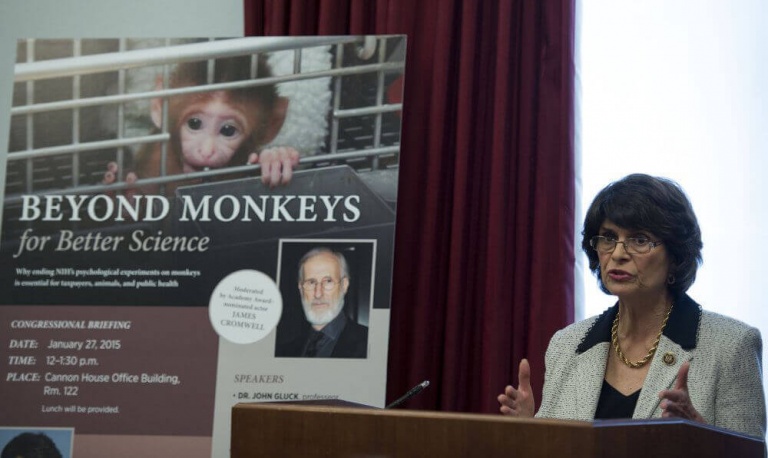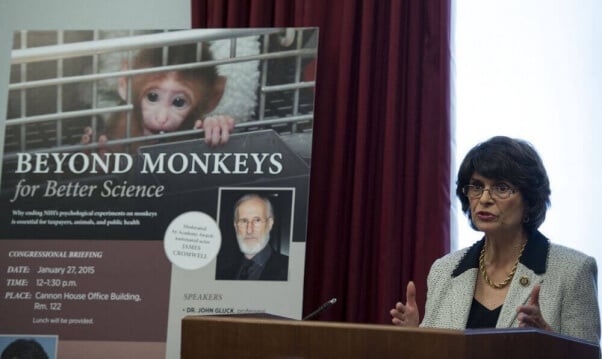 In response to the news, Rep. Roybal-Allard remarked, "For more than a year, I've been working to end cruel and wasteful experiments on infant monkeys at the National Institutes of Health. I am proud to have helped get the NIH to stop these experiments, and I am pleased that the laboratory where the experiments are conducted will be closed after more than thirty years. However, there is still more work to do. We must send these monkeys to sanctuaries, and get closer review of all primate tests so that we can identify and end unnecessary experiments."
PETA filed numerous complaints and scientific critiques with federal agencies and did vigilant follow-ups on the status of the experiments through the Freedom of Information Act.
There are approximately 300 monkeys left at the NIH laboratory and we will be pushing for them to be retired to sanctuaries, as NIH has committed to doing with chimpanzees.