UPDATE: In December 2015, President Barack Obama signed a federal spending package that included Rep. Lucille Roybal-Allard's potentially lifesaving measure that "requests NIH to conduct a review of its ethical policies and processes with respect to nonhuman primate research subjects, in consultation with outside experts." This followed the NIH's mid-December announcement that it is ending its cruel maternal-deprivation experiments on monkeys following a yearlong PETA campaign.
Originally Posted June 24, 2015:
Following PETA's investigation into cruel psychological experiments on infant monkeys at the National Institutes of Health (NIH) and pleas from Dr. Jane Goodall, Oscar-nominated actor James Cromwell, and TV icon Bob Barker, Congress is putting the experiments under the microscope.
The House Appropriations Committee has passed language—championed by California Rep. Lucille Roybal-Allard—in its critical spending bill mandating that NIH undertake a review of ethics policies regarding experiments on monkeys, with input from outside experts. Unlike experiments on humans, NIH currently does not subject experiments on animals other than chimpanzees to formal ethical review, including any risk-benefit analysis like the analysis done with human research participants. The bill will now move to the full House for a vote in the coming months.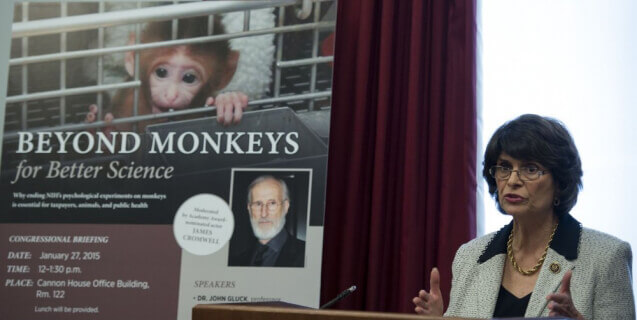 Leigh Vogel/PETA
Monkeys used in NIH's cruel psychological experiments exposed by PETA are bred to be prone to depression, taken away from their mothers at birth to induce trauma, locked alone in small cages, and then subjected to years of procedures designed to measure their severe fear, depression, and anxiety.
"I've had productive discussions with offices on both sides of the aisle about this issue, and I applaud Congress for acting to ensure more stringent and independent oversight of taxpayer-funded experiments on monkeys," says Barker, who stars in a new TV spot calling for an end to the experiments.
Says Cromwell, "I'm proud to have been involved with Rep. Roybal-Allard on this bipartisan effort to secure some much-needed ethical scrutiny of controversial experiments on vulnerable infant monkeys." Cromwell co-hosted a congressional briefing on the cruelty of the experiments, their inapplicability to human health, and the superior non-animal research methods available to study mental illness.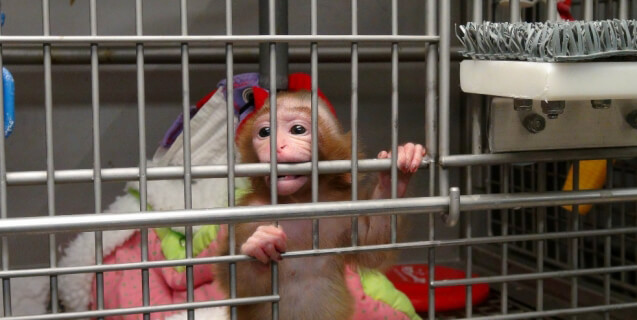 Other prominent figures who have teamed up with PETA to speak out against the experiments and call for reform include celebrity psychotherapist Dr. Jenn Berman, conservative strategist Mary Matalin, multiple members of Congress—including Reps. Sam Farr, Dina Titus and Eliot Engel—and more than 250,000 citizens.
Will experiments in which caged baby monkeys have been deliberately terrorized with fake snakes and loud noises pass an ethical review? We'll keep you posted, but in the meantime, please urge Congress to end funding for these cruel experiments.