Due to the companion animal overpopulation crisis, PETA knows the only choice when someone considers bringing a dog into their family is to adopt from an animal shelter. However, now that artificial intelligence is available to the general public, we wanted to make sure AI is getting it right—so we asked ChatGPT what it thinks about buying a dog as opposed to adopting one from a shelter.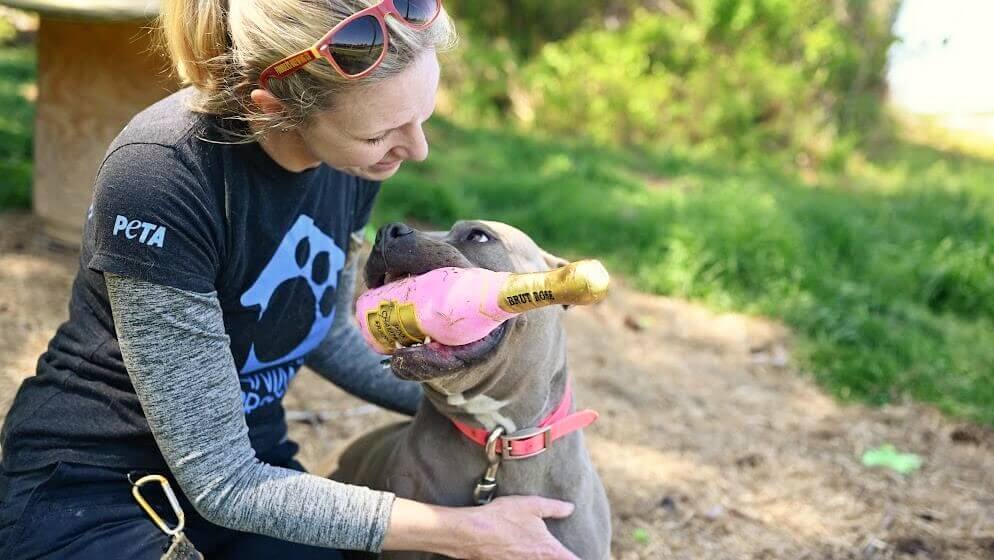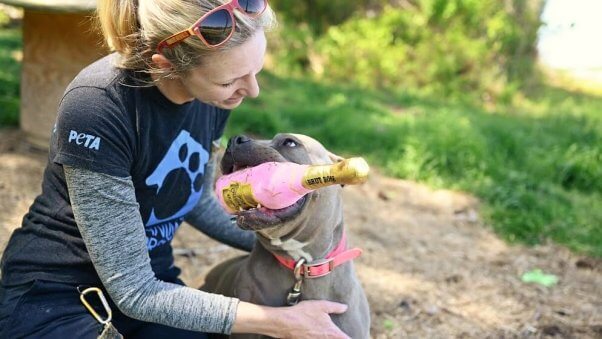 The Top 5 Reasons to Adopt a Dog, According to ChatGPT
ChatGPT: Adoption saves lives: There are millions of dogs in shelters across the country, many of whom are at risk of being euthanized due to overcrowding. Adopting a dog from a shelter not only saves that dog's life but also frees up space and resources to help other dogs in need.
PETA: On any given day in the U.S., an estimated 70 million homeless dogs and cats are struggling to survive. The last thing anyone should do is buy a dog from a greedy breeder and deprive a dog in a shelter of a chance to have a loving family.
ChatGPT: Health benefits: Many dogs sold by breeders or in pet stores come from puppy mills or other irresponsible breeding operations where the animals are not properly cared for or socialized. These dogs are more likely to have health and behavioral issues, while [dogs in shelters] are usually checked by a vet, spayed or neutered, and provided with basic medical care before being adopted out.
PETA: Yes, ChatGPT—all "purebred" dogs are at major risk of developing health issues. It's estimated that as many as one in four purebred dogs is afflicted with a serious genetic problem. In 2022, Norway became the first country to ban the breeding of English bulldogs and Cavalier King Charles spaniels over animal welfare concerns related to the medical conditions commonly endured by these breeds. It's also important to note that there is no such thing as a responsible breeder—anyone contributing to the animal overpopulation crisis is part of the problem.
ChatGPT: Saving money: Adopting a dog from a shelter is usually much cheaper than buying one from a breeder or pet store. [Dogs in shelters] often come with vaccinations, microchips, and spay/neuter surgery already completed, which can save you hundreds or even thousands of dollars in vet bills.
PETA: ChatGPT is sort of right, but it's important to note that open-admission shelters do everything they can for animals in need—on a limited budget, too—so getting a "deal" should never be a reason for adopting a companion animal. From low-cost or free sterilizations to vet care to a safe place to sleep, open-admission shelters like PETA's provide many services to help protect animals from harm and ensure their humane treatment. Plus, no matter how healthy dogs are, they will still be expensive. They'll need regular veterinary check-ups and maybe emergency care, food, treats, travel care, grooming, and toys. Additionally, they require lots of time and attention from their guardian. Companion animals of any species are a long-term commitment and a huge responsibility.
 ChatGPT: Better match: Shelter staff can help you find a dog [who] is a good match for your lifestyle and personality, rather than buying a puppy [who] might not be suitable for your needs.
PETA: Due to the animal overpopulation crisis, there are millions of dogs—including purebred dogs and ones of all ages and temperaments—in need of homes. No matter how specific the characteristics you're looking for may be, odds are the companion who is perfect for you can be found in a shelter.
ChatGPT: Ethical considerations: Buying a dog from a breeder or pet store can contribute to the demand for animals and support unethical breeding practices. Adopting a dog from a shelter is a more responsible choice that supports animal welfare and helps reduce overpopulation.
PETA: It's unethical to breed more dogs of any kind as long as millions of homeless dogs are in shelters or struggling to survive on the streets. Buying a purebred dog can cost the purchased dog a lifetime of painful health issues and deprives a dog in a shelter of a chance to have a loving home. Don't throw money at the dog-breeding industry, which clearly doesn't care about dogs' well-being.
The solution is simple: Stop breeding and buying dogs. All purebreds suffer from congenital, often painful conditions. If you have the time, money, patience, and love to care for an animal for life (which could be for more than 15 years), please adopt one from a shelter.