To everyone who has requested news of the poor dog we showed you in "A Helluva Night for Animals"—the dog who wandered into a firehouse early on Sunday morning after Hurricane Irene hit Norfolk—well, Mr. Jones is adapting nicely, thank you! Here he is on a cushy bed in PETA Vice President Daphna Nachminovitch's office, chilling between meals and snacks and pats and walks in PETA's Bea Arthur Dog Park. We have located his former guardian and had a real chin-wag with him. Mr. Jones will be re-homed elsewhere, and we already have a prospect. Also headed for a new home is this angel, whom you will recognize from "A Helluva Night for Animals." Nikita's "guardian" had an excuse as to why he was left in a pen alone with basically nothing to protect him from the elements (and boy, were there elements!) for three days but has signed him over for adoption too. Nikita will be neutered on our mobile clinic tomorrow!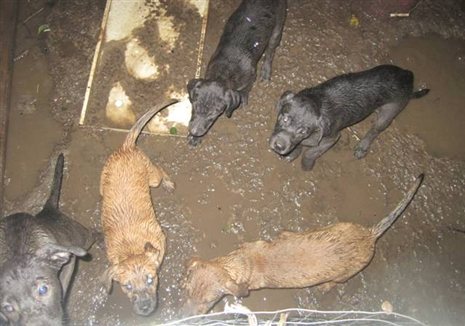 One more storm story that you might wish to hear about: Our neighbors and friends at Newport News Animal Services called us for assistance, and although the tunnel from Norfolk to Newport News was closed because of the storm, we had a fieldworker, Misty Collins, on their side of the peninsula who went out to help. In one yard, there were 12 dogs and puppies simply left behind during the hurricane. The area is a flood zone, and the tide was rising quickly. Some were tied up; some were running loose. We got everyone except five puppies who were so terrified that they fled under a deck. Because of the danger, the police determined that we had to leave the area immediately. Misty begged for five more minutes to try to get the puppies. The crawl space was so small that she couldn't reach them, so she quickly flung open the garage door and left the gate wide open so that the pups had an escape route, then all humans were ordered out. First thing in the morning, when the storm had passed and the water had receded sufficiently, Misty drove to the house again. All five pups were safe and dry. Animal control picked them up and cruelty-to-animals charges are now pending.
Remember all those dogs now called "Katrina"? Well, there's a new storm in town. Or, now, out of town―thank goodness.
Written by Ingrid E. Newkirk