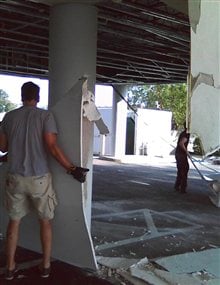 It's Sunday morning. Our building is in tatters, and two of our vehicles have cried "Uncle," but we have two more vehicles, and they and our emergency rescue efforts are still going strong. We are all so glad to keep getting the calls. Last night was very hard indeed: Our journeys took us into dark, deserted streets without traffic lights, deep in water, all bridges closed, tunnels and many roads impassable, tree limbs blowing about like kudzu. It took us longer to go a mile than to go five on a good day. We often had to turn back to find a new route through to our destination, as cars were abandoned, their lights below the water. But it was a successful night for some animals! I shan't tell you about them all, as we are leaving again now, but here are just a few of our rescues.
Just before dark, some wonderful person called in about this scared dog, named Nikita. The winds were nearing 70 miles per hour. He had been in this pen, with only one sheet of wood above him for "shelter" for three days. His people had left town. He came with us. That's his "after" picture. We will be looking to talk to his people, and they are on the list of those we hope to see in court. And, no, we will not be returning any of the animals who were abandoned to their own devices.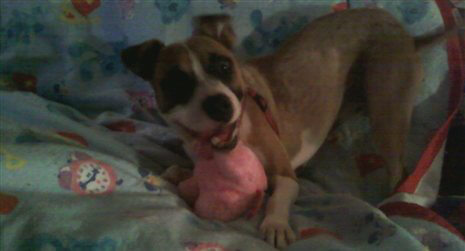 Nikita's PETA staff foster parents report:
He is a real trooper. He was so happy to be inside. He warmed right up to us, and within an hour, he was running around like he'd always lived with us. We even played tug of war! He laid on the couch, the floor, the chair, with us … wherever we were, he was. At one point, he heard a noise at the door, to which he promptly growled at the possible impending intruder to scare them off and protect us, even after humans had wronged him.
At midnight, I was at a Motel 6 with another PETA staffer. Members of an indigent, caring family, who had no apartment to call home, were holed up in a leaky room as their pit bull puppy, named Prada, lay dying of Parvo. She was barely 3 months old, and they clearly loved her. Thirty-six hours earlier, they had scraped together the money to take her to the vet. The vet had taken their cash and pumped the little tyke full of intravenous fluid, but it should have been clear that she had no chance, and he should have told them then. Now, she was in misery, crying, and the family was desperate, asking us to please relieve her of her suffering. Her guardian said, "When I saw tears streaming from her eyes, I knew I had to make the call." Unable to lift her head, she was cuddled on our lap all the way back to our building before she was put to rest.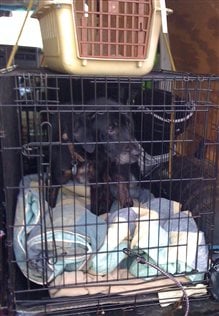 Early this morning, just as the water receded, leaving us to survey the extent of the damage to our building, a call came in from a fire department. A dog had wandered in, old and covered with mange, and collapsed on their floor. The firefighters were lovely to him, giving him more love than he must have had in his whole life. The marks of where he once had had a collar are around his neck, and he has more sores than hair. He is now on our couch in the big quarantine room, sleeping after a welcome meal.
Thank you to everyone for asking about us, to the staff who stayed in the swaying building all night ("It was like the earthquake all over again"), all the people who did not evacuate but stayed to take calls and go attend to them, and our vice president in charge of emergency response, Daphna Nachminovitch, who was out all night and had to swim the final block home, her waders no longer tall enough to keep the water out, (up to her waist!), the road too deep to drive through, only to be called out again. Thank you to the staff and volunteers and interns who made calls for three days straight to get people to take their animals inside; to Director Pete Raffeto and his operations crew, who provided everything we needed; to everyone out there now trying to remove the debris; and to so many more. And a huge "Thank you SO much!" to each one of you who has given to PETA's Animal Emergency Fund. If you haven't been able to donate yet, please consider that even a small donation will help with our rescue efforts during Hurricane Irene and beyond. We love you all!
Written by Ingrid Newkirk