Ever since shocking evidence captured by a PETA investigator at Moulton Chinchilla Ranch (MCR)—a seedy breeding mill near Chatfield, Minnesota—revealed that approximately 1,000 chinchillas were being kept in cramped cages inside a filthy shed, we've been hard at work informing companies that have connections with this horrid pet-industry and laboratory supplier of our findings and urging them to reconsider their relationships. This outreach works: After hearing from PETA, Atlas Pet Supply near Minneapolis has stopped doing business with MCR. Rochester Community and Technical College's veterinary technician program has ended its class fieldtrips to the mill as well.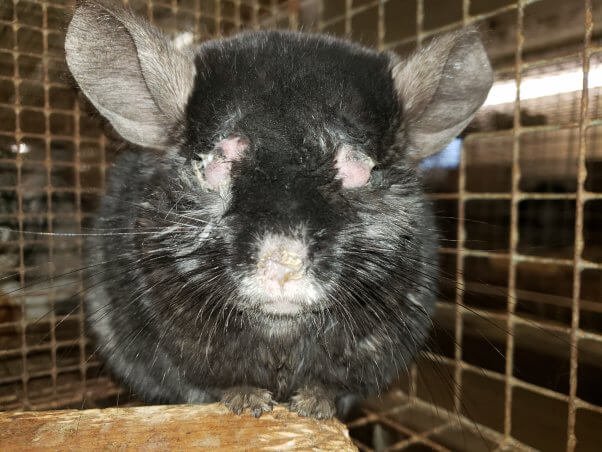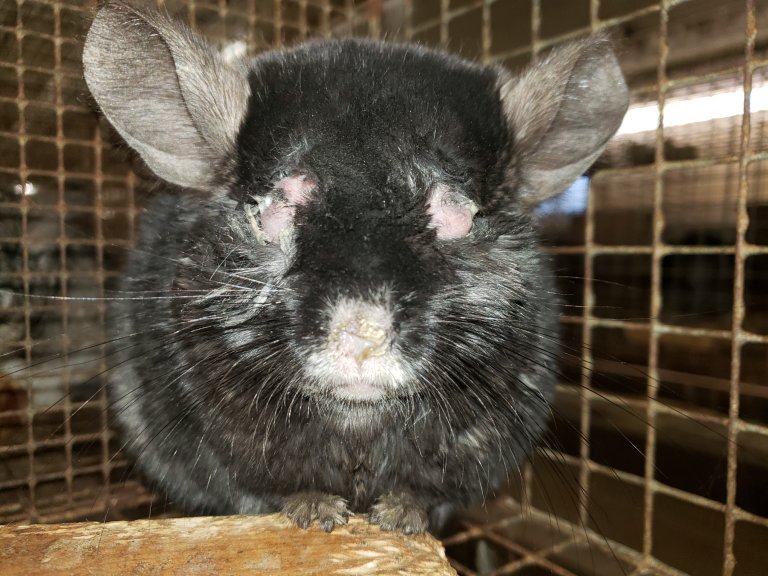 We won't stop there! PETA wants the owner and operator of MCR, Dan Moulton, to shut down his chinchilla-breeding operation, so we're running ads on eight area buses rallying people to help the animals suffering there.
PETA found that Moulton confined chinchillas to exposed wire cages and denied them veterinary care for abscesses; swollen, pus-filled eyes; exposed bones; severe matting; and other painful injuries.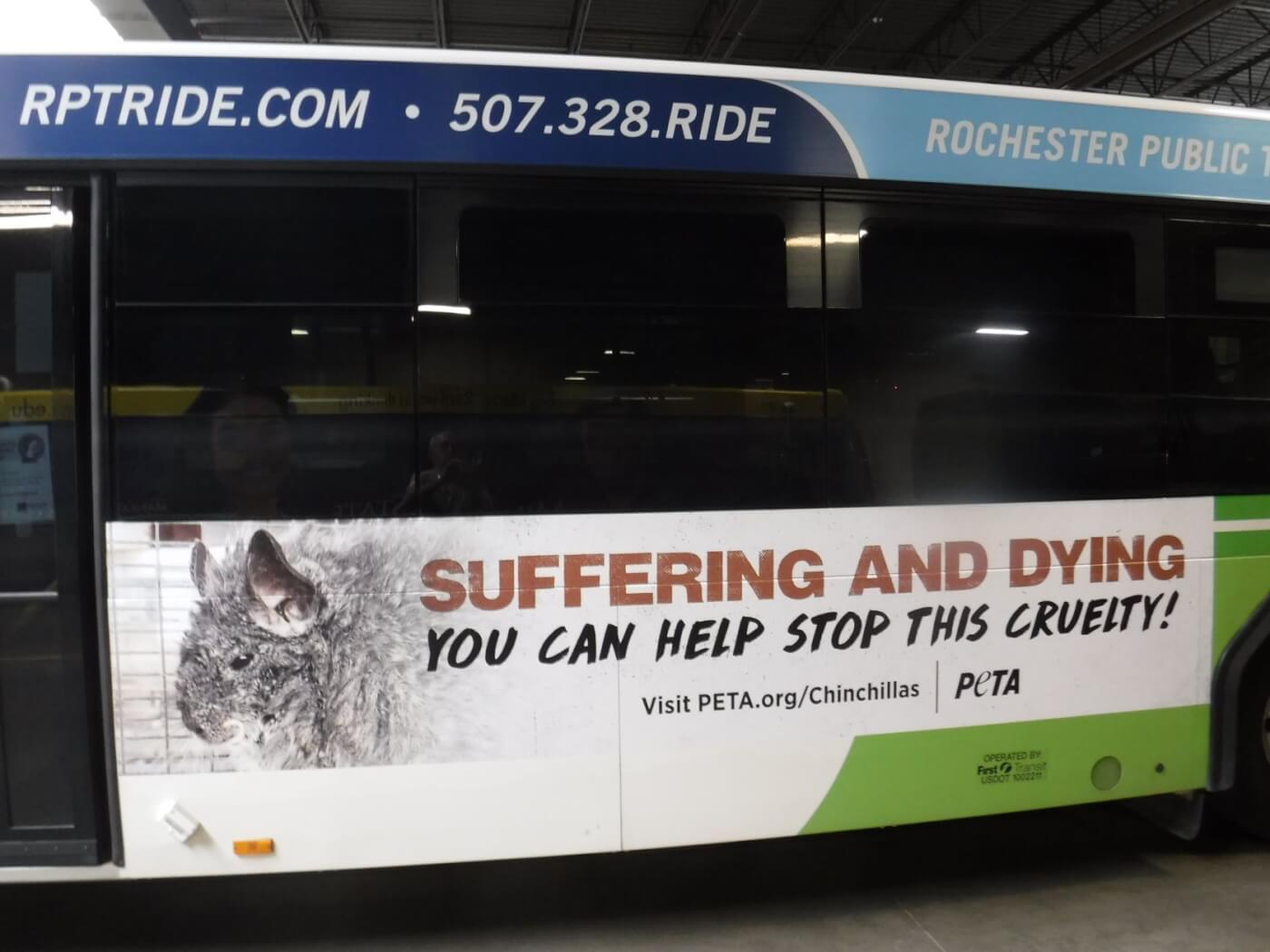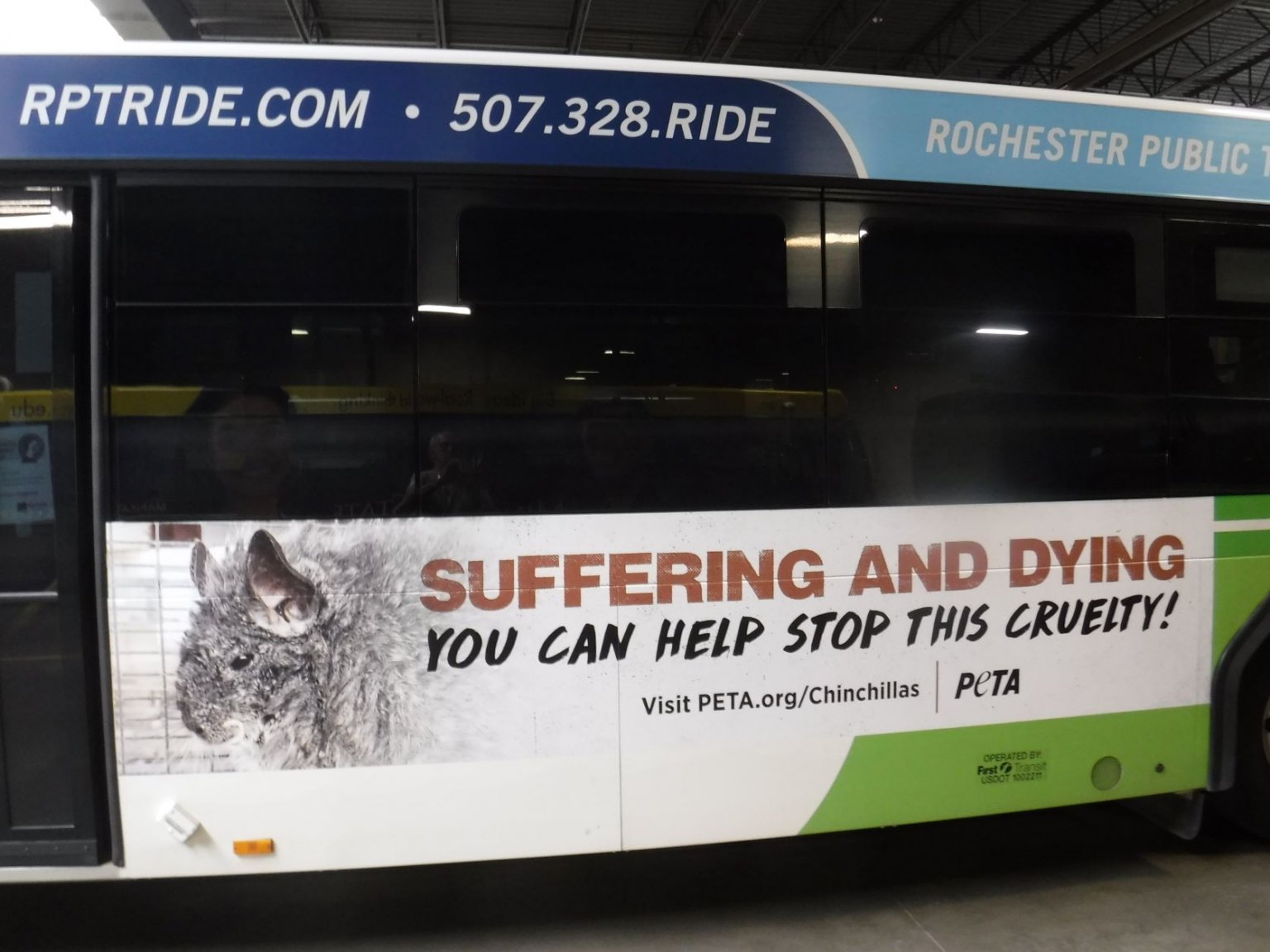 We ran a mobile billboard in Chatfield, Preston, and Rochester, Minnesota, on April 5 calling on Dan Moulton and his wife, Sue, to shut the facility down and release the long-neglected chinchillas to organizations equipped to provide them with humane care.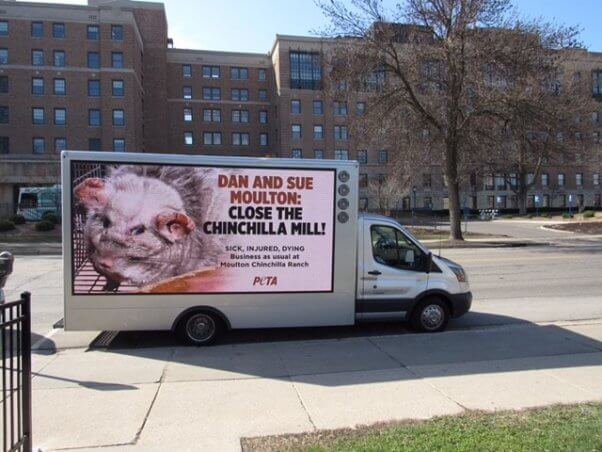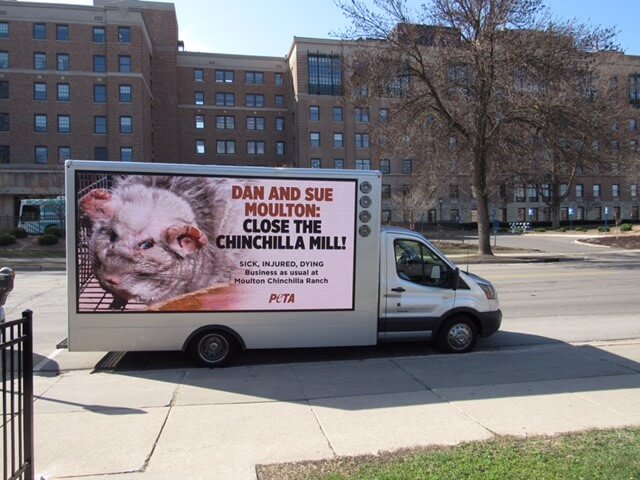 And earlier, Minnesota 97.5 FM listeners in the Rochester area heard a lifesaving message from PETA. Our radio spot—which ran twice a day from March 29 through April 4—reminded KNXR listeners that chinchillas are still suffering at MCR and let them know how they can take action.
What Chinchillas Endure at Moulton Chinchilla Ranch and in the Pet Trade
MCR's owner repeatedly deprived chinchillas of desperately needed veterinary care for a number of serious conditions, including these:
Abscessed mammary tissue that had burst
Swollen, pus-filled eyes
Overgrown teeth
A bloody, mutilated foot with exposed bones
MCR has sold chinchillas for over 50 years, including to laboratories and into the pet trade. The animals who make it out of this disgusting warehouse alive are bound for ghastly experiments and pet stores across the country and beyond.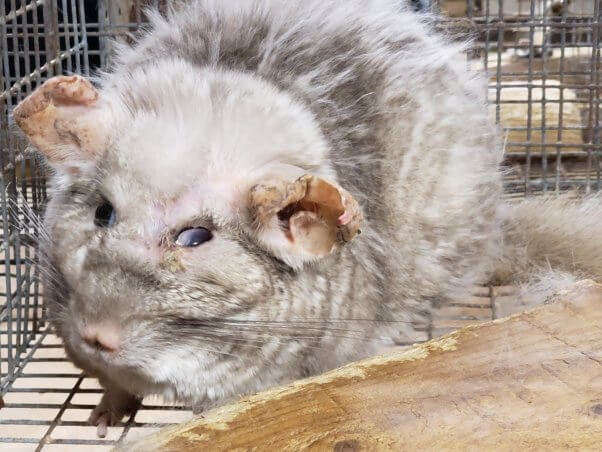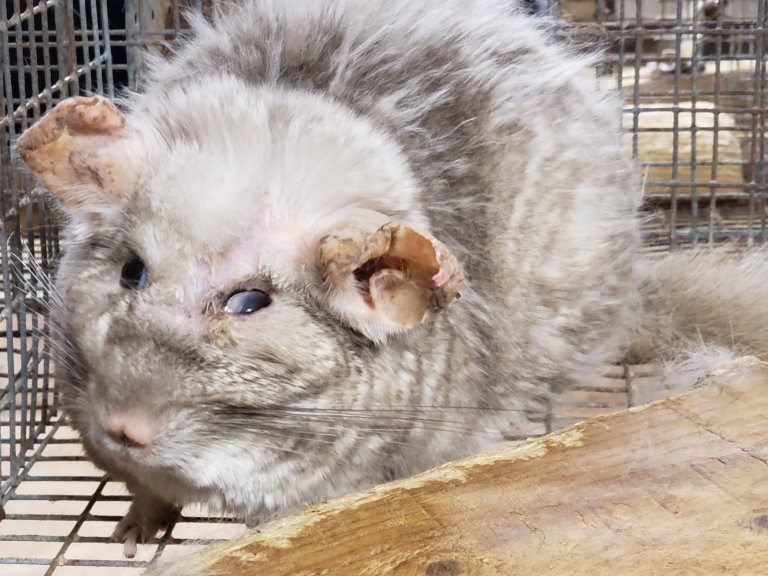 Chinchillas sold in the pet trade suffer. Impulse buyers are unprepared to meet the complex needs of these exotic animals—they require ample space to exercise, specialized veterinary care, frequent dust baths, low temperatures, and humidity, and those are just the basics. Consequently, chinchillas purchased as "pets" often suffer in inadequate living conditions and can end up neglected or even abandoned.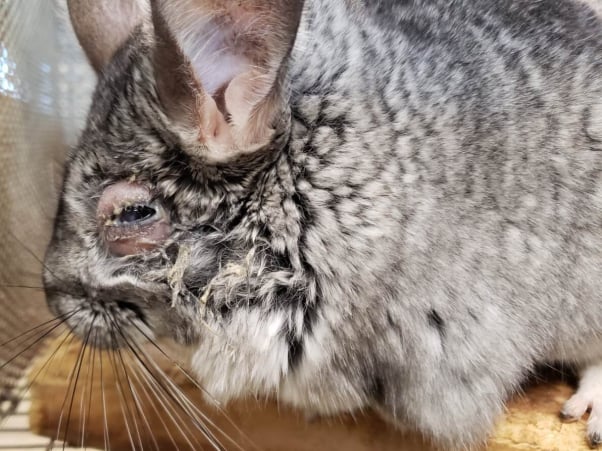 Take Action for Animals!
It's time for Moulton to stop exploiting chinchillas for profit and let these animals receive the proper care and the safe, good homes that they've so long been denied. Tens of thousands of compassionate people across the country have already called for an end to this relentless suffering, and you can join them. PETA makes it quick and easy to take action using your phone or computer, so what are you waiting for?