Update: Yet another monkey has become a victim of negligence at the University of Washington (UW). PETA has just obtained a federal inspection report detailing a horrible death: A macaque monkey's jaw became entangled in a chain holding a so-called "enrichment device" that hadn't been properly installed, and the primate strangled to death. Add this to the long list of atrocities that animals have endured at UW.
Originally posted March 16, 2017:
This was pure negligence, something that the University of Washington (UW) seems to excel at.
A monkey died in a UW laboratory in January after suffering for days without water.
A University of Washington research monkey died of thirst. https://t.co/lgNTWCYQyJ pic.twitter.com/DeEQxo6dne

— The Seattle Times (@seattletimes) March 14, 2017
The U.S. Department of Agriculture (USDA) reported that the 8-year-old female pigtail macaque was found to be "severely dehydrated." She died just minutes after a veterinarian's examination.
The veterinarian estimated that she went without water for two or three days. UW experimenters admitted that a malfunctioning water line went completely unnoticed because a technician failed to check it.
PETA has targeted this hellhole for nearly a decade.
In 2008, PETA revealed that UW experimenters were conducting hideous, unauthorized experiments on monkeys, including one named Patrick. His skull was cut open twice, and he was regularly restrained in a chair with his head bolted in place. His food was restricted so that he would cooperate for a bite to eat.
A federal investigation—prompted by a complaint from PETA—found that five UW experimenters violated federal regulations when they conducted dozens of such experiments on 14 monkeys. The university was fined $20,000.
But that didn't stop it from continuing to abuse animals.
In 2011, the USDA fined the university $10,893 when a pigtail macaque monkey starved to death and staff didn't notice.
In 2013 and 2014, USDA officials revealed that experimenters had failed to give painkillers to rabbits and guinea pigs forced to undergo surgeries. The university was also cited in 2014 after three vulnerable monkeys were killed by other monkeys.
In 2015, the USDA investigated a laboratory after all three monkeys involved in a skull-implant experiment had died.
Every day, monkeys in laboratories across the country undergo physical and mental torment in cruel, ineffective experiments.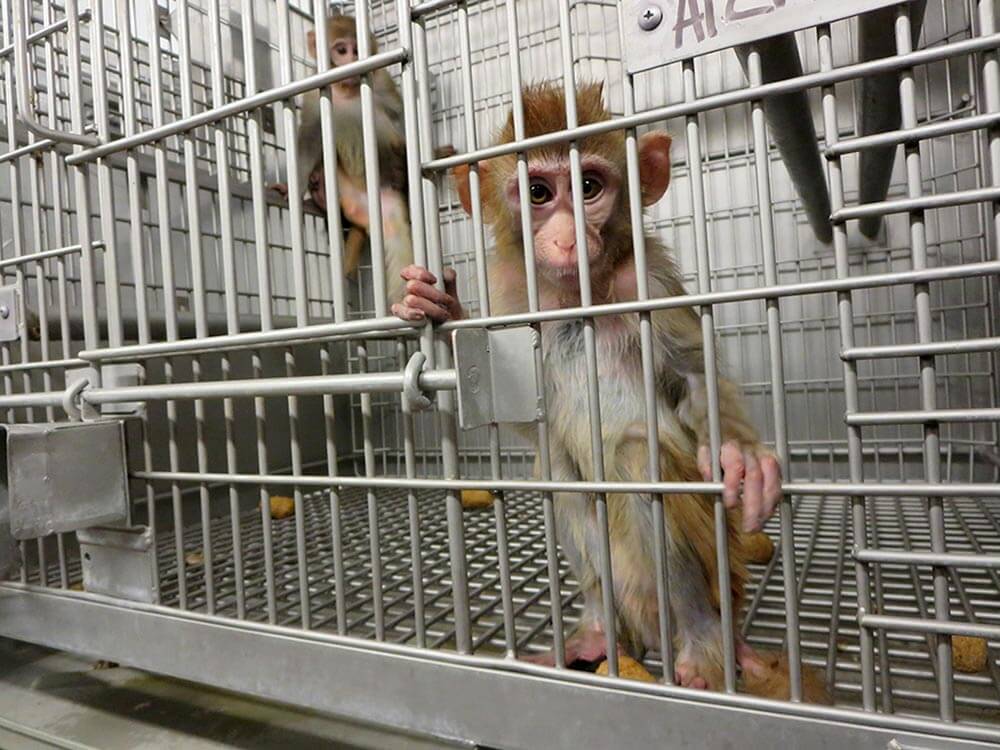 Please call your senators in Congress and respectfully ask them to cosponsor the Primate Protection and Research Modernization Act.