Update: The U.S. Department of Agriculture (USDA) has betrayed both the public and animals by settling its administrative lawsuit against Shin Nippon Biomedical Laboratories (SNBL) for a paltry $185,000. This is a drop in the bucket for this massive international company that will allow it to continue doing business as usual. Incredibly, just one day before it reached this settlement agreement with the USDA on its multiple violations, it was cited for more horrific incidents, including the strangulation death of a monkey, the death of a baby monkey who was taken from her cage and then negligently returned to the wrong mother, and for hitting caged monkeys. PETA continues to urge federal agencies, including the Department of Health and Human Services, to cancel all contracts with SNBL so that taxpayers will not be supporting the misery perpetuated by this chronic animal abuser.
Originally posted on November 15, 2016:
Why are U.S. government agencies funneling taxpayer money to abusive primate experimenter Shin Nippon Biomedical Laboratories (SNBL)—even though the company has been cited and fined by the U.S. Department of Agriculture (USDA) numerous times for egregious violations of the federal Animal Welfare Act and is the target of an administrative lawsuit by the USDA over the suffering and deaths of at least 38 monkeys?
PETA demanded an answer to that question on Tuesday morning in a protest at a conference hosted by the National Institutes of Health and the Radiation Injury Treatment Network in Rockville, Maryland.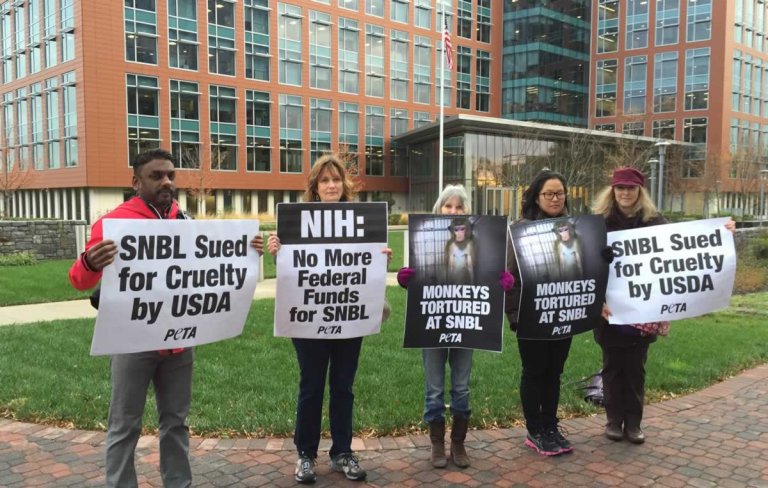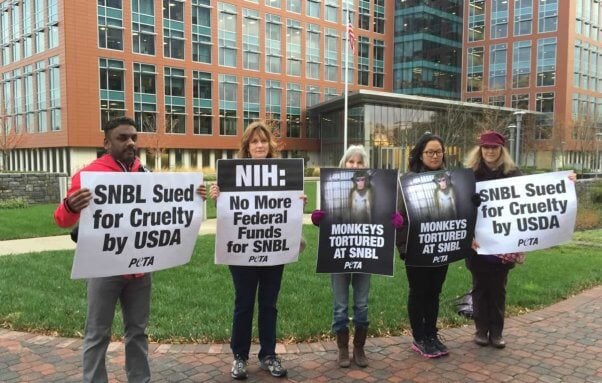 The conference topic was the effects of acute radiation exposure. SNBL employees, some of whom were in attendance, expose primates to high doses of radiation, resulting in immeasurable pain and death.
The government is giving SNBL millions of dollars to perform these cruel, deadly, and useless experiments, even though the USDA filed an administrative lawsuit against it over serious chronic violations of the law that harmed monkeys. The complaint details botched surgeries, failure to provide sick and injured monkeys with veterinary care, and even failure to keep cages safe and in good repair. One 6-week-old monkey became trapped while trying to escape through a fence and died from trauma and hypothermia. Other monkeys died from strangulation or suffocation.
PETA has been exposing hell-on-Earth conditions for primates at SNBL for years. It's time our tax dollars stop funding them.
What You Can Do
Urge the National Institutes of Health to cancel the "Assurance" that allows SNBL to receive federal contracts and to stop using your money to torment and kill primates.