The Rock and Roll of Fame's Class of 2012 has been announced, and animal-friendly stars will be boogieing in. The Red Hot Chili Peppers earned a spot, but we're wondering if this honor could top the Sexiest Vegetarian of 2008 title that Anthony Kiedis snagged. We'll call it a wash. Guns N' Roses was gunning for a spot and rose to the occasion too. We hope the awards ceremony will be fur-free, since Duff McKagan will be in attendance.
What Morrissey said about having his handsome mug on the new PETA postage really rocks: "I am delighted beyond words to be a PETA postage stamp. The rise and rise of PETA is the rise of common sense in modern society. Join the aims of PETA and join a better world."
Other celebs are rocking the Twitterverse with their awesome animal-friendly tweets: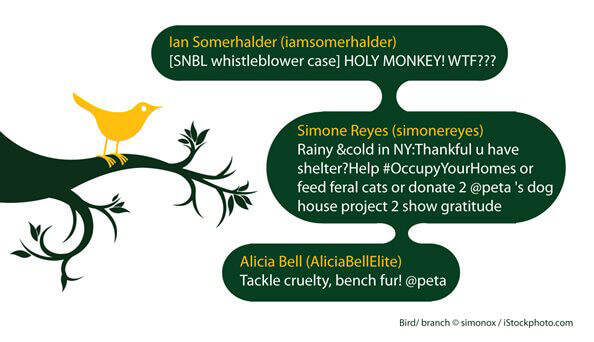 We love what Eliza Dushku said about Forks Over Knives, the documentary that is changing the way Americans eat. Maybe Emily Blunt watched it? She was spotted at the California vegan restaurant Café Gratitude.
We've been watching adorable Fivel Stewart sporting our "Adopt, Don't Buy" tee on the YouTube channel that she shares with brother, Booboo. Guess respect for animals runs in the family.