Whatever Milwaukee is brewing, we want some of it. We were already rooting for the Brewers because of veggie royalty Prince Fielder, and now we learn that vivacious outfielder Nyjer Morgan, with whom Fielder shares this week's Sports Illustrated cover, attributes his out-of-the-ballpark energy and .306 batting average to his healthy vegetarian diet.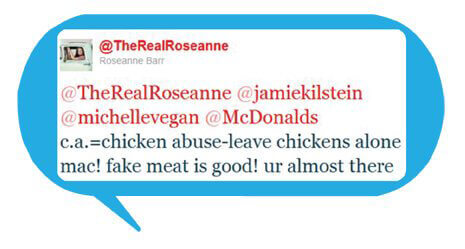 Could Roseanne Barr be the next star to "do a Clinton" and convert to a vegan diet? Extolling the virtues of faux meat and tweeting at McDonald's to stop abusing chickens sounds like a great start.
Eli Roth is such a talented tweeter for animals that we gave him his own web feature. (Wait 'til you see what he says about Go Daddy CEO Bob Parsons. #hilarious.) 
Fellow animal-friendly tweeters Pink and Tommy Lee took to Twitter to express their outrage over Indiana's barbaric "snapperfest." And Indiana native Bree Olson was so determined to stop the turtle torture that the Green Goddess posted the local sheriff's department's contact info on her website and asked people to call and complain.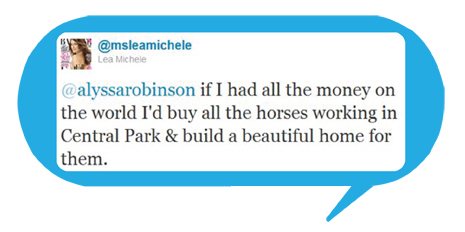 Not to be out-tweeted, Glee star Lea Michele opined about her dream of retiring all the horses who are forced to spend long, hot days hauling around carriages full of tourists in her native New York City. 
The next time she visits New York, Lea may spot Whoopi Goldberg out buying toy and treats for the lucky kitten she adopted after he was tossed from a moving car. Adopting instead of buying is catching on across the pond, too, if we can judge by Camilla Parker Bowles and her new rescued pup, Beth. We think dedicated dog guardian Michael Vartan, who stars in this weekend's highly anticipated thriller Colombiana, as well as a new PETA ad, would approve.
While Michael steams up the big screen, fellow PETA pal Bethenny Frankel will be taking over the small one with her new talk show. Will she get naked for animals again? Stay tuned.
To stay up to date on all celebrity/animal happenings, follow PETA on Twitter.  
Written by Michelle Sherrow