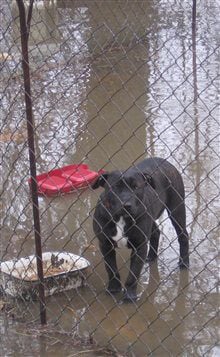 Distressed dog in a flooded pen.
Mine was one of the few cars early this morning headed into Hampton Roads, where PETA's headquarters are located. The roads are at a standstill in much of Norfolk and Virginia Beach as tourists and many residents, especially those with homes on the water, head inland and north, many under mandatory evacuation notices issued late last night.
We are grateful to Virginia's Gov. McDonnell for encouraging people to have a plan for their animal companions and to local news agencies that have broadcast PETA's plea to include animals in disaster preparations. We are grateful to the liquor and convenience store owners who have hung our posters on their doors, encouraging people to make plans for their animals. While some may heed the call, we know from experience that not everyone will listen. PETA staff has been working the phones for three days now, making calls to residents in North Carolina and lower Virginia, asking them to please, for the first time in their lives, take their chained dogs inside and, if they evacuate, to take the animals with them. Many are listening to our warnings, but for many impoverished residents who have little ability to care for themselves and who do not own a car, no provisions will be made for "backyard" or "hunting" dogs and "the cats who live under the trailer." Rabbits in hutches, pigs, and goats will be left to fend for themselves through high winds, heavy rain, lightning, and who knows what else. The owner of one dog asked us for "a heavier chain" to tie the dog down because his other dog had been swept off her feet during Hurricane Isabel. Some people are giving their animals up to us, which is far better than leaving them to drown, be hit by flying debris or trees (there will be lots of those―pity the squirrels and their babies, who cannot flee), or suffer other ugly fates.
PETA found this dog after a tornado in North Carolina
Our building is in a flood plain, and the streets surrounding it will be rivers by Saturday night, exacerbated by an already predicted high tide coupled with the storm surge. We have waders and canoes at the ready. We know that our dear outdoor cats, the ones who refuse to be coaxed into traps, will be in trouble but will do their best to hunker down and go without food, as there will be nowhere to put it for them. Our cats at PETA headquarters are being evacuated today to our international intern house, all our vans have been moved to high ground and are stocked with food and water to deliver to animals in crisis after the storm passes, our sandbags are in place, we have generators, and our computer systems are operating out of a remote location, so we are ready and will continue to campaign and advocate for animals through and after the storm. Extra staff is on call, and we are as prepared as we can be for what Mother Nature is about to deliver. 
We wish we could help the thousands of pigs in the huge factory farms down river from us: They are very vulnerable. 
We hope you will hold all of the animals in Irene's path in your hearts and thoughts, and we appreciate your support as we prepare to weather the storm.
Much of our lifesaving work for animals in crisis—from preparing for hurricanes like Irene to helping the animal survivors of devastating earthquakes in Japan and Haiti —is supported by the generosity of PETA's Animal Emergency Fund donors. You can help us respond to disaster—both before and after it strikes—by making an urgent gift right now.
Hurricane Isabel left rushing rivers where there was once a road and a park at PETA HQ!
Written by Ingrid E. Newkirk