A lioness forced to perform in a circus broke free from her handler and leash and tore through a "safety" net before pouncing on a 4-year-old girl in the audience. The heartbreaking incident, which occurred during a circus performance in Russia, was caught on camera:
https://www.youtube.com/watch?v=o8vU1s5-OMk
According to reports, the young girl was close to the netting, waving a flag. That's when the big cat reacted instinctually to the movement and pounced.
Had this circus company opted to do the right thing by featuring only talented and willing human performers, this tragic incident never would have occurred.
Big cats like this lioness don't belong in circuses. In order to get them to perform, these animals are trained through the use of punishment and food deprivation. Trainers have been known to drag them by heavy chains around the necks and hit them with sticks. With little to no government oversight, trainers get away with this horrific abuse.
In the U.S. alone, dangerous interactions between humans and captive big cats have resulted in dozens of animal and human deaths as well as hundreds of injuries, including bites, scratches, puncture wounds, and dismemberment.
So while this incident is tragic, it's not shocking. Animals don't belong in circuses. Help us end all animal acts and prevent disasters like this one from occurring in the future.
Together, We Can Help These Animals
It's been more than a year since Ringling Bros. shut down. Kelly Miller Circus recently went animal-free, and the big cat–exploiting Hawthorn Corporation has closed. New York and Illinois banned traveling elephant acts. An increasing number of venues and cities across the U.S. are prohibiting or restricting wild-animal exhibits—the entire circus industry needs to do the same.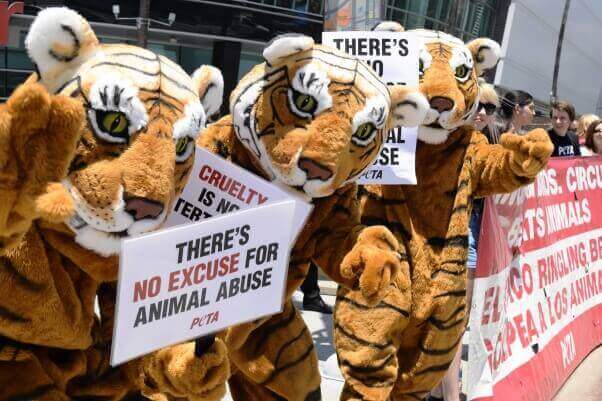 Speak up for all animals who are used as entertainment in circus shows. Tell circus companies and the venues that host them to do the right thing by featuring only willing human performers: