Update (May 17, 2022): The shocking moment when an outrider punched this year's Kentucky Derby winner, Rich Strike, in the face immediately after the race was rightfully met with widespread backlash from many viewers—and as PETA has said, the incident could have been avoided.
If I'm the owner of this long-shot Derby winner, I'm on the track beating this guys ass. #KentuckyDerby #KentuckyDerby2022 #KentuckyDerby148 pic.twitter.com/dSj4lmTQDi

— Don't Start (@dontstartnuthin) May 7, 2022
We've turned our outrage into action by writing a letter to NBC Sports, requesting that it allow the winning horse a minimum of two minutes after a race before the outrider approaches and takes control of the animal to facilitate interviews with the winning jockey.
If Rich Strike had been given a few moments to calm down after the Kentucky Derby, he may not have reacted to his chaotic surroundings by biting the outrider and his horse, after which the outrider punched him. The abrupt transition—from being forced to run as fast as he could to facing a noisy crowd—was likely overwhelming for the 3-year-old Thoroughbred. Being approached by a strange and unknown person and horse during all that commotion just added fuel to the fire.
Expecting an immediate post-race interview puts unnecessary stress on the winning horse and puts jockeys, outriders, and others in danger. NBC Sports needs to take action to prevent incidents like this from happening again.
Update (May 16, 2022): There will not be a 2022 Triple Crown winner, as this year's Kentucky Derby winner, Rich Strike, won't be forced to compete in the Preakness Stakes. PETA is pleased that he won't have to run in the race after just two weeks of rest and recovery from his demanding Kentucky Derby victory, after which an outrider aggressively punched him in the face. Clearly, the exhausting Triple Crown schedule needs to be modernized by extending the time between each of the three races to one month in order to allow horses ample opportunity to rest and recover, as PETA has long advocated for.
Originally posted on May 9, 2022:
Watching this video will give you a punch in the gut. After crossing the finish line in first place at the 2022 Kentucky Derby, winning Thoroughbred Rich Strike was repeatedly hit in the face by a handler who was leading him to the winner's circle.
The incident was apparently sparked when Rich Strike—who was likely in a frenzy from being whipped and forced to race as fast as he could and then confronting the disorienting commotion of the roaring crowd and bright camera flashes—began biting the outrider and his horse.
Instead of releasing the horse to let him calm down or having the jockey pull on the outside rein to turn his head, outrider Greg Blasi apparently took out his frustration on Rich Strike, aggressively striking him in the face and pulling harshly on his reins several times (which likely caused Rich Strike pain, as horses' mouths are extremely sensitive). The horse Blasi was riding appeared distressed as well and reared up in an apparent attempt to escape.
Blasi could have prevented some of these issues by wearing chaps and putting protective gear on his horse, as many outriders do. The bites would then not have hurt. There's no excuse for hitting a horse as he did.
PETA to the Kentucky Horse Racing Commission: The Blasi Family Apparently Needs Better Self-Control
If Blasi abused a horse on national television, in front of judges and other jockeys, and seemingly without a moment of hesitation, we have to wonder how he behaves around horses when no one is looking. In a letter to the chief state steward, PETA called for an investigation into the incident and requested a suspension of Blasi. Was he taking his anger out on Rich Strike because the horse had defeated competing racehorse Epicenter? Greg's brother Scott Blasi works for Epicenter's trainer, Steve Asmussen.
Apparently, angry outbursts run in the Blasi family: PETA's 2013 investigation into notorious abuser Steve Asmussen revealed Scott's frequent fits, and last year, he was fined and suspended for a "physical altercation."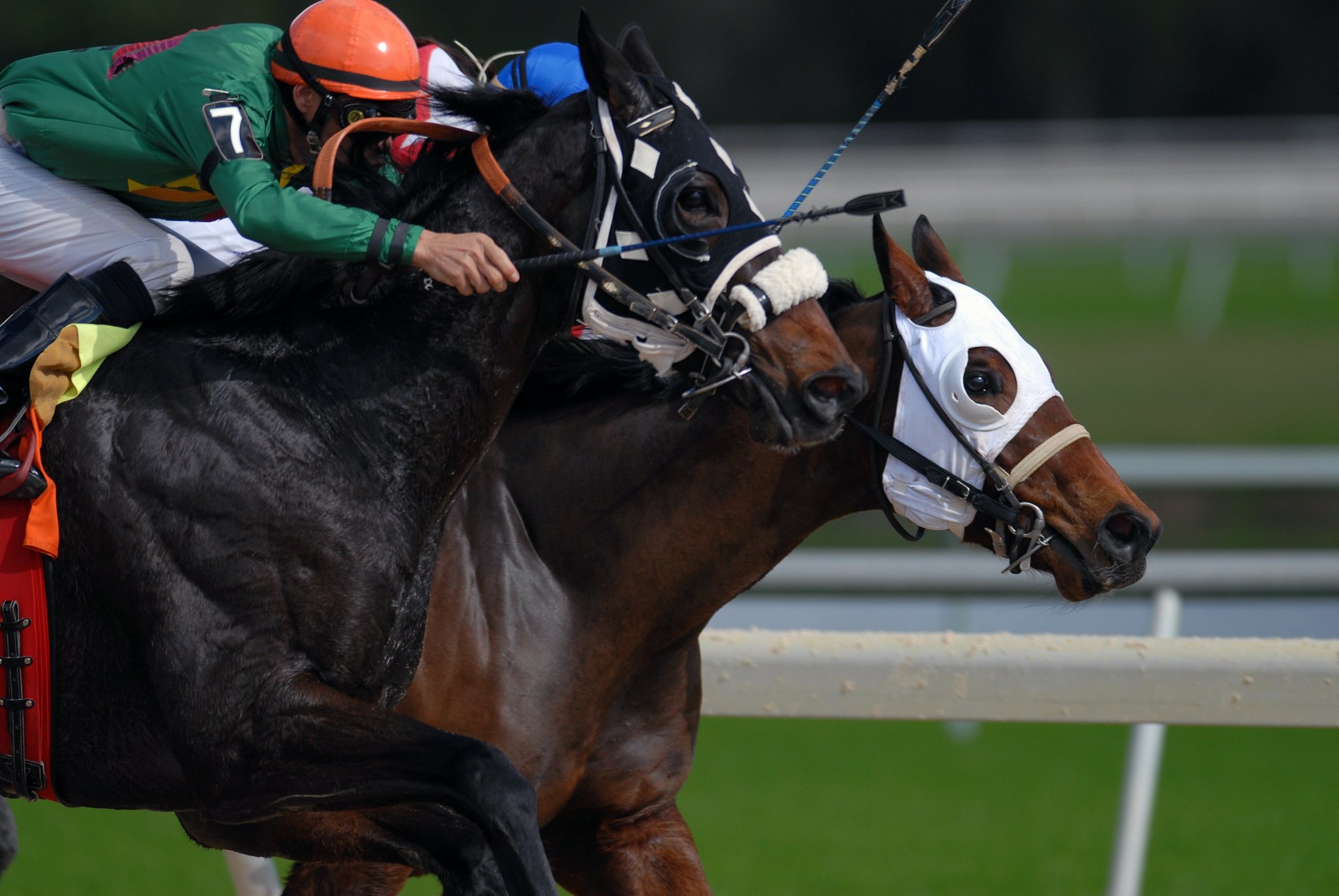 Winner or Not, Hitting a Horse Is Unacceptable
From jockeys who whip horses to run faster to trainers who pump injury-masking drugs into horses, abuse is typical in the industry. You can help racehorses like Strike Rich by taking action below: