Update (September 2, 2022): It's official! PETA just gained full custody of the "Bertie 5" in court! The now-happy dogs will never go back to the couple who chained and neglected them.
The couple agreed not to acquire additional dogs, and the woman still faces criminal charges for the neglect of seven dogs, including Minnie, whose remains PETA field staff found in February 2022, emaciated and still chained to a tree.
Now these dogs finally have comfort, veterinary care, respect for who they are, and the opportunity to smell (and mark!) every blade of grass at their own pace. PETA will never allow anything to stand in the way of justice. If there is a way to win, we will find it, and for animals like the Bertie 5, that's everything.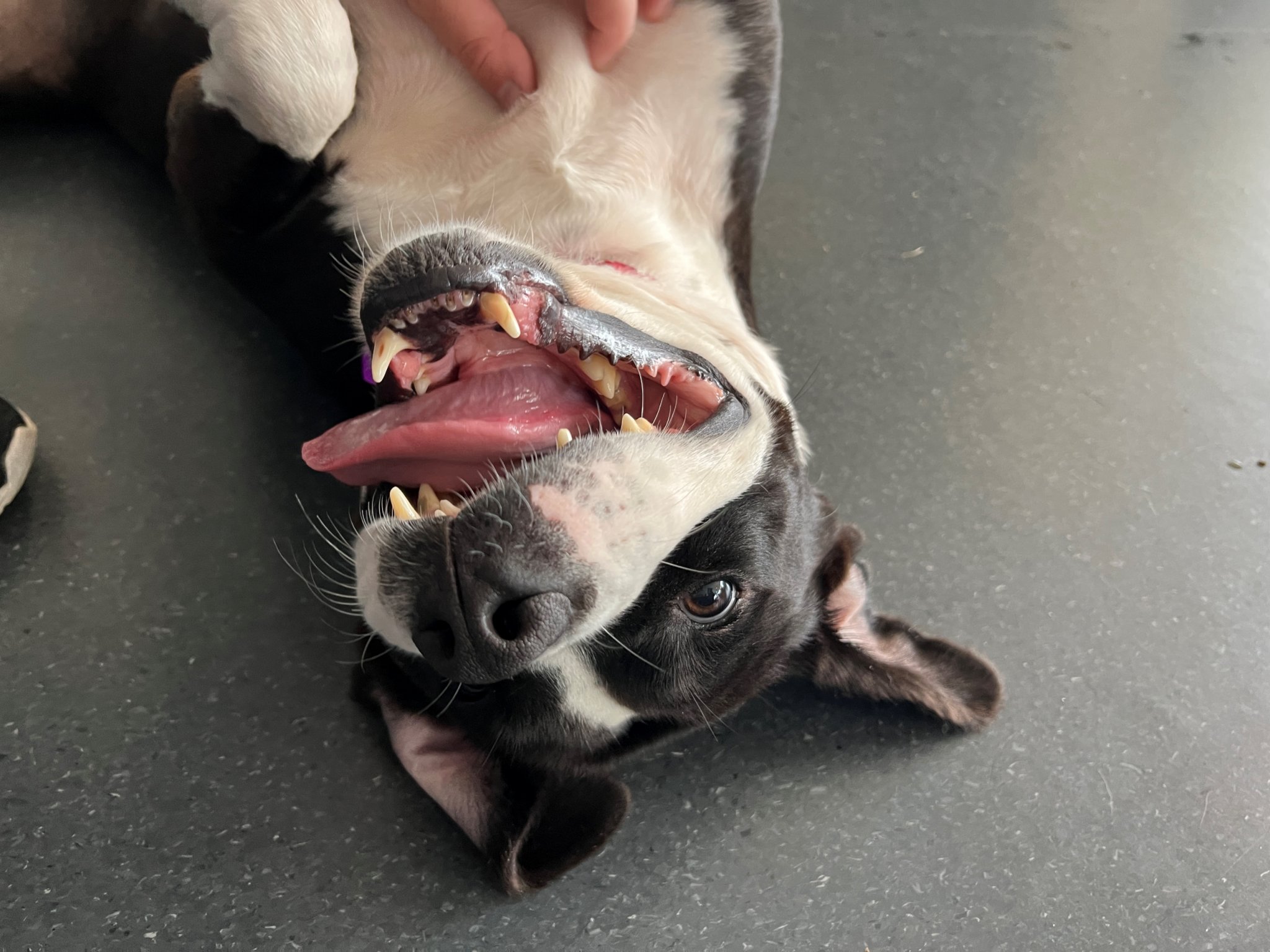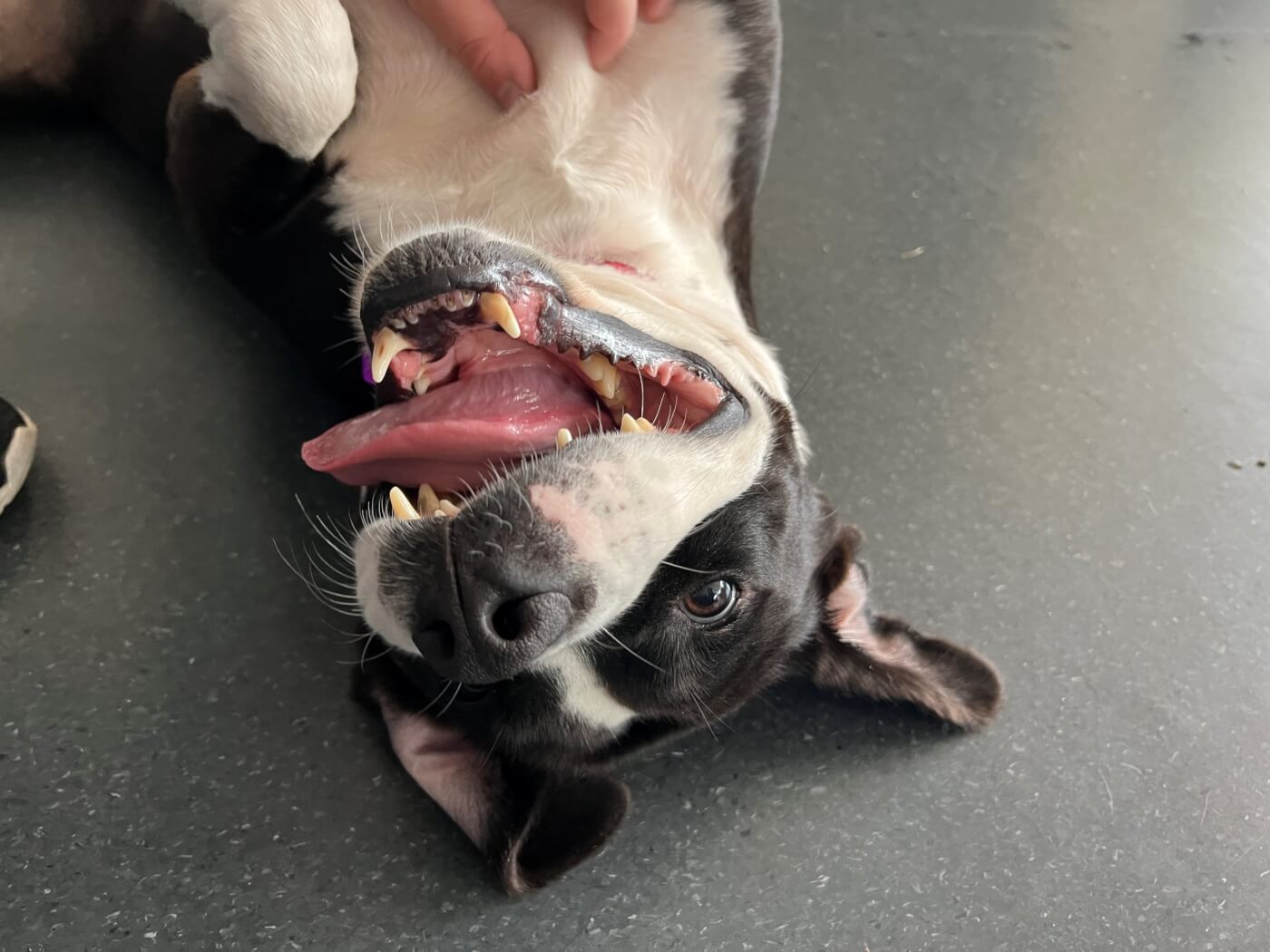 Duke, one of the 5 dogs in our care, is looking for a new home!
August 31, 2022 update: The "Bertie 5"—five dogs who are now safe in PETA's care after being rescued from a miserable backyard in Bertie County, North Carolina—are being lovingly doted on by PETA's shelter staff. While we await a judge's decision on permanent custody of Duke, Duchess, Sandy, Zeus, and Billie, we want to make sure each dog has a chance to enjoy the things these five have been deprived of their entire lives: an orthopedic bed, plush toys, baths and grooming, and more.
Originally posted on August 19, 2022:
PETA fieldworkers found Minnie's remains, still chained to a nearby tree, inside a doghouse in North Carolina. Neither she, a young dog who was kept chained outside her entire life, nor the five surviving dogs chained and/or penned around the property had any food or drinkable water within reach. Now, the survivors are safe and indoors with PETA, and their former owner is facing seven counts of cruelty to animals.
PETA Gains Temporary Custody of Five Dogs Who Survived Continuous Chaining and Deprivation
PETA fieldworkers visited the dogs many times over a span of months and even secured custody of Buddy (now Henry), a malnourished Chihuahua who was kept chained 24/7 in all weather extremes.
On other visits, fieldworkers provided the dogs' owner with free food, spay/neuter services, doghouses, flea and flystrike prevention, lightweight cable tie-outs to replace heavy chains, nylon collars to replace choker chains, and more. Despite all our efforts, whenever we checked on the dogs, they appeared malnourished and were thirsty and famished and desperate for attention—and one of the dogs, a husky, was severely matted, even in temperatures of more than 90 degrees.
After many months of pleading and urging by PETA, the Bertie County Sheriff's Office finally removed four surviving dogs: Zeus (whose ears are permanently disfigured from years of flystrike), Duke, Sandy, and Duchess—all of whom were housed at the county shelter pending the outcome of the criminal case. PETA then sued the dogs' owner for custody under a civil statute, and on August 15, a judge granted us temporary custody of the four dogs in addition to a young puppy we named Billie, who was acquired after Minnie's death and kept chained outside. All five dogs are now indoors—maybe for the first time in their lives—where PETA staffers are giving them individual attention and appropriate care for various ailments in air-conditioned guest rooms with soft bedding and toys.
The trial for permanent custody of the dogs is expected to take place in September.
Report Cruelty to Animals: If You See Something, Say Something
Dogs left outside without proper care or adequate shelter can suffer from dehydration and hyperthermia—and in winter, they can get frostbite or even freeze to death. They should never be left outside in the first place, but when they're outside and deprived of access to water or shelter, the situation can quickly become an emergency. Their well-being, if not their life, could depend on you. Check out current legislation on tethering dogs in your area, find out how you can help get continuous chaining banned in your community, and check out these tips to help chained dogs: