One of the horses used by New York City's carriage industry may soon trade the pavement for the pasture, exhaust fumes for fresh breezes, and blinders for butterflies. Jillian Michaels, best known for changing people's lives on The Biggest Loser, wants to change an unlucky horse's life, too. She announced her intentions to adopt the first horse to be retired from the city's cruel horse-drawn carriage industry while leading a rally for the horses today on the steps of City Hall.
Watch now: Jillian Michaels addresses the huge crowd that gathered to protest New York's cruel horse-drawn carriage industry. 
Joined by City Council Members Helen Rosenthal and Ydanis Rodriguez and more than 100 animal advocates representing PETA and NYCLASS, Jillian urged every New Yorker to support the mayor's plan to retire the horses to sanctuaries and replace the carriages with eco-friendly replicas of classic cars.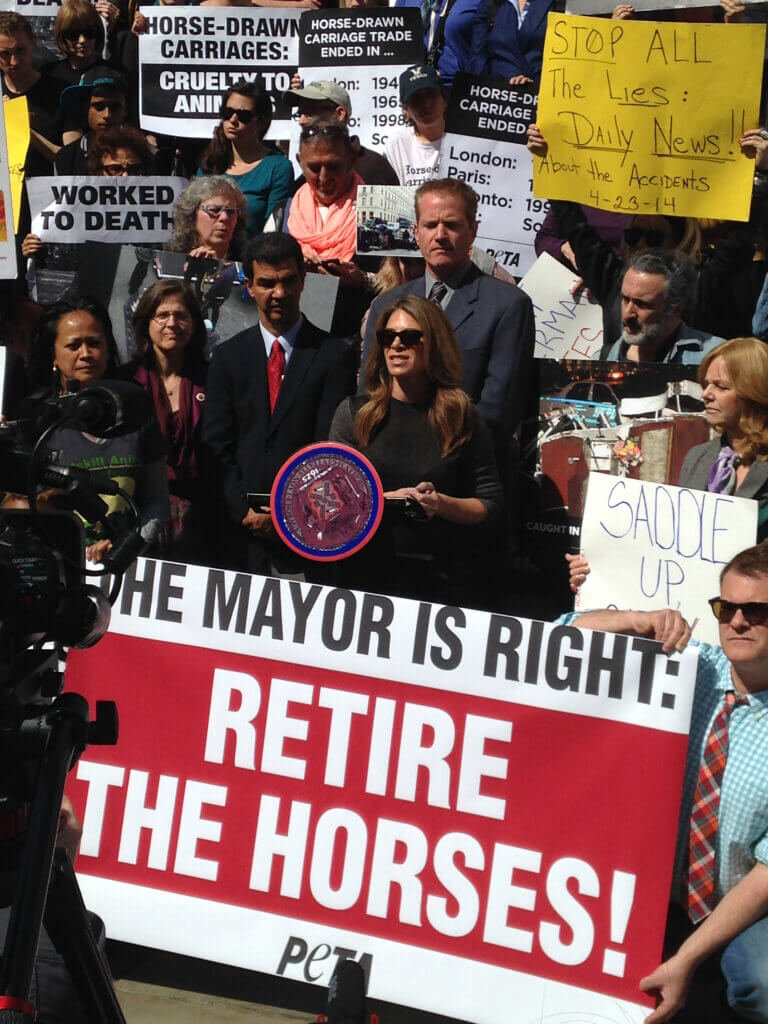 The rally followed an incident last week in which a horse became spooked and bolted when a bus passed too close to him. As the horse ran, his carriage jumped the curb, overturned, and crashed to the ground, pulling the horse down and pinning him. It was just the latest in a long, sad history of dangerous―and often deadly―horse-drawn carriage accidents.
"I have had horses since I was a little girl," Jillian told the crowd. "I understand not only the animal welfare aspects of this situation but also how it endangers unassuming tourists that have no concept of how a horse would react in congested traffic given a bus horn honking, a drum circle in the park. It puts people and horses in harm's way."
At the end of the rally, Jillian joined PETA Senior Vice President Dan Mathews in leading the crowd in a rousing cheer of "Hey, hey! Ho, ho! We love Mayor de Blasio!"
The mayor is determined to see his plan come to fruition. And the lucky horse who gets to go home with energetic, compassionate Jillian will certainly be the biggest winner.