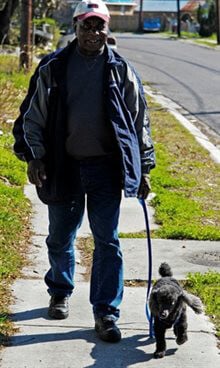 When natural disasters strike around the globe, rescuers from PETA entities travel straight into the hardest-hit areas to rescue animals who have been displaced, abandoned, or lost. We recently caught up with three dogs who had happy endings thanks to those brave souls.
Sporty's elderly guardian tried everything he could to stay with his dog during Hurricane Katrina, including swimming for two blocks with Sporty in his arms, but he was eventually forced to evacuate and leave his dog behind. PETA rescued the little poodle, and three months later, Sporty and his guardian were reunited. The guardian, who lost nearly everything in the hurricane, still sends us updates on Sporty, and PETA continues to pay for the dog's vet care, including a recent tooth extraction.
Licorice's mom was at the bedside of a hospitalized relative when Hurricane Katrina hit and rescue workers wouldn't let the panic-stricken guardian retrieve Licorice from her home. PETA fostered Licorice for several months and provided her with vet care until we could locate her guardian. Grateful to have Licorice back, she tells us that the poodle is enjoying the high life, going for rides with her family and getting her "mani-pedis."

Brophie somehow outsmarted Hurricane Irene, and after the worst was over, he had the good sense to walk into a Norfolk fire station and lay down on the floor. He was weak, emaciated, and suffering from a flea allergy so severe that he was severely anemic and had lost much of his fur. The fire department staff treated him like royalty during the hurricane and then called PETA for help. A PETA Foundation staffer fell hard for the sweet southern gentleman, and he now enjoys five walks a day, romps on the beach, and plenty of square meals. His ribs are no longer showing, and his fur is growing back. He even went back to pay a visit to his pals at the fire station recently.
PETA relies on donations to our Animal Emergency Fund to make rescues like these possible. With the holiday season coming up, consider giving someone on your list the gift of saving an animal's life by making a donation in your loved one's name.
Written by Michelle Sherrow