More research funded by the U.S. Department of Defense (DOD) proves what PETA has said for years—it's absurd to mutilate and kill animals to train trauma surgeons when human simulators perform just as well or better. It's time for our military to stop shooting, stabbing, dismembering, and killing pigs and goats in these archaic trainings and properly prepare our troops to save lives using high-tech models that—unlike animals—accurately mimic human anatomy and physiology.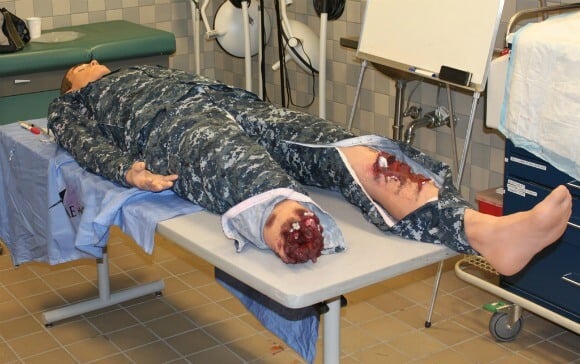 In a study from the University of Minnesota Combat Casualty Training Consortium, which was funded by the DOD, researchers found no significant differences in combat medics' stress levels—an indication of how realistic trauma training is—whether "live tissue" drills on animals or human simulator models were used. The study of 277 Army combat medics undergoing combat casualty care training is the largest one to date and backs previous research funded by the DOD that has found that human simulation models are just as good as, and in some cases better than, mutilating animals in military trauma training drills.
"High-fidelity simulation offers many advantages, including broad exposure to procedures, their complications and the opportunity for repetitious learning in a nonclinical setting," stated lead researcher Dr. Jonathan Keller in a news release. "The stress of learners undergoing simulation events is a growing field of interest. This study shows that synthetic models can produce a stress response equivalent to that of live tissue during simulation training."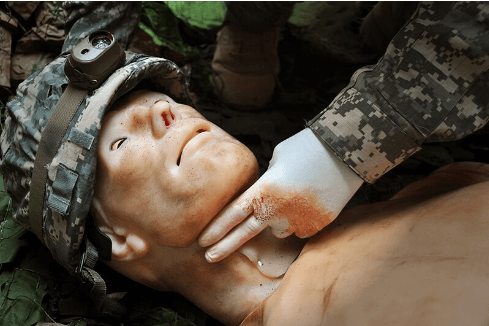 © Gaumard
PETA brought nationwide attention to this issue in 2012, when it released shocking video footage that showed a U.S. military trauma training course in which goats were moaning and kicking as instructors stabbed them, hacked off their limbs with tree trimmers, and yanked out their internal organs. In 2015, PETA released an eyewitness investigation of the self-proclaimed "single largest trainer of US military forces in operational medicine," and the video footage showed live pigs who had been shot and military instructors cutting into the animals to induce bleeding as well as making racist, sexual, and homophobic remarks.
Since then, there's been mounting opposition to live tissue training.
Efforts led by PETA to replace live animals with high-tech human-patient simulators have found far-reaching support—including from voters, members of Congress, and veterans.
The U.S. Defense Health Agency has described killing sensitive, conscious animals who have nonhuman anatomy as an "outdated" practice. Also, some of the best surgeons in the world—including those from Harvard University—agree with PETA that trauma simulators should replace live animals in training. Following years of pressure from PETA, the Army drastically scaled back its use of animals in such drills, the DOD ordered all military branches to eliminate the use of animals in six different medical training areas, and in 2017, the U.S. Coast Guard ended its use of animals in trauma training drills.
And a bipartisan bill recently signed into law included a PETA-backed provision that—for the first time—makes human-simulation technology the new gold standard of trauma training.
The evidence against using animals for trauma training is clear—so what is the DOD waiting for? Let's persuade officials to institute a complete ban on the unjustifiable extreme violence inflicted on animals during cruel trauma drills.
Help PETA End the Use of Animals in All Trauma Training 
One hundred and fifty members of Congress have cosponsored the Battlefield Excellence through Superior Training (BEST) Practices Act (H.R. 1243)—which would phase out the use of animals in all military trauma training drills. Using our action form below, please write to your congressional representatives and urge them to support the BEST Practices Act:
Note: PETA supports animal rights, opposes all forms of animal exploitation, and informs the public on those issues. It does not directly or indirectly participate or intervene in any political campaign on behalf of or in opposition to any candidate for public office or any political party.