A U.S. Department of Agriculture (USDA) inspection report on Houston Interactive Aquarium & Animal Preserve, released to the public in January 2023, reveals another set of failures by this infamous Covino family–owned roadside zoo. Profit-hungry animal exhibitors rarely change their tune after earning these dishonors, even if they address individual citations.
During an inspection, the USDA found that the facility had failed to inform its attending veterinarian of a ground squirrel's skin condition, even though the animal had been placed in isolation a day prior. Staff let the squirrel's condition go untreated for two days before notifying a veterinarian. The facility also failed to take proper care of its resident dog, and the business lacked a complete contingency plan in case of an emergency or disaster.
A USDA inspector was nearly burned by metal elements heated to more than 140 degrees in the aquarium's shoddy otter enclosure. The facility even tried, unsuccessfully, to appeal the agency's order to fix it.
This latest round of citations shows yet again that the Covinos can't be trusted to meet even the minimum standards of animal care at their facilities. Please do what you can to help the animals there, including by speaking up and letting Houston Interactive Aquarium know you won't stand for animal suffering.
Houston Interactive Aquarium received an official warning from the USDA on June 27, 2022. This important escalatory step followed six citations for the facility's failure to meet the minimum care standards of the federal Animal Welfare Act. A USDA inspection report included citations for the following incidents:
A lemur was left shivering in an unheated outdoor enclosure in 33-degree weather.
Ten visitors—including children—were allowed to interact with kangaroos while a staff attendant was busy with another animal.
A capybara was left with no bedding on a gap-riddled, draft-prone wooden floor from which heat was escaping.
A young giraffe named Lehi was fed an inappropriate diet that led to a life-threatening neurological condition. Although this wasn't addressed in the USDA citation, it's worth noting that giraffes are social animals yet Lehi was taken from his family and is kept alone.
"The animals at Houston Interactive Aquarium have endured malnourishment, freezing temperatures, and distressing, forced public contact, simply so that this exploitative facility can make a buck. PETA is calling on everyone to shun this shoddy petting zoo and condemn its mistreatment of animals."

—Michelle Sinnott, PETA Foundation Associate Director of Captive Animal Law Enforcement
A Cruel Family Affair
Houston Interactive Aquarium is closely tied to Ammon Covino, who has spent time in federal prison for conspiracy to commit wildlife trafficking. Although he can't legally obtain a federal exhibitor's license, Houston Interactive Aquarium has posted more than 150 videos of him spearheading development and construction of the facility.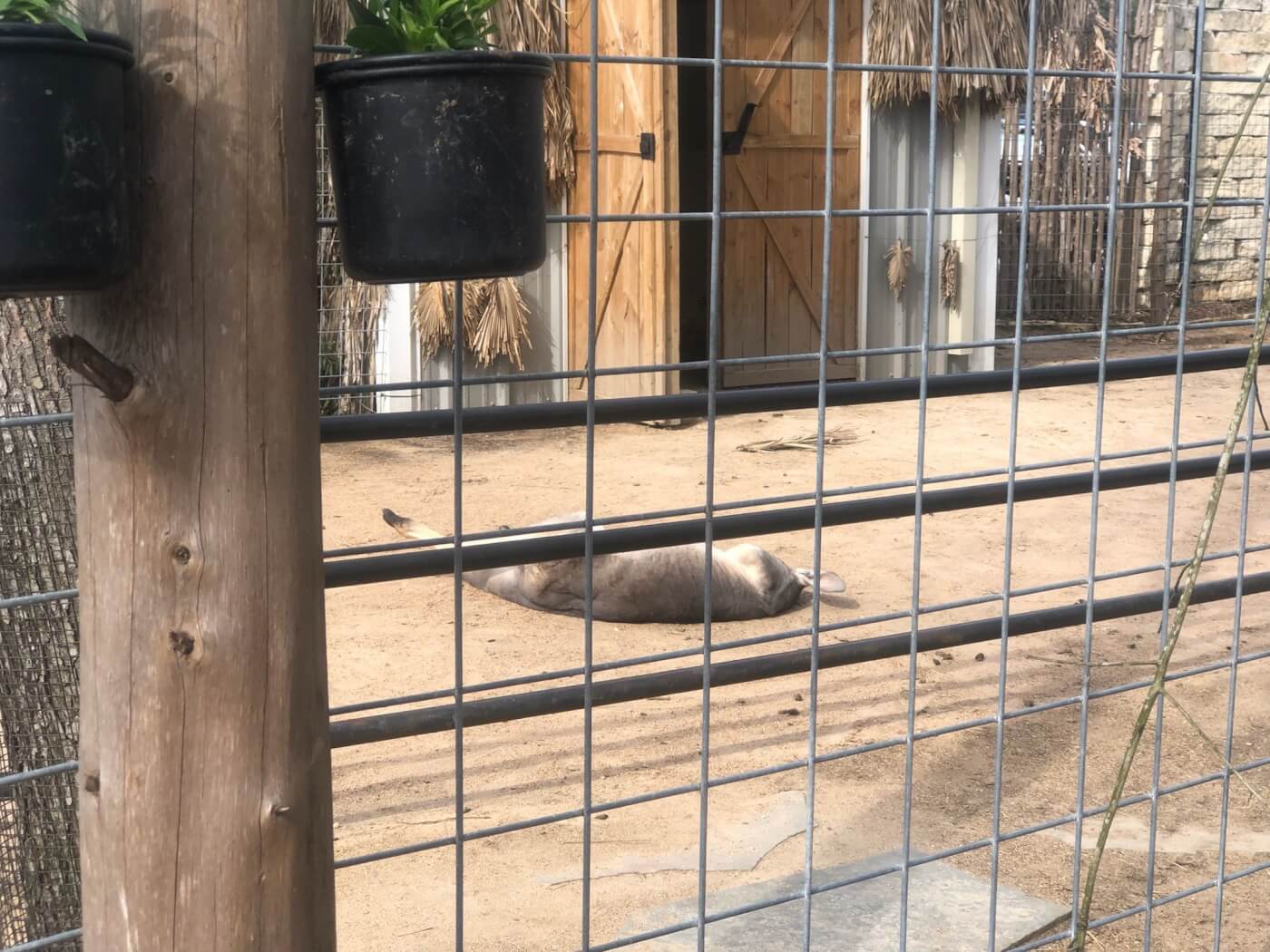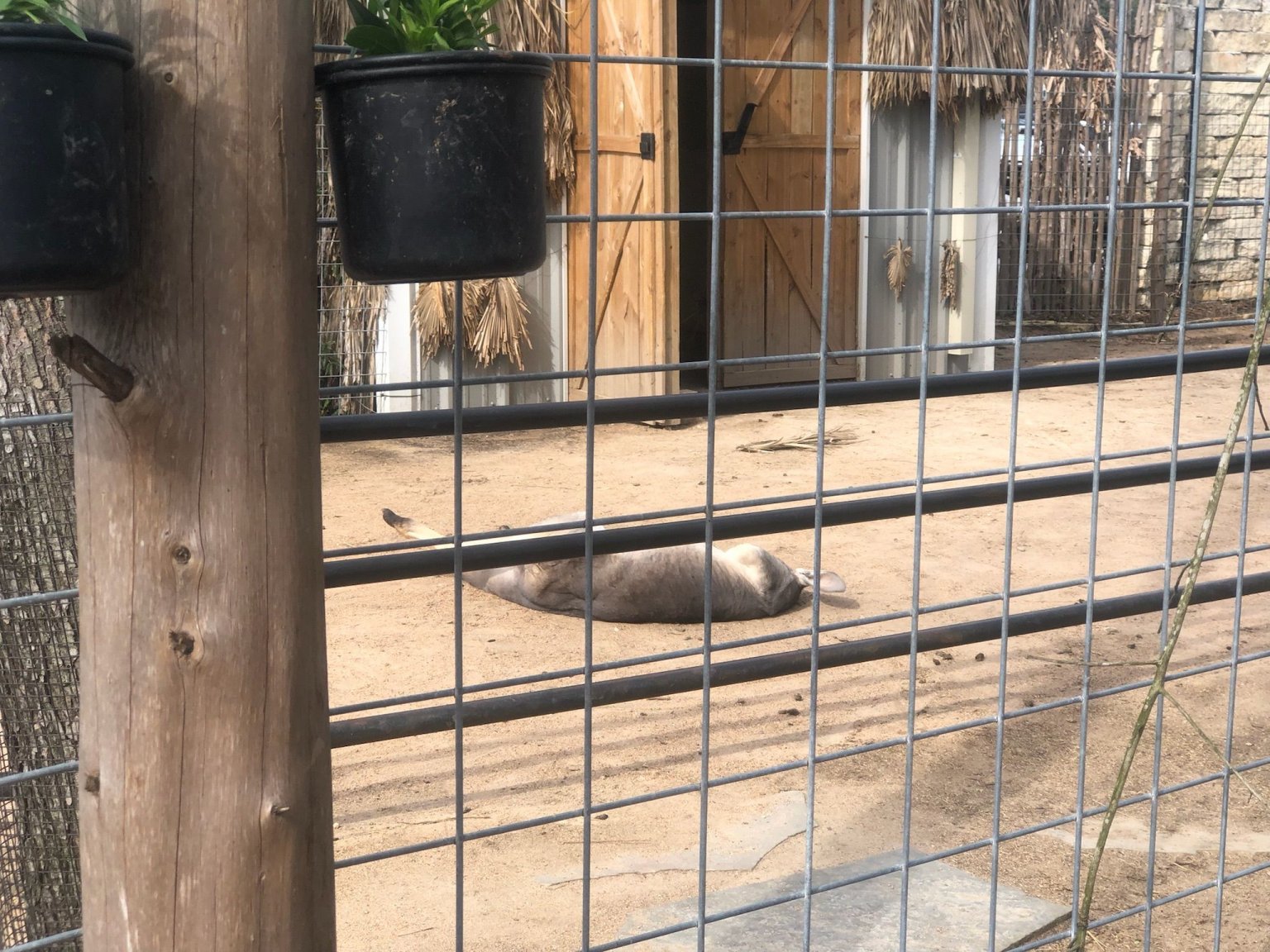 Meanwhile, his brother Vince Covino owns the disreputable roadside aquarium chain SeaQuest. Last year alone, the USDA cited SeaQuest locations for the drowning death of a wallaby, hitting otters with a metal bowl, and incidents in which a child was bitten by a capybara and an adult was bitten by a sloth. SeaQuest was also criminally convicted for unlawfully purchasing wildlife in Colorado.
What You Can Do for Animals at Houston Interactive Aquarium
Like the Covinos' other cruel aquarium ventures, Houston Interactive Aquarium is premised on encouraging children to hold, poke, and prod sensitive animals who would normally shun humans. Treating animals as nothing more than props for show-and-tell events is a form of speciesism—the misguided belief that humans are more important than other animals.
Since not even a criminal wildlife-trafficking conviction is enough to persuade the USDA to do its job and prevent another Covino aquarium from exploiting animals, it's up to kind people like you to speak up for them and let Houston Interactive Aquarium know you won't stand for animal suffering.