The newly launched triathlon magazine 3/Go features PETA's own senior VP, Lisa Lange, a force to be reckoned with on path or lake. Talking about her passion for triathlons and vegan eating, Lisa told 3/Go, "I feel fresh and able to take on anything that comes my way." We got to have our own Q&A session with Lisa (it helps to have connections) and asked her to share advice for anyone wanting to try triathlons—or just enjoy better health.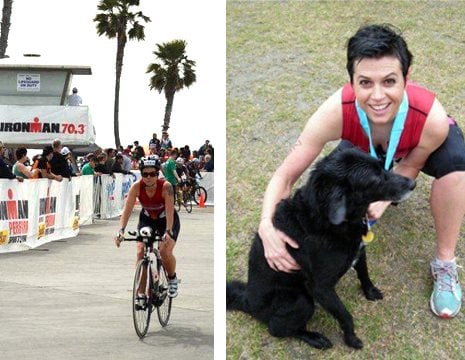 Lisa Lange at the start of the 56-mile ride at the Rohto Ironman race in Oceanside, California (left), and relaxing with her dog, Sophie, after a race


What kinds of foods do you eat when training for a triathlon?
Overall, I eat a really healthy diet. Good carbs keep your energy up during training, and then after a long workout, I take in carbs and protein, usually veggies and a protein drink. I love Gardein chicken breasts, as they taste yummy and have a ton of protein, which helps with recovery after a long vigorous workout.

What kinds of foods are best for quick energy?

Before a shorter workout, I eat half a banana or half an energy bar, either that I've made myself or Vega or Lara bars for quick energy. I'll eat them on a long ride, too, and drink coconut water with lemon, ginger, and agave in it. That's very sustaining.

Were you vegan before you were a triathlete? Has your diet helped with your performance?
I was vegan when I started doing triathlons a year and a half ago, and it's a huge advantage energy-wise. I always had a ton of energy, and training has only increased it. I sleep better, too, and I get some of my best thinking done while I'm on the bike or a long run.

If you have a craving for junk food, what do you go for?
After a long race, I love Mexican food or vegan pizza. I also eat tortilla chips and chocolate. That's my indulgence after a hard race. My biggest indulgence is Cap'n Crunch. There's a box in my pantry for after my next Half Ironman in July!

What advice do you have for people considering taking up triathlons?
Read Thrive, by Brendan Brazier about the benefits of being a vegan endurance athlete. It's a very vegan-friendly sport. When it comes to nutrition, there's so much good vegan stuff out there. Whatever you need, there's a vegan version that's easy to find. And when you start training, take your phone with you in case you see an injured or lost animal, which has happened to me. And don't spend time considering triathlons—just do it! It's such a great sport.

Written by Michelle Sherrow