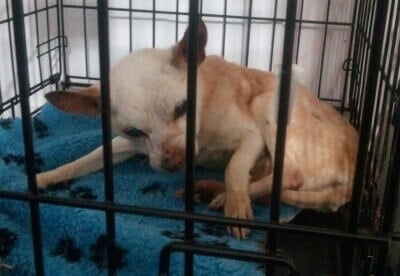 We don't know much about Malcolm's life. Apparently a stray, the elderly Chihuahua ended up at the New York Center for Animal Care and Control (NYCACC) in late November 2010. The NYCACC, through its "New Hope" program, sent Malcolm to Angel's Gate, a "hospice and rehabilitation center" in Delhi, N.Y. Founded and operated by Susan Marino, Angel's Gate promises that "special needs animals" will "live out their days in peace, dignity and love." There, Malcolm's condition was allowed to deteriorate day after day until he could no longer stand, walk, or eat. After suffering needlessly for about two weeks, Malcolm finally died, without any of the things that he was promised: hope, peace, love, or dignity.
Malcolm was obviously in need of immediate help. He was thin, lethargic, and anemic; he drank copious amounts of water; his head tilted significantly to the right. Three days passed before he was taken to a veterinarian, who drew blood for testing. PETA's investigator repeatedly inquired about the results, but Marino did not seem to have any idea—or much interest in—what they indicated.
Marino told PETA's investigator that Malcolm would just spill any water that was placed inside his cage. On December 7, when PETA's investigator offered Malcolm water, the dog drank continuously for three minutes. By this point, the dog could not keep his balance and fell over as soon as he was placed on all fours. Because of his head tilt and neurological problems, Malcolm could not eat unless someone held a bowl of food in front of him—something that no one except PETA's investigator seemed to take the time to do.
Three days later, on December 10, PETA's investigator found Malcolm lying in a cage with his head arched back. He was thinner than ever and showed no interest in eating or drinking. When the investigator alerted Marino to the dog's condition, she told him that Malcolm had been "running around" earlier that morning and that he was unable to walk because she had trimmed his nails and cut them too short—neither of which was believable in the least.
On December 12, PETA's investigator found Malcolm dehydrated, cold to the touch, and virtually motionless. He was dead by the following day.
Malcolm is one of hundreds of animals who were sent to Angel's Gate, undoubtedly with good intentions—intentions that ultimately did not help them. Malcolm should have been afforded a dignified, painless death by injection at NYCACC, but open-admission animal shelters have come under fire for having to euthanize animals who are not adopted or adoptable. They are under a tremendous amount of pressure to "save" animals at any cost, and animals like Malcolm pay the price every day.
The reality is that for animals who have no joy and a poor quality of life, euthanasia is a merciful blessing, and it is something that we owe to animals who depend on us to prevent and alleviate their suffering. Our difficult decisions are nothing compared to the agony that we prolong when we allow ailing animals to suffer without the relief and dignity of a humane death.
Here's to Malcolm.
Return to the investigation main page.