We ate copious amounts of Tofurky on Thanksgiving, shopped for our loved ones on Black Friday, and put our broadband to the test on Cyber Monday. But while we're smack in the middle of the holiday season, it's important to remember that many animals have nothing to celebrate—and they need our help. On Giving Tuesday, will you consider making a gift to help end animal suffering?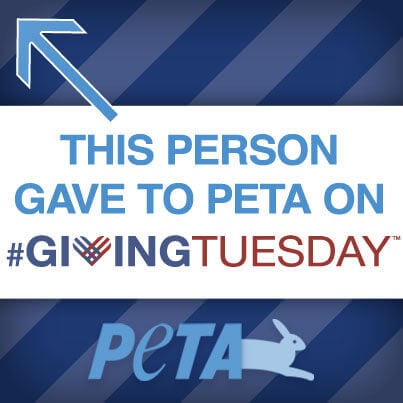 Giving as little as $5 can provide a neglected dog with a week's worth of food or send a stack of leaflets about the cruelty of the fur industry to advocates who are holding a demonstration. Just $5 can supply a free vaccination to a cat whose owners can't afford veterinary care or help buy the vegan food that PETA campaigners regularly hand out for free to get nonvegans to try plant-based foods. And $5 can help provide the batteries that keep our undercover investigators' cameras rolling while they capture irrefutable proof of animal abuse that's hidden behind closed doors.
Will you consider giving animals $5 this holiday season?