Things got rockin' at our "Summer Is No Vacation for Animals on Fur Farms" demonstration in Portland, Maine, when Gavin Rossdale and his son Kingston stopped by:
Gavin thanked the demonstrators for being there and mentioned that he and his fur-free wife, Gwen Stefani, are teaching their children to be kind to animals.
Chad Ochocinco (whose sizzling PETA anti-fur ad might be part of the reason why he's considered "the ultimate catch") tied the knot last weekend with fiancée Evelyn Lozada. So PETA sent the happy couple—what else?—an elegant faux-fur throw from Donna Salyers' Fabulous-Furs. 
Fur foe Lea Michele is being recognized for her animal activism. She earned a 2012 Do Something Award nomination for her work with PETA to shut down New York City's cruel horse-drawn carriage industry. Be sure to cast your vote here! 
PETA pals are snagging nominations right and left this week. Eva Mendes, Penélope Cruz, Benicio Del Toro, Roselyn Sanchez, Martin Sheen, and Constance Marie are all nominated for 2012 National Council of La Raza ALMA Awards. 
And vegetarian wrestler Austin Aries just claimed the title of TNA World Heavyweight Champion.
When 11-time Olympic medal winner Natalie Coughlin heads to London, she'll have some new reading material for the plane. PETA sent the swimmer vegan cookbooks and a vegetarian/vegan starter kit to help her maintain her nearly 100 percent vegetarian diet on the road.
NFL star Arian Foster is hopping on the vegan-athlete bandwagon. His inspiring tweets were some of the best in the Twitterverse this week: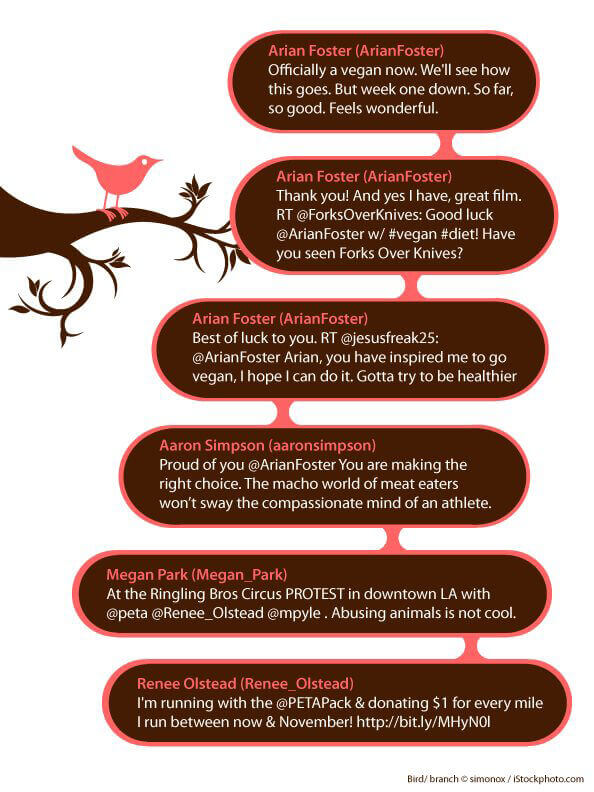 Dominic Monaghan also took to Twitter to defend animals this week, calling the show Swamp People, which glorifies the killing of alligators, "death entertainment" that "continues to demonize reptiles as monsters and animals that are okay to torture and kill." He then vowed, "I'm gonna stop them."
Bob Barker is ready to put a stop to the Calgary Stampede. Everyone's favorite game show host said of the cruel 10-day rodeo festival, in which three horses have already died this year, "I would like very much to see them celebrate the 100th anniversary of the Calgary Stampede by saying that is enough animal cruelty. Let's wind it up and close it down."
To keep up with what the stars are doing for animals, follow @PETA on Twitter.