Congratulations to Lea Michele on the distinction of being named a 2011 Variety Power of Women Honoree! The lovely and talented Lea Michele is being honored for her work with PETA at Variety's Third Annual Power of Women Event. PETA thanks Lea for her tireless efforts to alleviate the suffering of animals. Check out some of Lea's lifesaving work for animals below.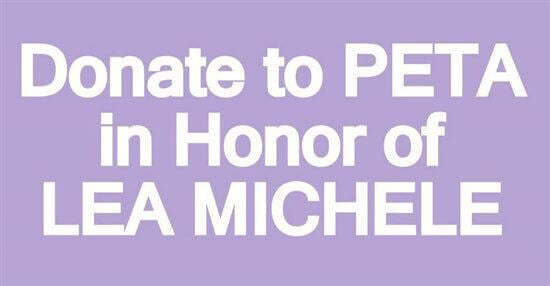 Lea Michele raises her voice against the cruelty of horse-drawn carriages. In a shocking undercover video, Lea exposes the harsh conditions to which these overworked horses are subjected—all day, every day. The native New Yorker also posed with a rescued horse for a gorgeous PETA ad to help spread the message that horses don't belong in traffic.
Lea Michele speaks up for animals killed for their fur in a PSA for PETA. She explains, "Animals used for fur—including dogs and cats—suffer horrible deaths because some people think it's OK to make a coat out of them." The only difference between your "best friend" and animals killed for their fur is the way in which they are treated. Foxes, minks, rabbits, and other animals killed for their pelts are bludgeoned, electrocuted, and often skinned alive.
You can support Lea Michele's mission to save animals by making a gift to PETA. Your kind donation will support the lifesaving work of the charity close to her heart. Donate now!