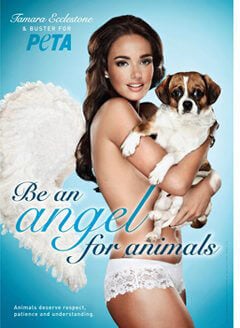 British beauty Tamara Ecclestone's new ad for PETA U.K. is sure to get engines revving.
"All dogs deserve to be loved", says Ecclestone, who appears in the ad with her beloved mutt, Buster. "I encourage everyone to do what they can to help animals in need and to open their homes and their hearts to a dog only if they have the time, resources, and patience to care for the dog."
The Formula 1 Racing correspondent and daughter of racing magnate Bernie Ecclestone has used her pull to persuade racers and sponsors to swear off fur and shun foie gras.
Stateside, Ecclestone supports PETA's Community Animal Project (CAP), which helps provide veterinary care, shelter, disaster assistance, and spay/neuter surgeries to animals in Virginia and North Carolina. You can help CAP, too, by making a donation to SNIP, which is PETA's mobile low-cost spay/neuter clinic, or to PETA's Animal Emergency Fund.

Written by Michelle Sherrow