Update (August 16, 2023): Today, based on evidence gathered during a groundbreaking 2021 PETA investigation of Plainville Farms—a self-professed "humane" turkey supplier—a former worker for the company, Mitchell Eugene Buckley, pleaded guilty to cruelty to animals in the Cumberland County Court of Common Pleas in Pennsylvania. Despite the company's claims that turkeys are "humanely raised" in a "stress-free environment," a PETA investigator caught workers there repeatedly kicking and throwing turkeys.
On August 9, former Plainville Farms supervisor Kevin Lee Wagaman pleaded guilty to cruelty to animals in the Cumberland County Court of Common Pleas. On August 7, three more of the 12 former workers for Plainville Farms who were charged with cruelty to animals pleaded guilty. Francisco Lebron-Cruz, Bryiant Perez-Paez, and Bryce Washington entered their pleas before a judge in the Cumberland County Court of Common Pleas.
On June 15, two more former workers for Plainville Farms, Juan Carlos Turi Baeza and Jose Enrique Turi Baeza, pleaded guilty to cruelty to animals before Judge Jessica E. Brewbaker in the Cumberland County Court of Common Pleas.
All seven men were sentenced to a 12-month period of supervised probation, during which they're prohibited from obtaining any employment that involves the care of animals.
Pennsylvania State Police charged these men and several other former workers for Plainville Farms with a total of 141 counts of cruelty to animals, the most of any factory-farmed animal case in U.S. history. Charges against nine of the men remain pending, including more charges against Lebron-Cruz and Perez-Paez in Franklin County.
Thanks to help from kind people like you, PETA's putting Plainville's "humane meat" myth on blast. But there's still more work to do! We need you to take action for turkeys today:
Read on to learn how PETA's undercover footage helped achieve this bit of justice for turkeys.
Originally published on October 6, 2022:
In August 2021, PETA provided the Pennsylvania State Police with undercover video footage of workers kicking, stomping on, beating, throwing, and mock-raping turkeys at farms that supply Plainville Farms—a company that claims that turkeys from its suppliers are "humanely raised" in a "stress-free environment."
Just over a year later, our persistent requests for action have been answered: Law enforcement has filed charges for the cruelty that PETA's investigator witnessed.
PETA's investigator saw workers viciously kicking and stomping on turkeys, violently hurling the birds at each other, and punching them. One man hit turkeys with a heavy metal rod. Another was seen holding a bird by her injured neck and mimicking masturbation before dropping her on the ground and kicking her.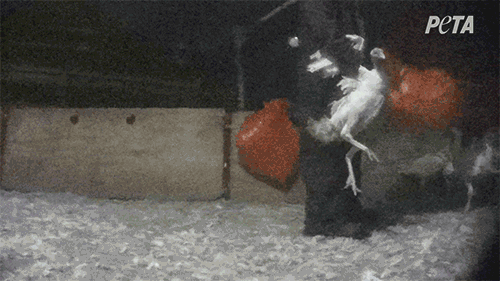 Crew leaders did nothing to stop the abuse, and one of them—who kicked turkeys himself—repeatedly encouraged workers to kick and throw the birds. He now faces dozens of charges.
With a total of 141 charges—including six felonies—against 12 men in six different counties, this case against former Plainville Farms workers involves the most charges and defendants in any case of cruelty to factory-farmed animals in U.S. history.
PETA's Persistent Efforts Put Plainville in Its Place
Following our 2021 investigation, Plainville was stripped of its "humane" certification, Whole Foods pulled its turkey products, and Plainville terminated 13 workers.
Meanwhile, PETA kept the pressure on the Pennsylvania State Police to file charges. In April 2022, we put up a "Why No Arrests Yet?" billboard near the department's headquarters, urging the agency to file charges swiftly against the workers who were caught on video abusing and killing vulnerable birds. Later that month, PETA supporters confronted state police at the department's headquarters armed with large photos of abused turkeys and signs reading, "File Cruelty Charges!" and "Why No Arrests Yet?"
In July 2022, PETA supporters held similar rallies outside several Pennsylvania district attorneys' offices, including in Carlisle, Chambersburg, McConnellsburg, New Bloomfield, and West Chester.
Our action alert was a success—supporters sent more than 13,000 e-mails to the Pennsylvania State Police in just a few days.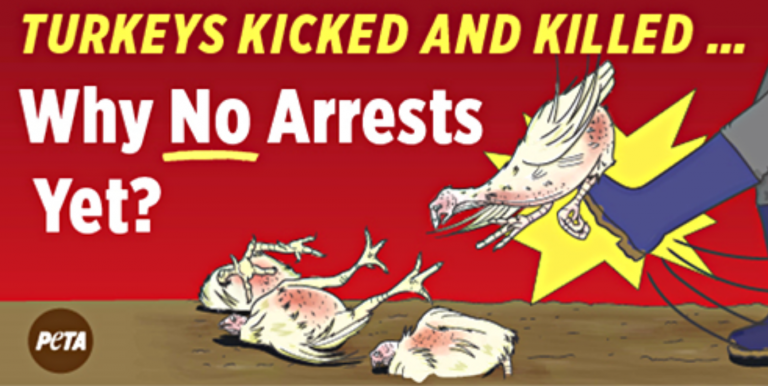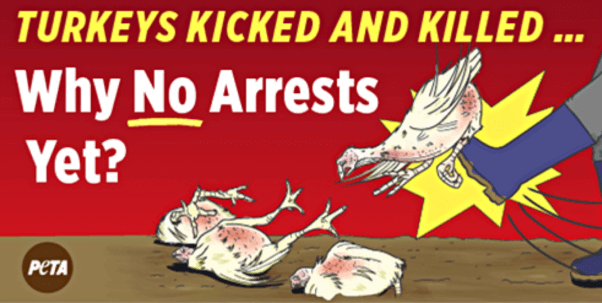 Speak Up Against Phony 'Humane Washing'
There's no such thing as "humane" meat, eggs, dairy, or anything else stolen from an animal. Don't be misled by marketing claims that animals are raised in a "stress-free" environment and trucked in "comfort." If you don't want animals to suffer, don't pay for their abuse.
Urge Whole Foods and Global Animal Partnership to stop duping consumers with false "humane meat" claims: