Why would major-league drugmaker Eli Lilly—maker of Prozac—steadfastly refuse to drop the near-drowning test on animals that other huge drugmakers have left in the dust?
Tens of thousands of our supporters have written to the company. PETA has written. Attended shareholder meetings. Held demonstrations, sometimes even outside the homes of the company's leadership. We've taken out ads, both mobile and stationary. We've mocked, cajoled, and done everything else we can think of to get Eli Lilly to ban the ridiculous forced swim test, which has been already been dropped by Johnson & Johnson, Bayer, GlaxoSmithKline, AbbVie Inc., Roche, AstraZeneca, Novo Nordisk A/S, Boehringer Ingelheim, Pfizer, and Bristol Myers Squibb.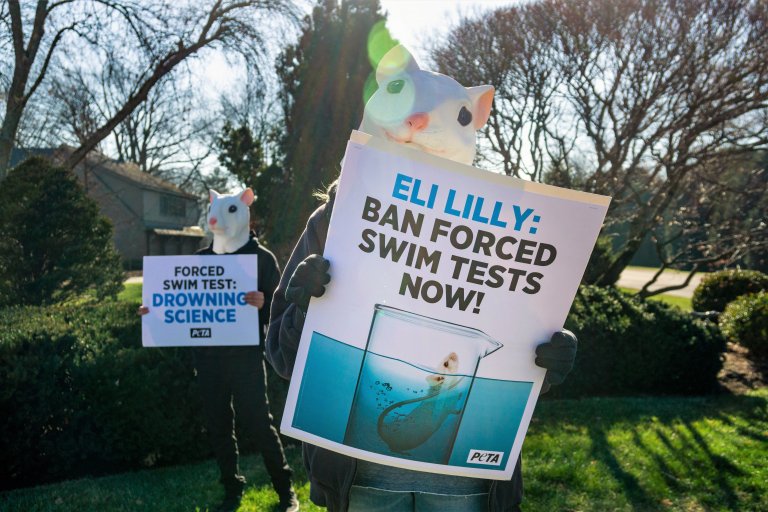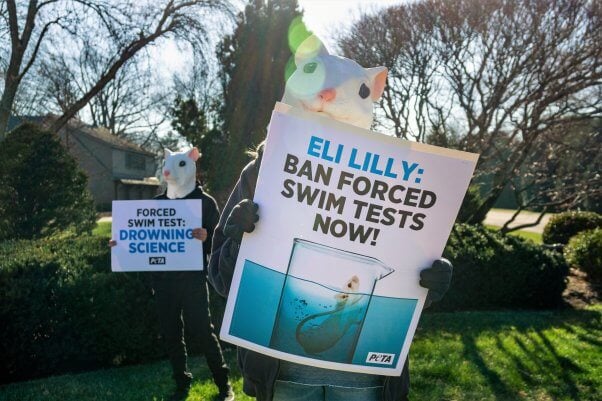 Still, Eli Lilly refuses.
Eli Lilly's Dark Past: A Culture of Torment
PETA did some digging. Perhaps the reason Eli Lilly won't drop the forced swim test is rooted in its long and ugly history of tormenting animals.
Eli Lilly has hurt and killed thousands of animals—including hundreds of dogs and monkeys—in various tests dating back to at least 2008, according to U.S. Department of Agriculture reports.
In 2008 alone, Eli Lilly used more than 2,200 animals in various tests. Included were 784 dogs, 424 primates, and 424 rabbits. These numbers don't include multitudes of mice, rats, and other small animals who are not afforded even the most basic protections under the federal Animal Welfare Act.
Among the death toll that year were four dogs and three monkeys used to test experimental drugs. Despite "severe" toxicity, neither the dogs nor the monkeys received pain medication, because that would have "confounded interpretation of the experimental results," a report says. Instead of alleviating their pain and healing them, the experimenters killed them—that's if the animals didn't succumb to their unmitigated suffering first and simply die on their own.
More recently, in 2016, 65 guinea pigs endured unalleviated pain after experimenters intentionally gave them cardiovascular or renal disease so they could test new drugs. Just as before, alleviating their pain, they said, would have thrown off the study. So the animals suffered until Eli Lilly decided that they were of no more use. Then they were killed.
Contract Killers
Perhaps aware that the tide is turning against animal testing, it appears that Eli Lilly has more recently taken to contracting out its animal torment to other laboratories—paying other companies to do its dirty work, instead of doing it in-house. The torture is just as grisly, nonetheless.
In an experiment published in 2020, Eli Lilly paid a laboratory to open the chests of dogs and pigs surgically and insert tubes into their blood vessels. An experimental protein was pumped into them through the tubes to see how it affected their blood pressure and heart rate. Then the animals were killed and their hearts were cut out and examined.
Eli Lilly also paid others to experiment on monkeys, according to a paper published last year. Experimenters injected 39 macaques with different antibodies, and the monkeys endured 14 blood draws over 31 days. Covance, a notorious contract scalpel-for-hire, conducted some of these experiments for Eli Lilly.
Take Action for Animals Today
Let Eli Lilly know that it's time to join the right side of history, as most of its competitors have done already, and ban the forced swim test: