Following over two decades of pressure from PETA entities around the world—including e-mails from over 300,000 supporters and eye-catching protests both outside and inside its stores—fashion brand Dolce & Gabbana has confirmed that it will ban fur and angora from all future collections. Thank you to everyone who took part in our campaign, whether by sending e-mails or speaking out in other ways!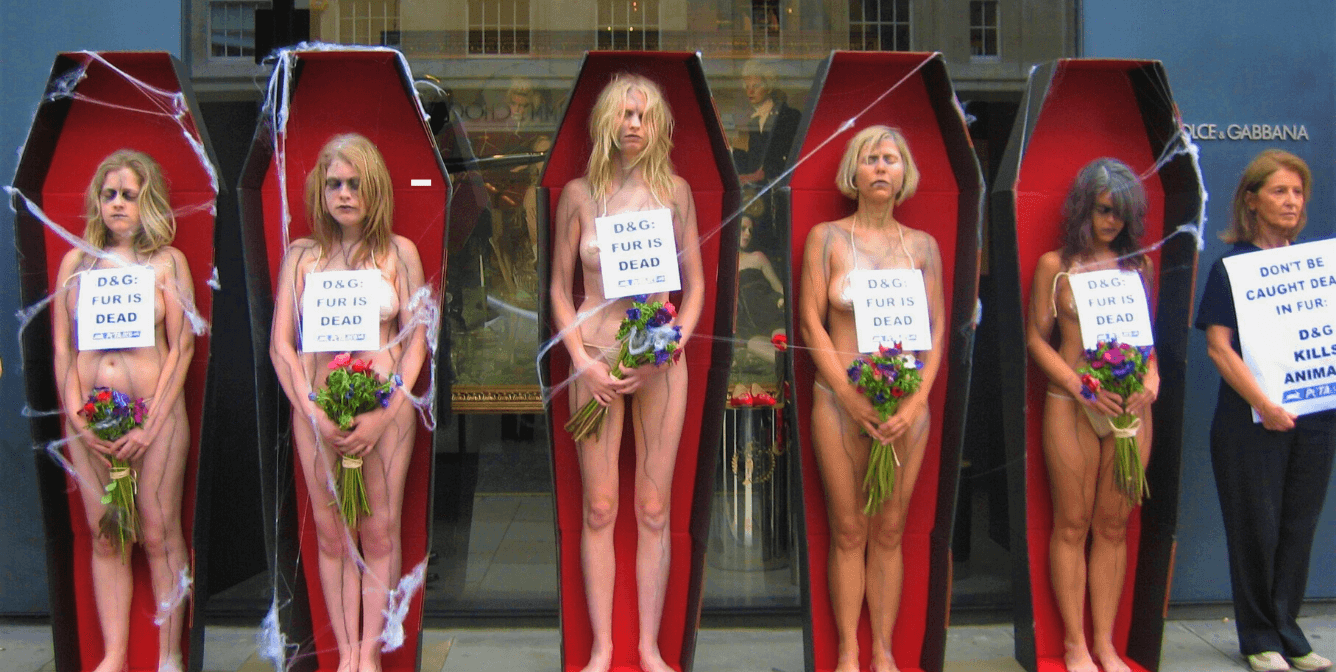 PETA U.S. is celebrating Dolce & Gabbana's compassionate and business-savvy decision to ban fur and angora, which is perfectly in line with the times. No kind person wants to wear the skin and fur of tormented animals.
Why Dolce & Gabbana Dropped Fur and Angora
Whether fur comes from an animal raised on a fur farm or one trapped in nature, using it for clothing caused a living, feeling being immense suffering.
Most animals used by the fur industry spend their entire lives in cramped cages, where they frantically pace back and forth, gnaw on the bars, and mutilate themselves.
Others are caught in steel-jaw traps, which slam shut on their legs, often cutting down to the bone, causing excruciating pain and blood loss. Some attempt to chew off their own legs to escape. If trapped animals don't die from blood loss, infection, or attacks from other animals, trappers strangle, shoot, or stomp them to death.
On angora farms, rabbits are typically kept in small, filthy, barren cages and live-plucked up to four times a year. During this terrifying process, they're often physically restrained while workers tear their fur out, causing them to scream in pain.
Companies that sell fur are complicit in this cruelty. Refusing to sell fur is the only way to help eliminate the suffering of animals exploited by the fur trade, which is why hundreds of major designers and retailers—including Armani, Burberry, Chanel, Gucci, Macy's, Prada, and Versace—have already banned it.
Urge Other Brands to Ban Fur and Angora, Too
Despite hearing from PETA that animals are bludgeoned, drowned, electrocuted, gassed, and skinned alive in the fur trade, Shopbop and other companies continue to sell fur and profit from this cruelty. You can encourage them to stop:
And TJX Companies recently went fur-free across all its brands—but it has refused to ban cruelly obtained angora. Urge it to take action now for rabbits abused for their coats.