UPDATE: The National Institutes of Health (NIH) has at last announced a plan to retire all NIH-owned and supported chimpanzees who are now warehoused in laboratories. All the chimpanzees will go to the sanctuary Chimp Haven over the next decade. PETA urges the government to move swiftly to get these animals to sanctuary as soon as possible. Many are elderly and have never had a chance for a real life.
PETA thanks Representatives Lucille Roybal-Allard and Sam Farr for urging NIH Director Francis Collins to retire the chimpanzees without delay. Thanks also to the more than 100,000 PETA supporters who urged NIH to get these chimpanzees out of the laboratories.
First update posted February 26, 2016: 
UPDATE: An article in The Washington Post today reveals that despite a promise by the National Institutes of Health (NIH) nearly three years ago that it would retire more than 300 chimpanzees who had been used in experiments to sanctuaries, hardly any have been retired. Records obtained by PETA suggest that not a single chimpanzee was sent to a sanctuary by NIH in 2015.
The Washington Post notes, "The controversial delay has kept the primates, [who] were previously subjected to tests and deliberately infected with diseases such as hepatitis, captive in Texas and New Mexico laboratories. Some chimps have grown elderly and died there, in pens averaging 25 square feet."
An NIH spokesperson claimed that seven chimpanzees were sent to Chimp Haven, a designated federal sanctuary in Louisiana, from Texas last April. But following a Freedom of Information request by PETA, the Louisiana Department of Agriculture and Forestry confirmed that it had no record that chimpanzees entered the state last year.
One cause for the delay is that the laboratories imprisoning the chimpanzees are fighting to keep them, and this likely has to do with the $57 in tax money the laboratories receive from NIH every day for each animal—which adds up to millions of dollars a year. PETA will continue working to ensure that these long-suffering animals get the sanctuary retirement they deserve and were promised by NIH. Please urge NIH to act now.
Originally posted November 25, 2015:
In response to the announcement by the National Institutes of Health (NIH) this week that it will retire all federally owned chimpanzees to sanctuaries, Representatives Sam Farr and Lucille Roybal-Allard have just sent a pointed letter to NIH Director Francis Collins to make sure that the agency follows through on its promises. Reps. Farr and Roybal-Allard both serve on the powerful House Committee on Appropriations (which funds the NIH) and both co-sponsored the 1999 Chimpanzee Health Improvement, Maintenance, and Protection (CHIMP) Act, which led to the creation of the federal chimpanzee sanctuary system.
My letter w/ @RepRoybalAllard to @NIH: No more delays retiring chimps to sanctuaries. https://t.co/phiAwk5vIl pic.twitter.com/SwT9LVrheC

— Congressman Sam Farr (@RepSamFarr) November 25, 2015
Their letter points out that even though the NIH announced in 2013 that experiments on chimpanzees were "unnecessary" and that it would retire the majority of its chimpanzees to sanctuaries, few of the 310 chimpanzees have been retired—and many chimpanzees have died while waiting for their freedom.
The Congress members' letter expresses their concern that if the NIH drags its feet on keeping its latest promise, more chimpanzees will die in laboratories and will never know the freedom and peace they've been deprived of for so long. The letter calls on the NIH to make financial arrangements immediately for the chimpanzees' retirement, provide Congress with specific details about the NIH's timeline and strategy, and keep Congress informed of its progress.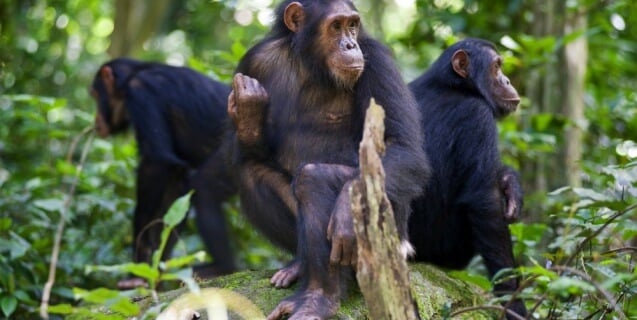 © iStock.com/guentergini
"When fully executed, this move will ultimately fulfill promises made by NIH to Congress and taxpayers, save federal funds, and provide chimpanzees with the relief they deserve."

-Reps. Farr and Roybal-Allard told the NIH director
We thank Reps. Farr and Roybal-Allard for working to ensure that the NIH's promises become reality for the hundreds of abused chimpanzees who are waiting to find freedom in sanctuaries.
Note: PETA supports animal rights, opposes all forms of animal exploitation, and educates the public on those issues. PETA does not directly or indirectly participate or intervene in any political campaign on behalf of or in opposition to any candidate for public office or any political party.