In a meeting with PETA last week, U.S. Coast Guard (USCG) officials announced a new policy that will reduce the agency's use of live animals in cruel and deadly medical training exercises by more than 50 percent! This means that more Coast Guard personnel will now be trained exclusively with advanced simulators and other non-animal methods instead of live animals.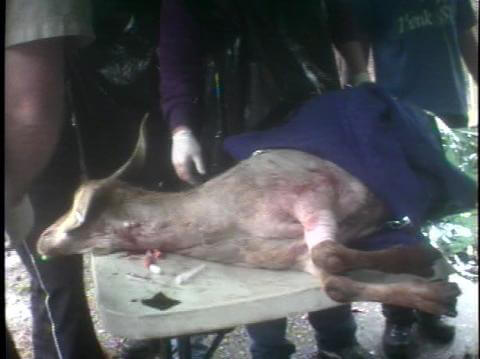 The USCG confirmed that this decision comes after an official review that was initiated in direct response to PETA's exposé of one of the USCG's cruel trauma training courses. In 2012, PETA released disturbing video footage narrated by Army combat veteran Oliver Stone that showed that USCG instructors cut off semiconscious goats' legs with tree trimmers, stabbed the animals with scalpels, and pulled out their internal organs as they moaned loudly and kicked their legs. PETA's investigation prompted action by the U.S. Department of Agriculture and members of Congress.
PETA salutes the Coast Guard for taking this first step in the right direction, but we are continuing to urge the agency to join nearly 80 percent of our NATO allies in opting to use lifelike simulators and other non-animal methods in medical training exercises instead of live animals.
Help end the military's war on animals by urging officials to take immediate action to replace the use of animals in cruel training exercises with humane and superior simulation tools.