PETA is asking the Texas Parks & Wildlife Department and Houston officials to look into possible violations of state and city law after a Mother Jones investigative piece revealed that bats were intentionally released into a hair salon specifically so that the star of Animal Planet's Call of the Wildman "reality" TV show could catch them.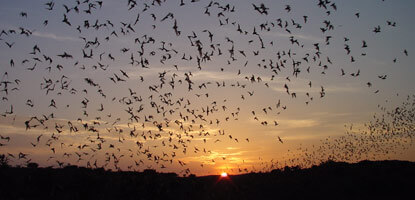 According to Mother Jones, after numerous nocturnal Mexican free-tailed bats were released into a brightly lit hair salon in Houston, Texas, Call of the Wildman star Ernie Brown Jr., aka "Turtleman," set out to catch them by hand and even held a bat up by the wings on camera. After filming, a pest-control service was reportedly called in to remove a dead bat from the salon.
The Mother Jones investigation notes that Animal Planet acknowledged that the bats were placed in the salon solely for the purpose of filming. Bats are delicate mammals who shun contact with humans. Should you find an uninvited "guest" in your home, stay calm and open the doors and any unscreened windows—he or she will find a way out.
PETA has already filed a complaint with the U.S. Department of Agriculture, which is investigating the incident as well as others, including one in which Brown violently wrestled a raccoon and another in which he forcefully wrestled a drugged zebra to the ground. We have also asked Animal Planet to put an end to these staged spectacles.
What You Can Do
Deliberate cruelty has no place on Animal Planet. Please urge the network to cancel this lame excuse for entertainment.