After learning that sheep are restrained and mutilated for wool, that goats scream in pain and fear as their hair is torn out, and that calves are branded on the face for leather, do you really want anything made from animals hanging in your wardrobe? We don't think so!
That's why PETA's doing everything that we can to pressure URBN brands—including Urban Outfitters, Anthropologie, and Free People—to ban wool, cashmere, mohair, leather, down, and alpaca fleece.
PETA Is Urging Urban Outfitters to Do Better
PETA is standing up for suffering animals and mindful shoppers who have been led to believe that they're buying from an ethical, progressive company, when they're really not. We're staging international demonstrations, launching far-reaching social media campaigns, and, as a shareholder ourselves, taking our message straight to the company's CEO and board.
Keep reading to learn how we're turning the heat up on these brands and how you can help us keep the momentum going.
Update (December 14, 2022): In our new anti-wool video featuring model and former Real Housewives of Miami star Joanna Krupa, the compassionate fashionista tells Urban Outfitters to "get with the program." It's time to swap out cruel clothing—made from the coats and skins of mutilated sheep, cows, geese, and other gentle animals—with vegan wear, and Urban Outfitters knows it. Krupa tells the fashion house to "step it up," reminding it that workers hastily shearing sheep for wool often cut, kick, or punch the animals, leaving them to suffer.
We couldn't agree with her message more—keep scrolling to see more of PETA's determined campaign against Urban Outfitters.
Update (December 5, 2022): From November 22 to 28, PETA took advantage of the commotion surrounding Black Friday and Cyber Monday with our annual, international Week of Action against Urban Outfitters brands. During some of the busiest shopping days of the year, we held bold demonstrations, passed out leaflets, called store managers, and coordinated a massive social media campaign, among other actions. Here were some highlights from the week:
On Cruelty-Free Friday, protesters in more than a dozen cities gathered outside their local Urban Outfitters brands stores holding signs displaying sheep, cows, and other victims of the fashion industry.
Our "shoppers" went into stores and placed PETA hanger tags on garments, revealing the cruelty behind clothing made from animals.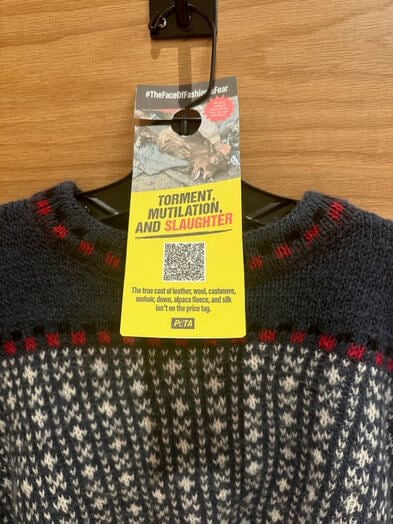 Then, they chalked the sidewalks outside with bold, animal-friendly messages.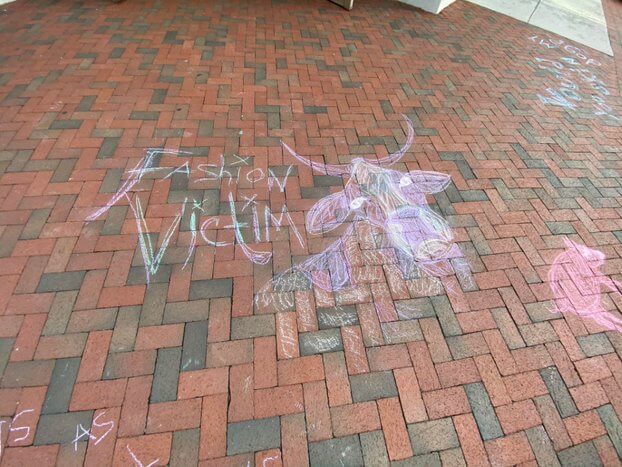 Supporters shared model Joanna Krupa's anti-wool ad promoting cruelty-free wool over wool made from the violent abuse of sheep.
Supporters called their local Urban Outfitters, Anthropologie, and Free People stores and spoke with store managers about ditching animal-derived clothing for compassionate vegan fashion. We also distributed leaflets at local Urban Outfitters brands stores and wrote letters to local news outlets—one of which was published in the Las Vegas Sun—to inform the public about the way animals suffer when the fashion industry exploits and kills them for clothing.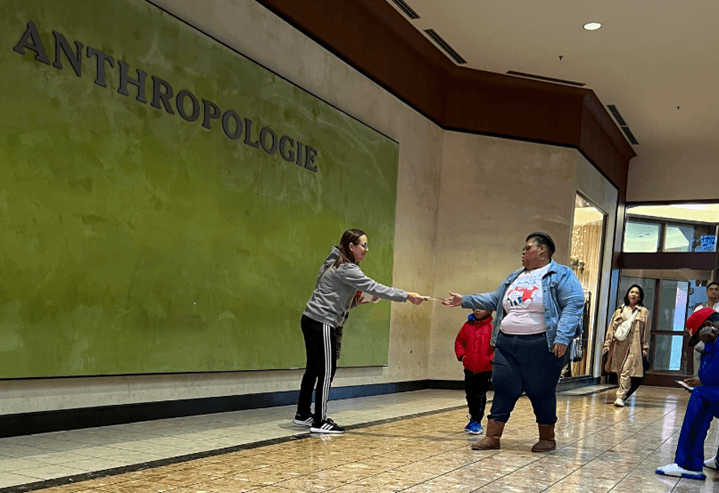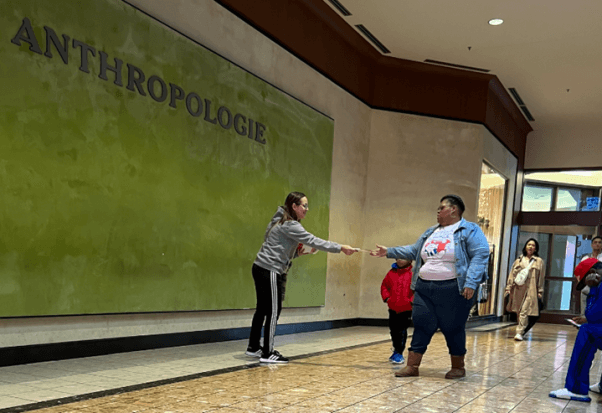 To wrap up the Week of Action, we overwhelmed the brands' customer service chats on Cyber Monday—the largest e-commerce sales day in U.S. history. Participants asked representatives why Urban Outfitters still sells animal-derived clothing when PETA has released dozens of investigations revealing that workers mutilate gentle sheep for their wool, pluck terrified geese for down, tear out sensitive goats' hair with sharp metal combs for cashmere, and beat and slaughter cows for leather.
Stay Tuned for More Updates
Over 330,000 people have already joined the campaign against Urban Outfitters' sale of cruelly obtained clothing by signing our various action alerts, and there will be plenty more opportunities to speak up for animals in the future. You can join us in pushing Urban Outfitters to sell only vegan clothing by sending a message to the company:
Update (June 7, 2022): Instagram influencers Francesca Farago, Angela Martini, Megan Lourdes, and Tanaya Henry—who have a combined reach of more than 7 million followers—are putting their influence to the test at Urban Outfitters' virtual annual meeting. On behalf of PETA and today's mindful consumers, who don't want to buy cruelly obtained and environmentally destructive animal-derived materials, the social media influencers confronted the company's executives to ask, "When will URBN leaders take our generation's concerns seriously and stop selling cruelly obtained and environmentally destructive animal-derived materials?"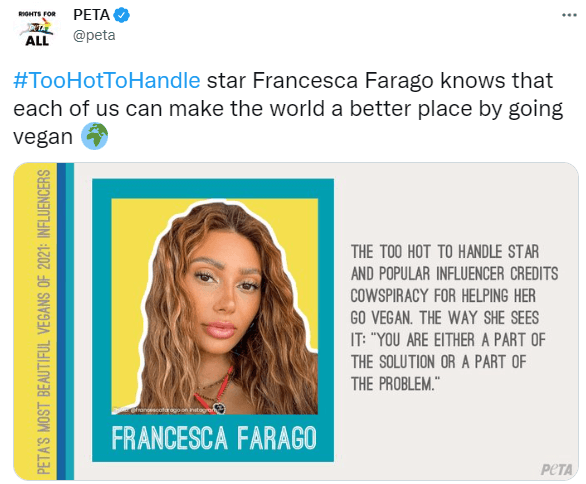 While the team of influencers took PETA's message to the boardroom, PETA activists lined the streets outside one of Urban Outfitters' Philadelphia locations—along with can't-be-missed "sheep," "cow," and "goose" mascots—to demand that the retailer ditch animal-derived clothing.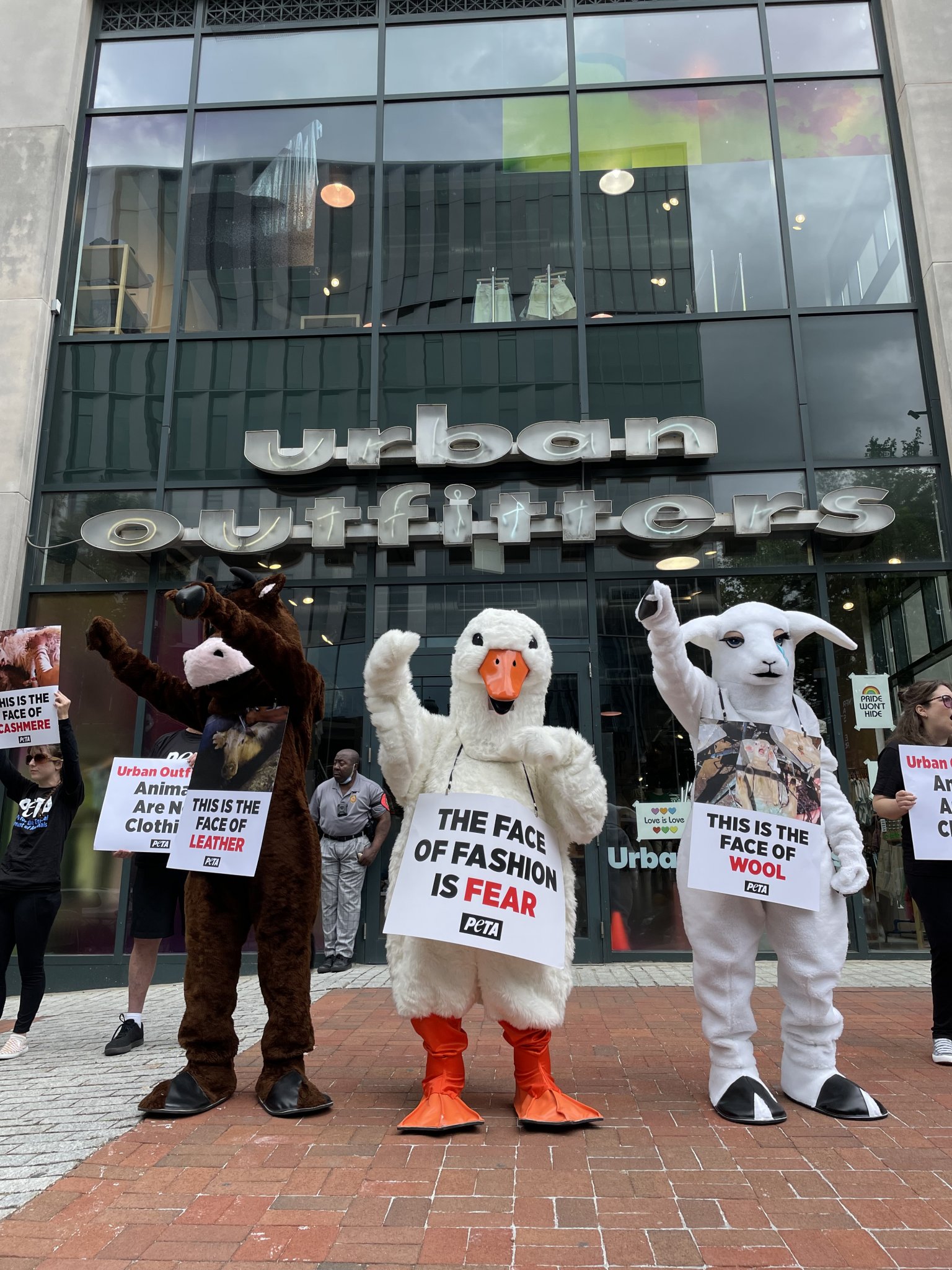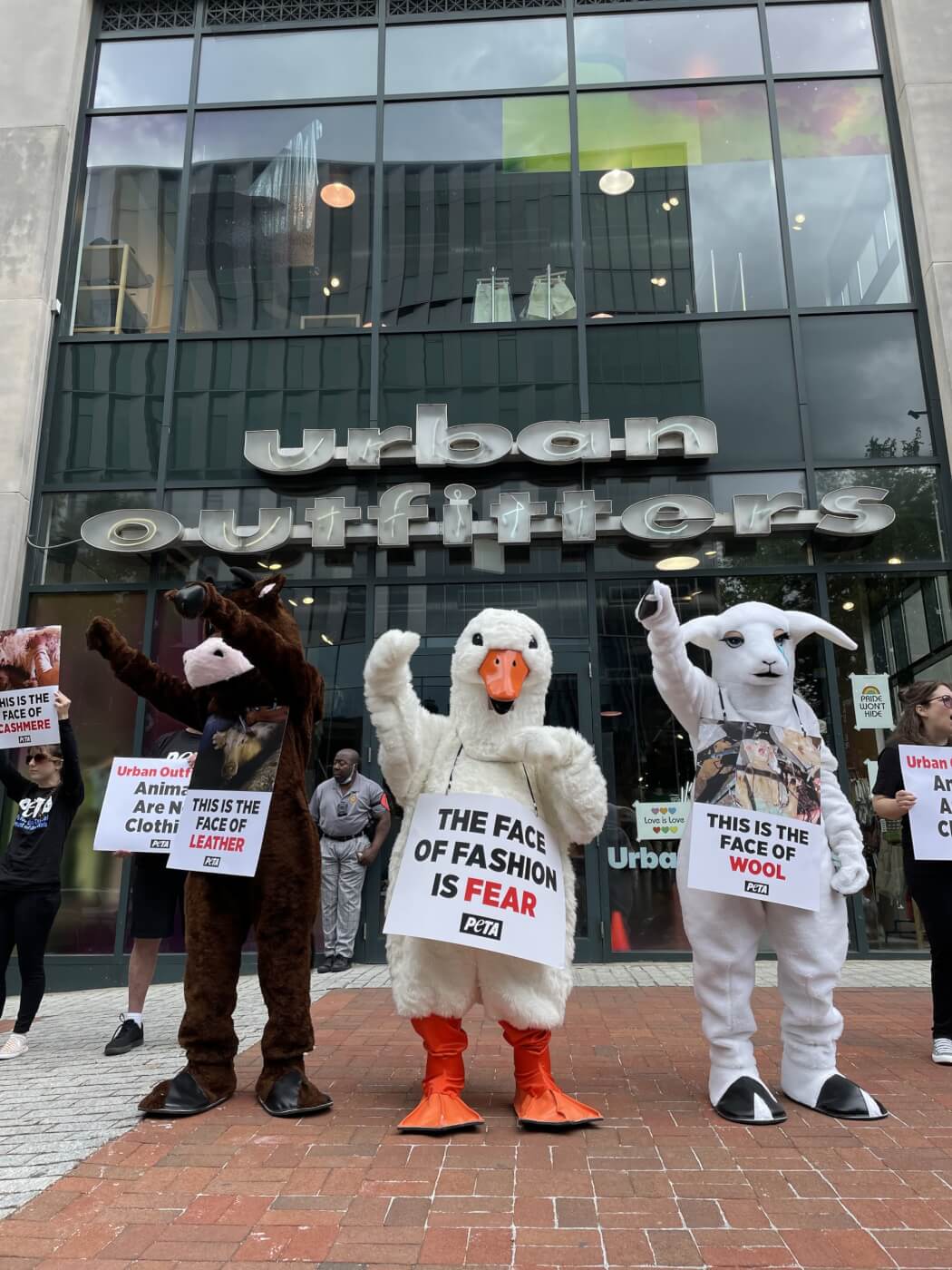 PETA also joined forces with street artist Praxis to launch a powerful flyposting campaign across Philadelphia. We placed more than 200 posters throughout the city, putting the company on blast for failing to ban alpaca fleece, wool, leather, mohair, cashmere, down, and all other animal-derived materials.
Update (March 29, 2022): To urge shoppers in Austin, Texas; Salt Lake City; and Madison, Wisconsin, to avoid shopping at Urban Outfitters—at least until the company stops selling cruelly obtained animal-derived materials—PETA placed more than 40 of our "We Want You to Change" ads across the cities. By hyping our campaign near shopping centers in cities ranked as some of the best college towns in America, we're calling on the company's major demographic of young shoppers to make kinder purchases.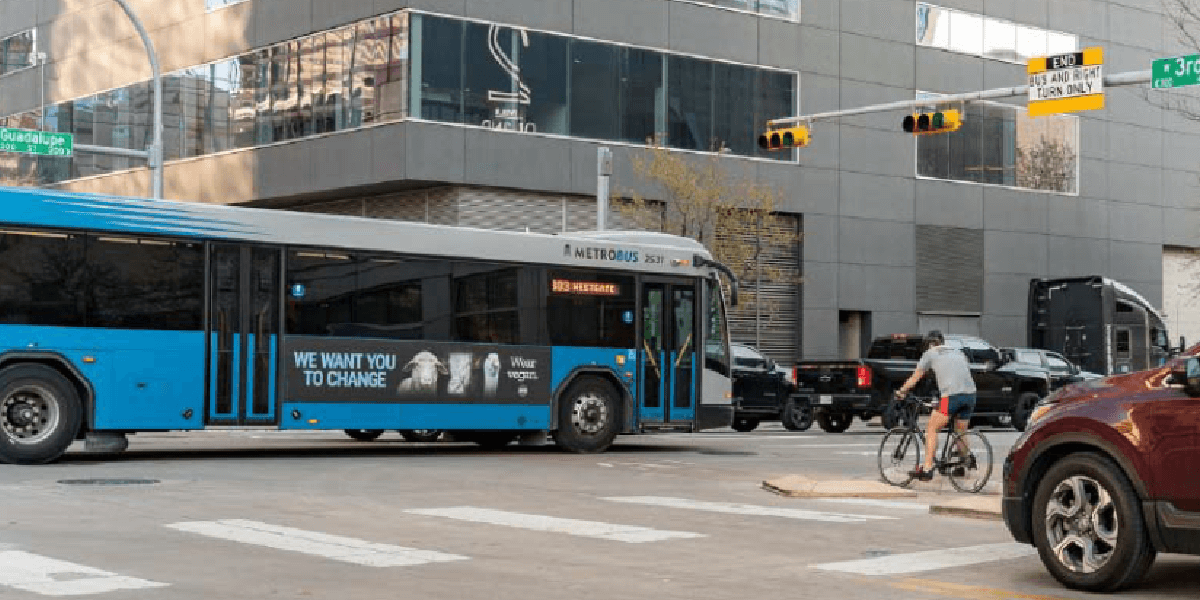 Activists also made a bold appearance outside an Urban Outfitters store in Austin, donning animal masks and holding signs that read, "Urban Outfitters: Animals Are Not Clothing." Until Urban Outfitters cuts the cruelty by banning wool, cashmere, leather, down, alpaca fleece, and all other animal-derived materials, PETA will continue reminding the company that our fellow animals are individuals—not accessories.
Update (January 20, 2022): On the birthday of URBN Global CEO Sheila Harrington—who oversees Urban Outfitters and Free People—PETA supporters crashed the party to deliver a message for animals who are killed for leather, down, cashmere, and other cruelly obtained materials sold by Urban Outfitters brands.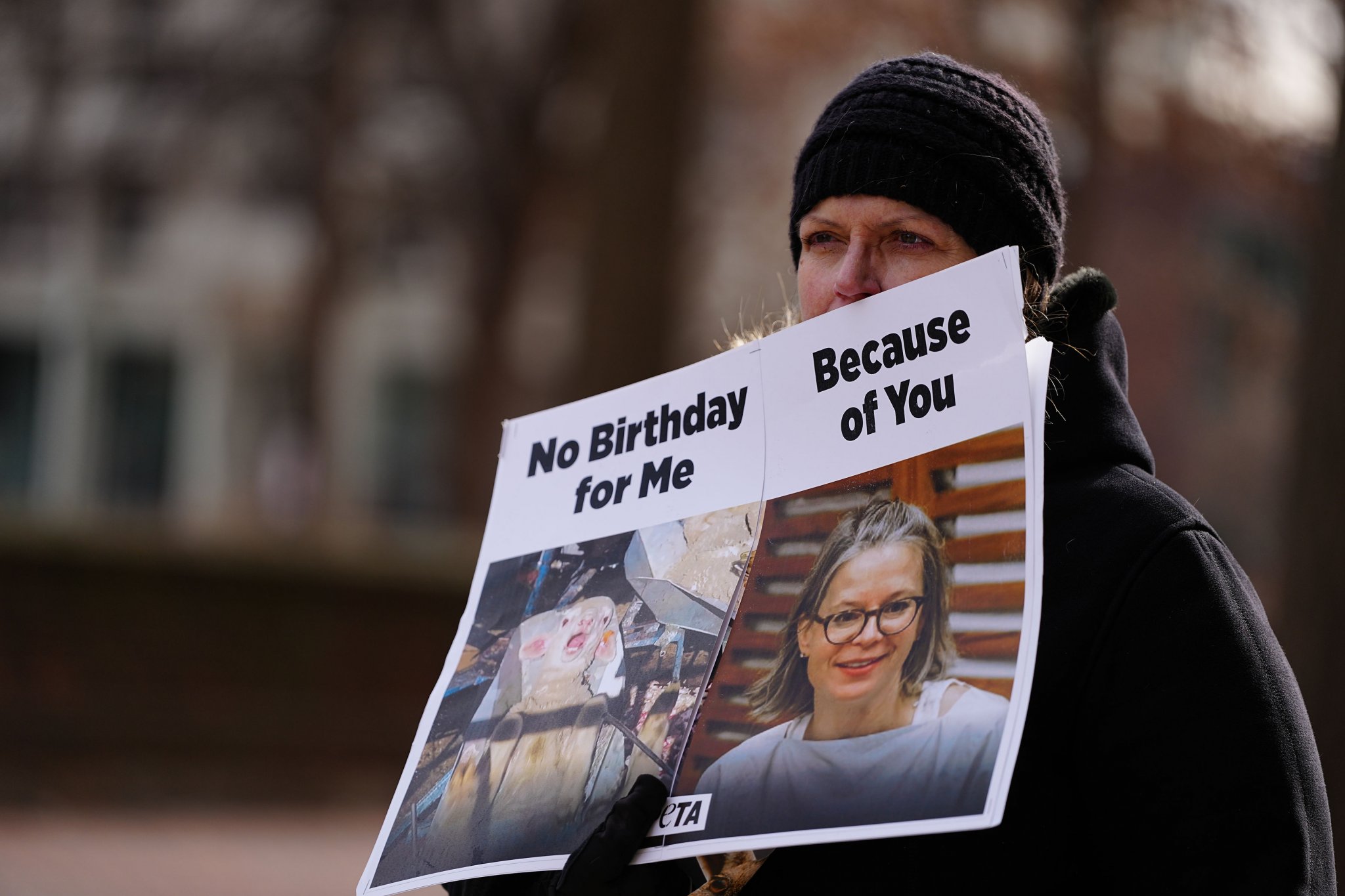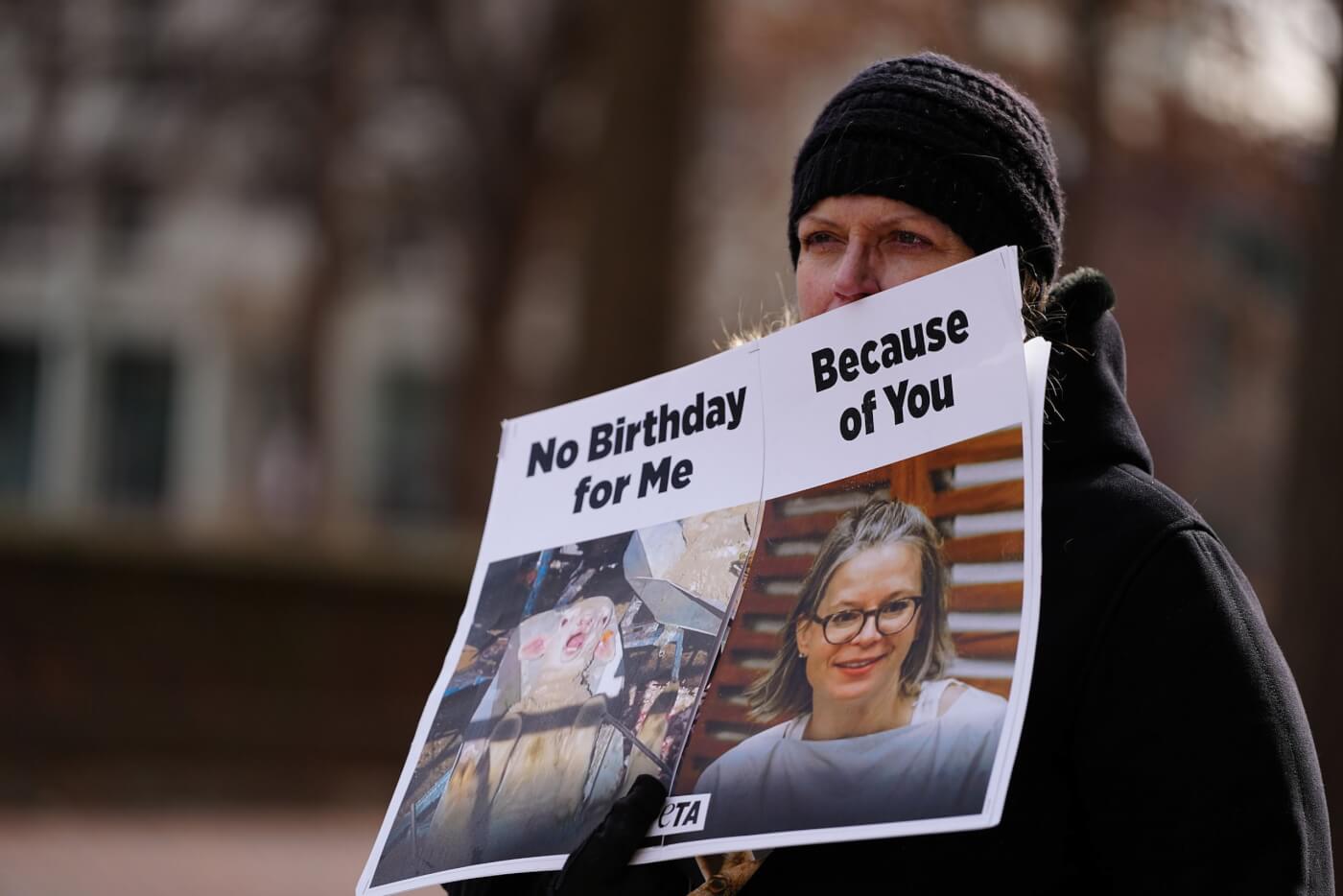 Outside of Harrington's Philadelphia home, demonstrators in goose, alpaca, cow, goat, and sheep masks blasted eerie birthday music while holding signs reading, "No Birthday for Me Because of You"—a reminder that animals don't want their lives to be cut short for clothing.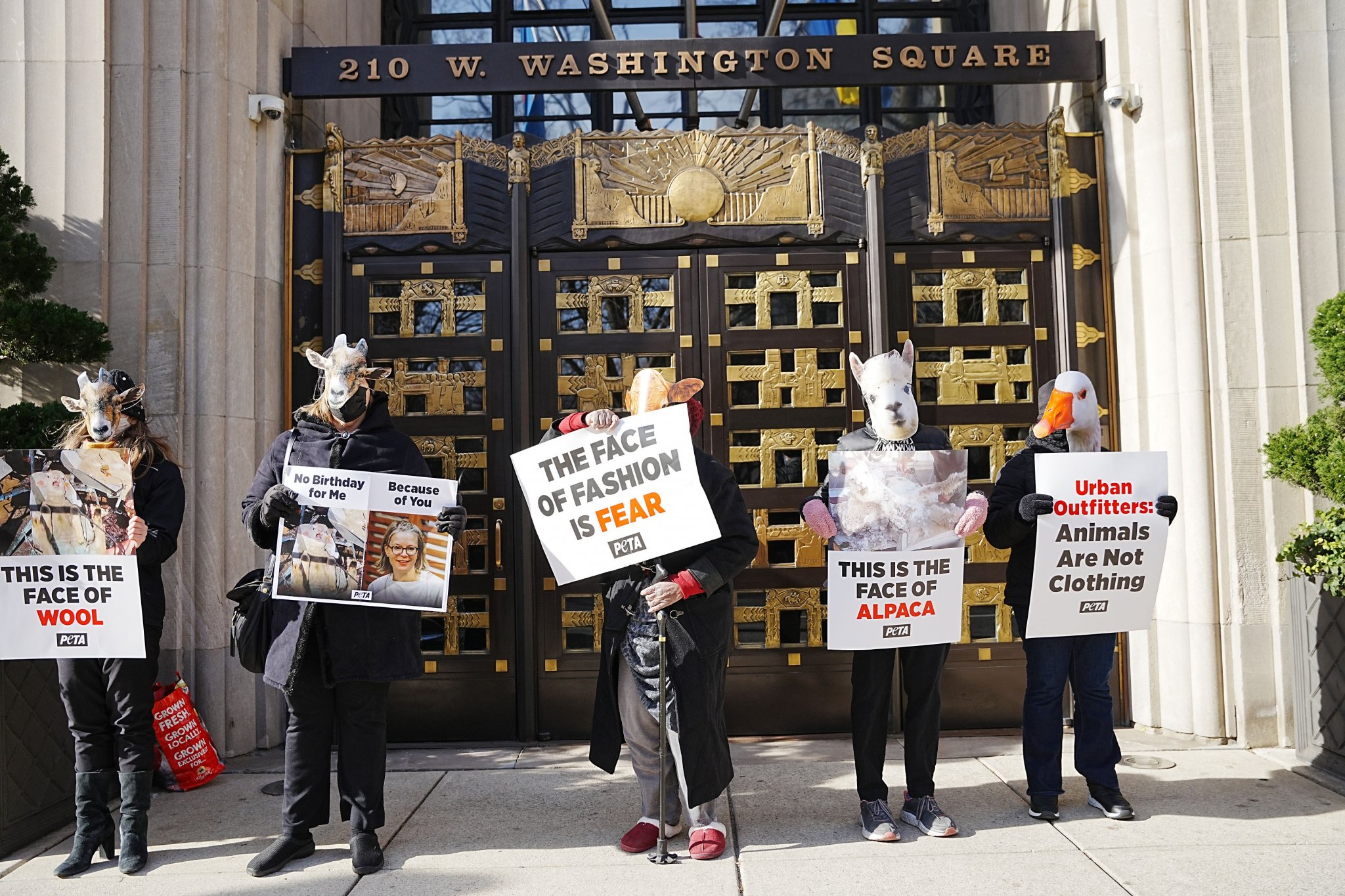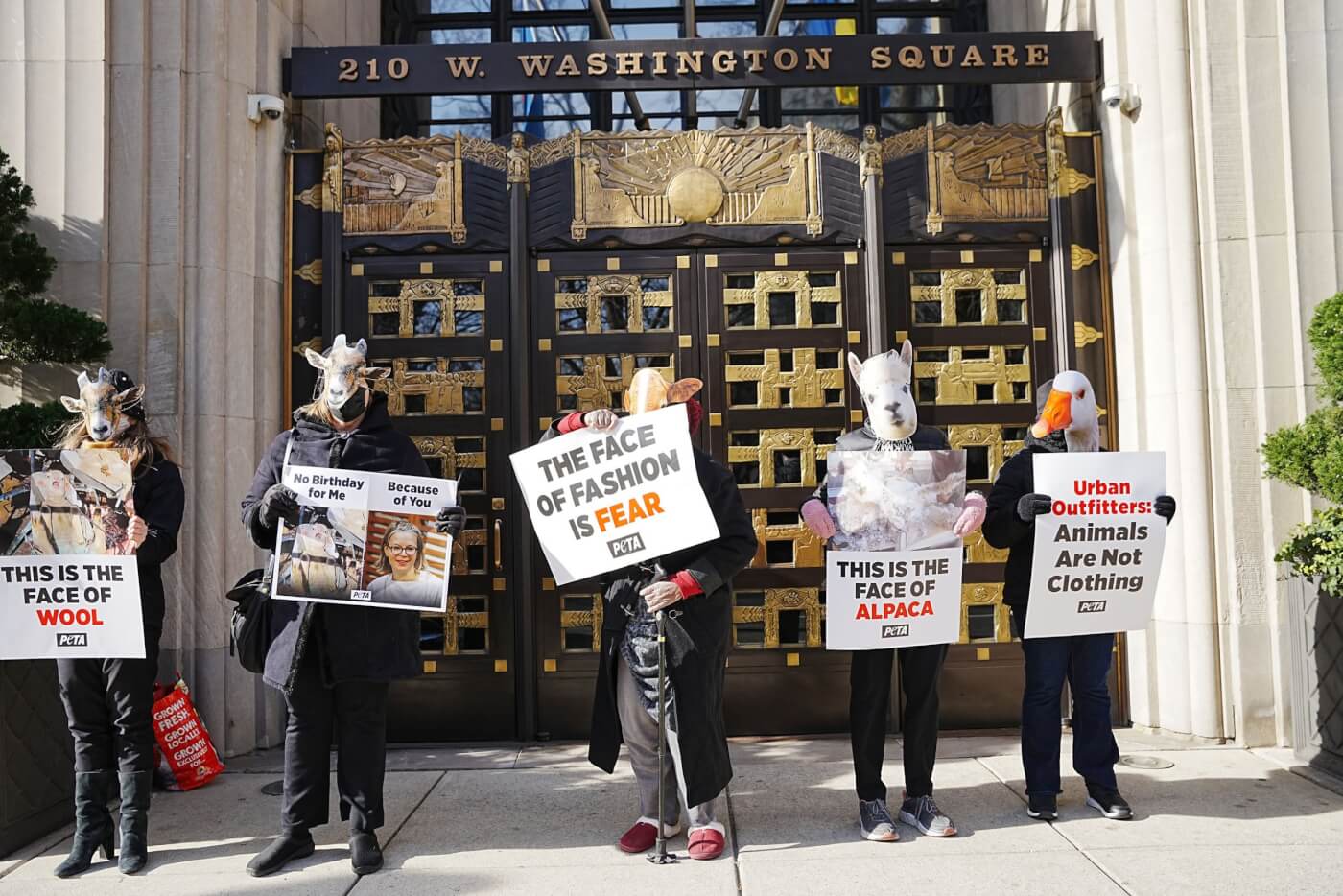 Update (December 7, 2021): What better time to kick off our week of action against Urban Outfitters brands than on the busiest shopping day of the year? That's right—from Black Friday on November 26, until December 3, we called on shoppers to join us through call-ins, targeted social media posts, leafleting, stickering, and more to urge the company to stop selling animal-derived materials.
Ahead of our weeklong event, PETA launched a flyposting campaign targeting 15 Urban Outfitters, Free People, and Anthropologie stores across New York City, confronting shoppers with images of sheep and goats abused for sweaters like those on Urban Outfitters brands' racks.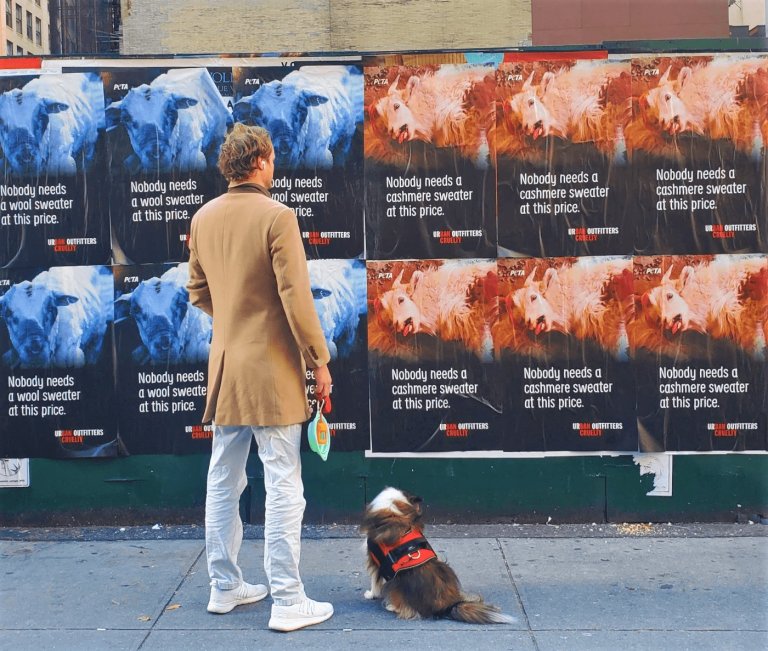 During PETA's week of action, supporters continued taking to the streets in our bold demonstrations in New York City, New York…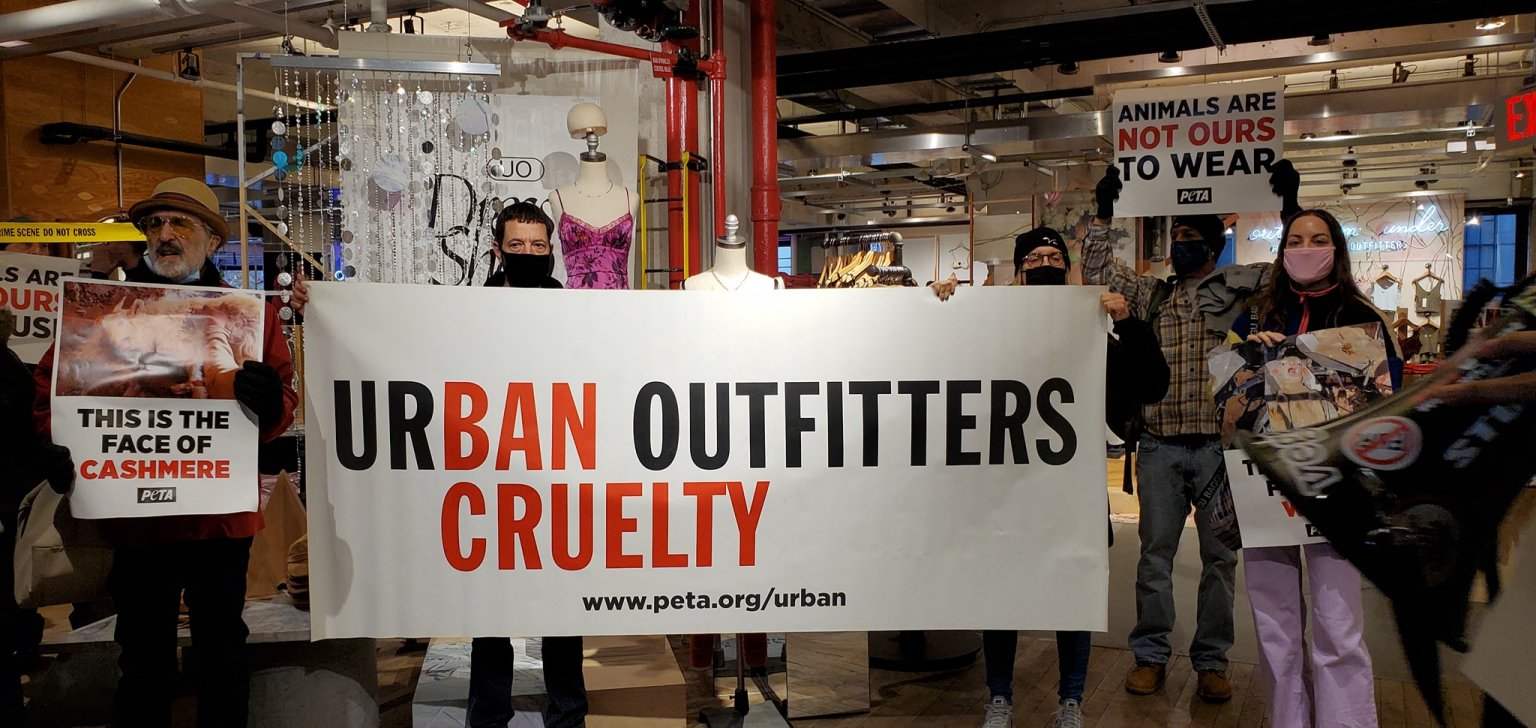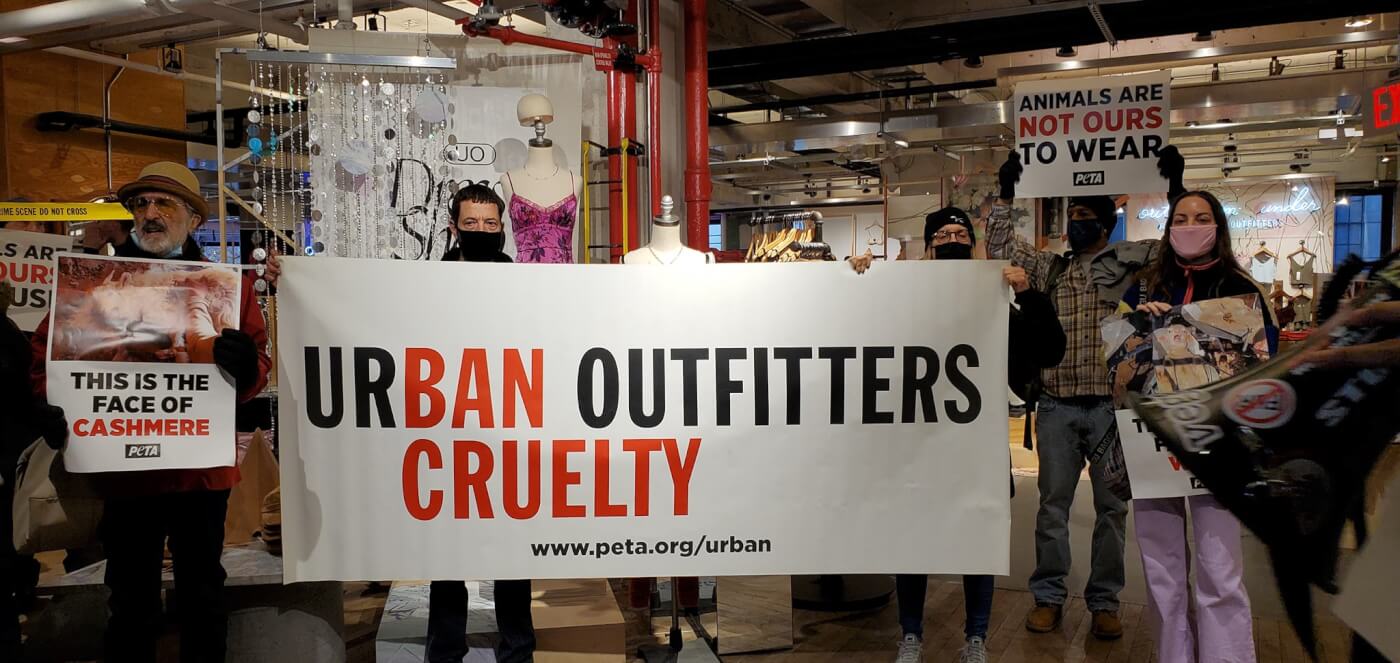 …San Diego, California …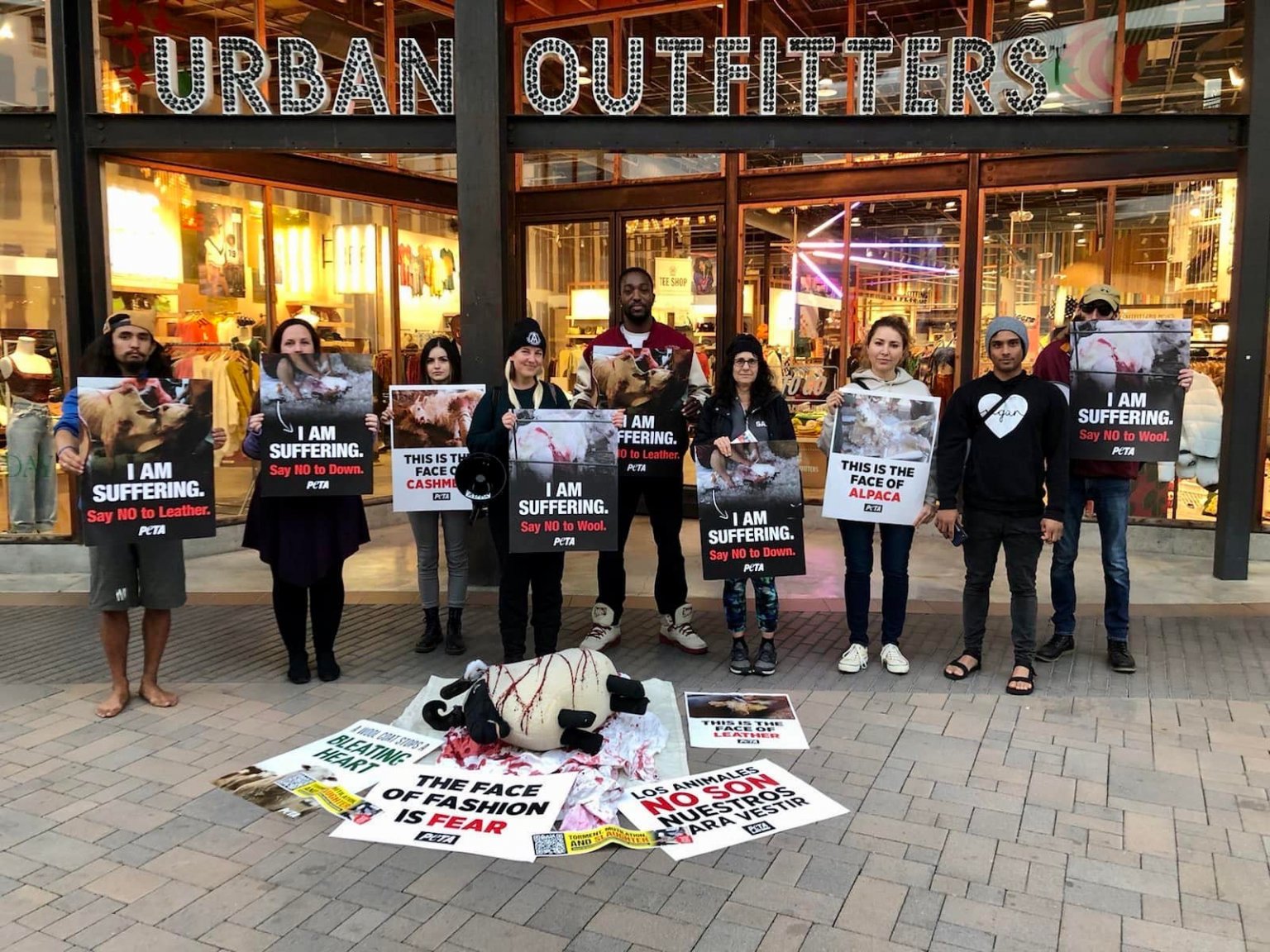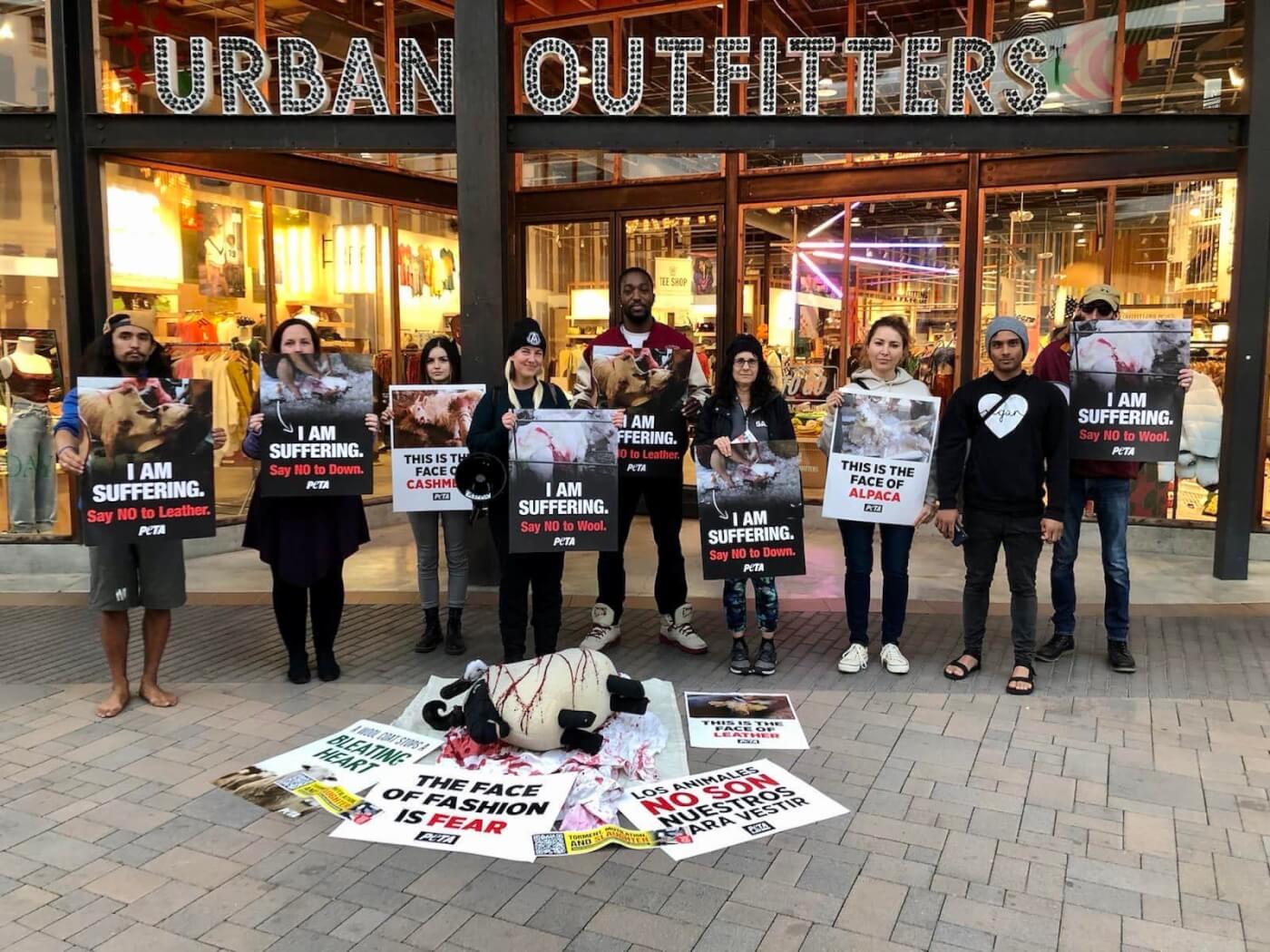 …Las Vegas, Nevada…
… Boulder, Colorado …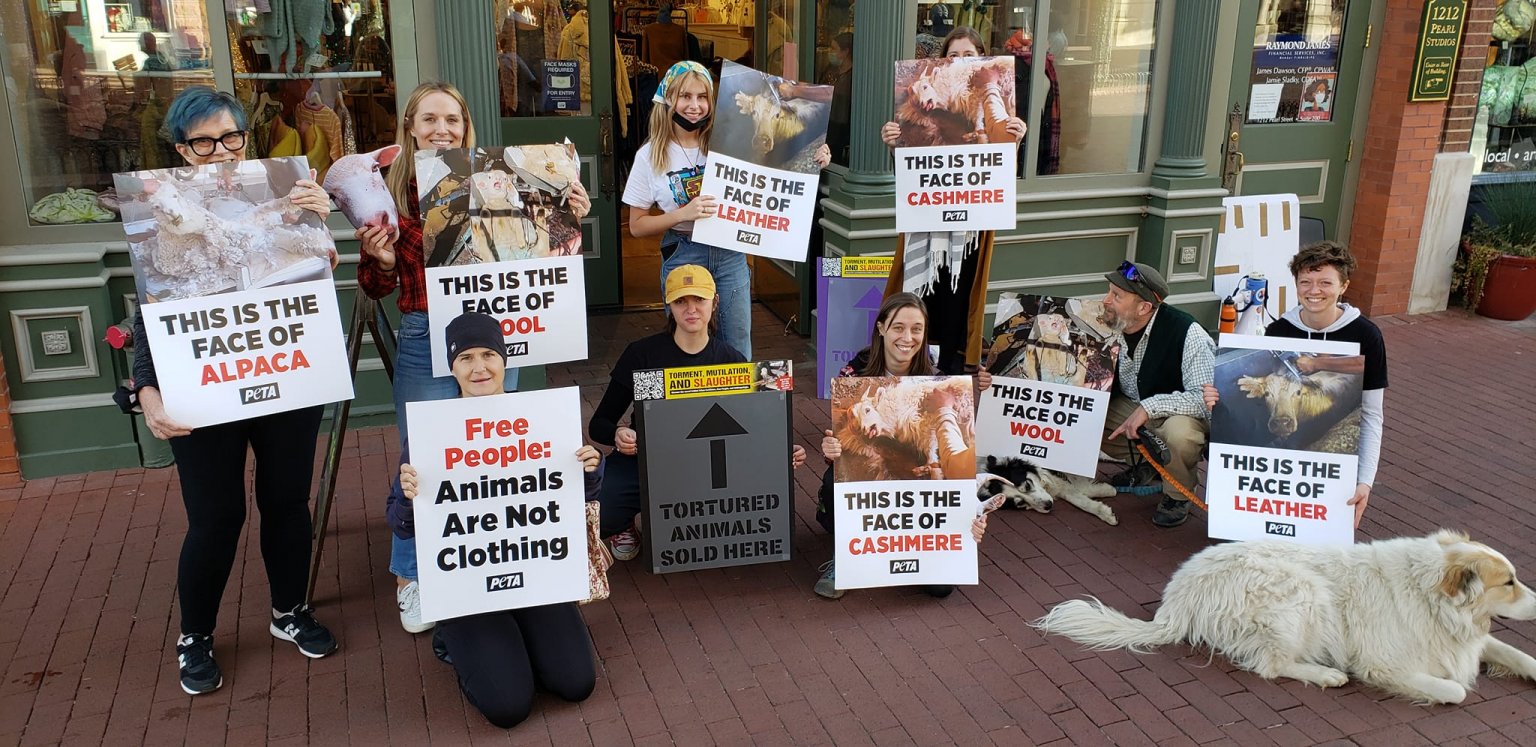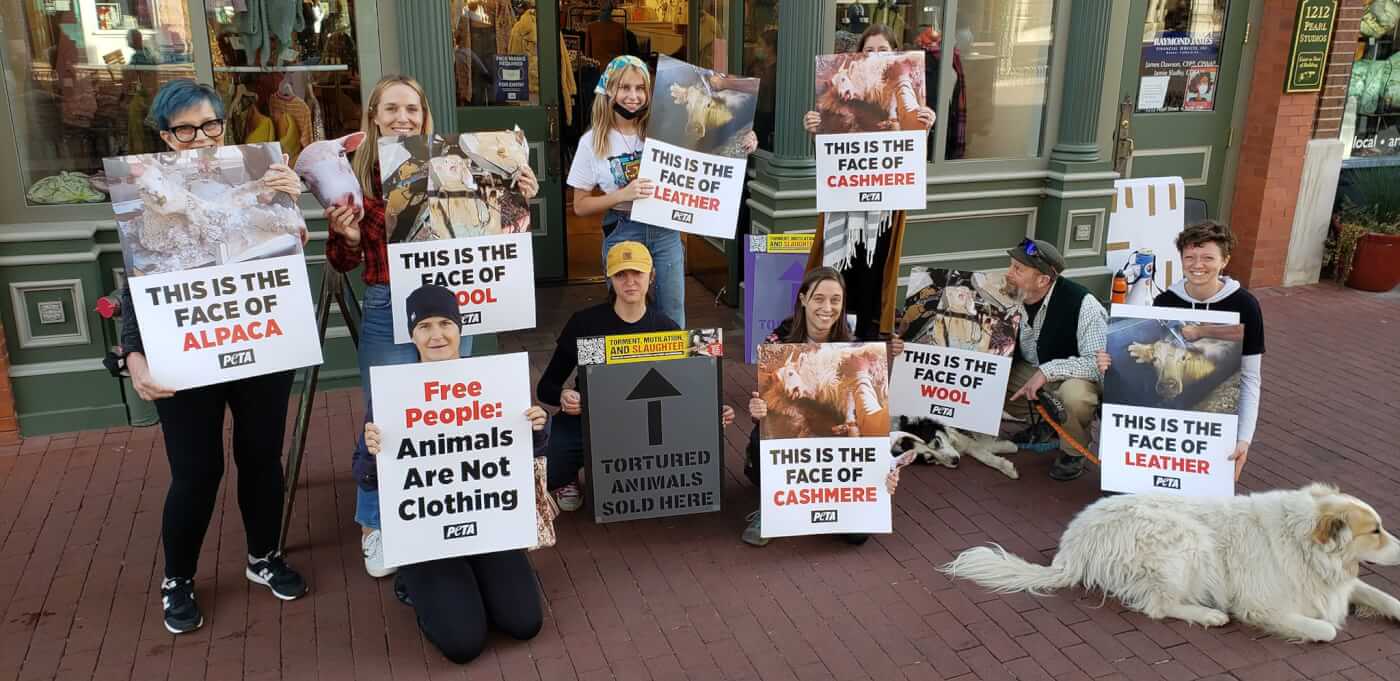 …Dallas, Texas…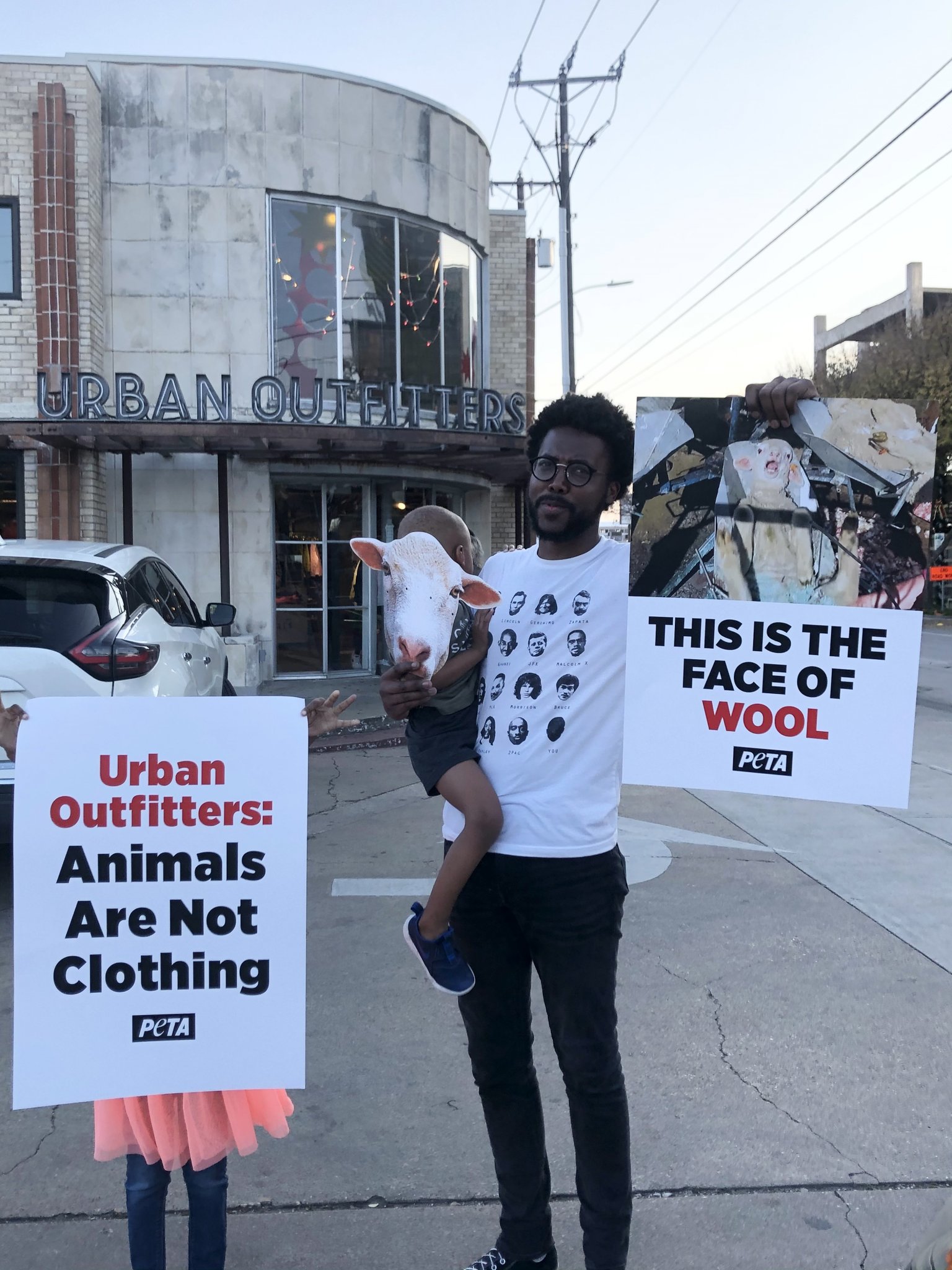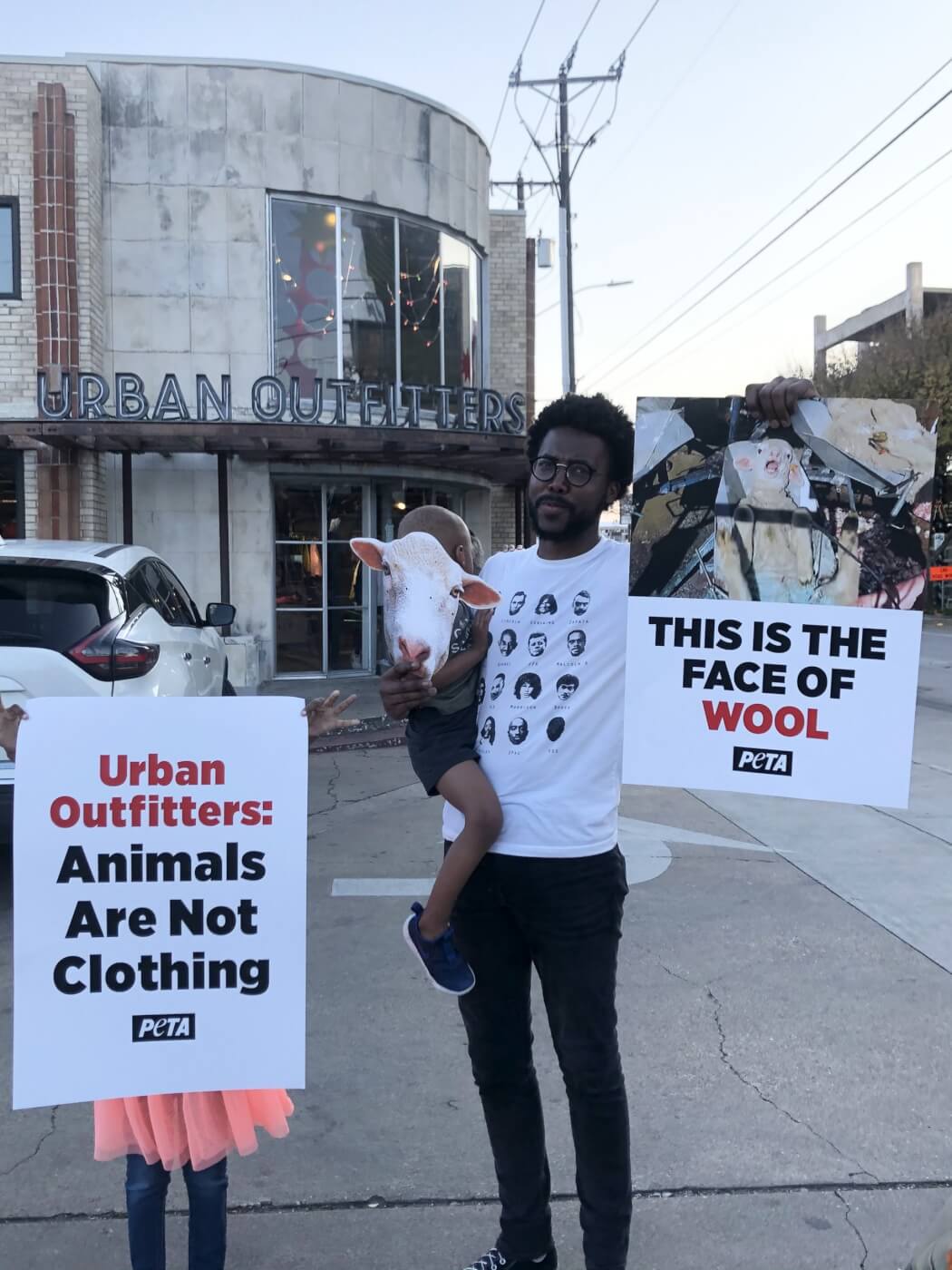 … Norfolk, Virginia …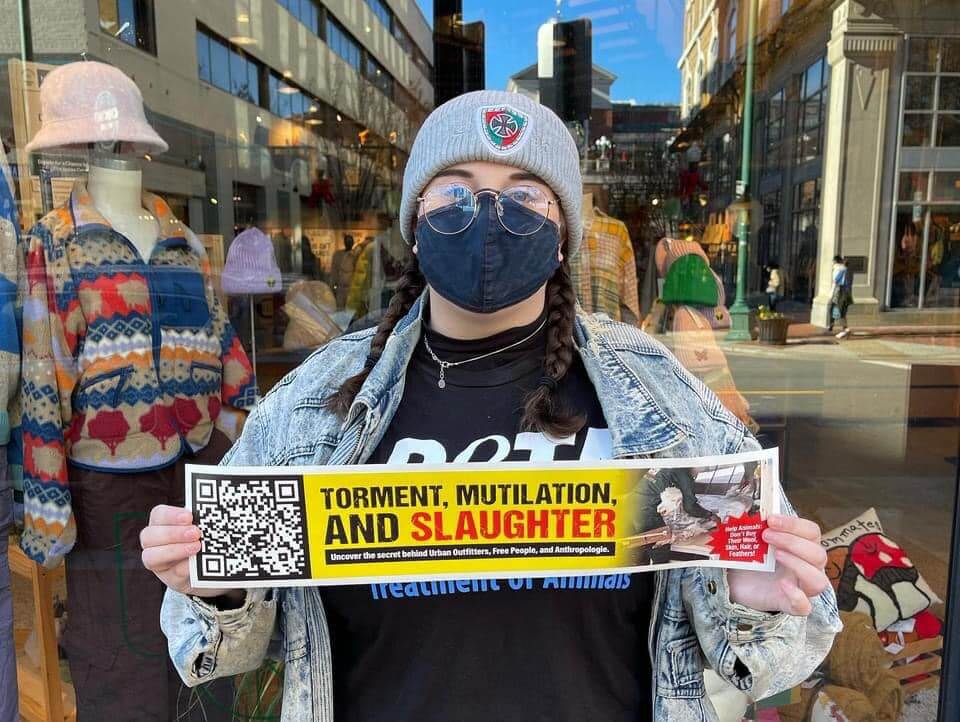 … and other cities across the U.S. to show the company the true cost of selling cruelly obtained clothing.
Throughout the week, we also called on supporters to turn their "Karen" on and speak to a manager at their local Urban Outfitters brand stores, clog up the brands' online "chat" service, share PETA's short documentary The Face of Fashion Is Fear, chalk an animal rights message outside a store, and more.
Update (November 8, 2021): In time for the fall shopping season, PETA has joined forces with street artist Praxis to launch a flyposting campaign in Philadelphia, which blasts Urban Outfitters for failing to go leather-free. Across the city, shoppers will see our bold message featuring a shopper tearing skin off a cow.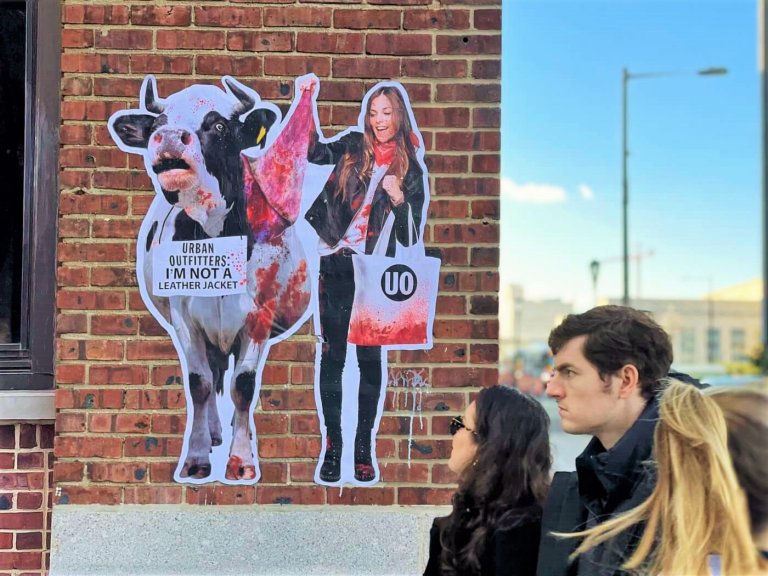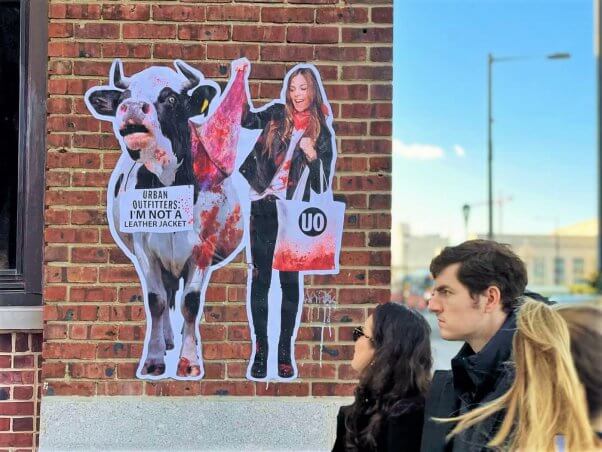 Praxis
Our eye-catching display targets the brand's Navy Yard headquarters and stores near the University of Pennsylvania and Rittenhouse Square Park, urging passersby to recognize the individual behind every leather accessory.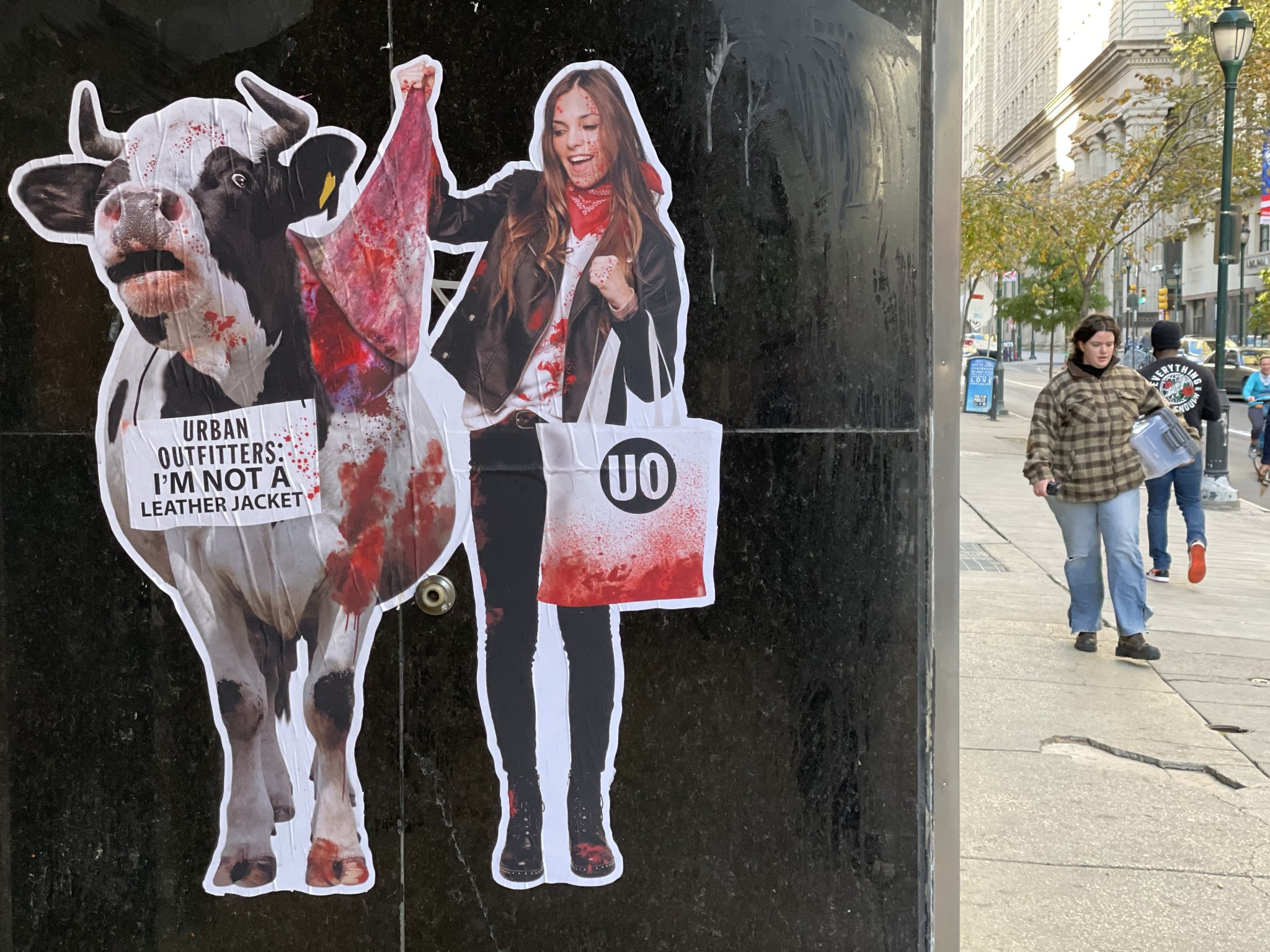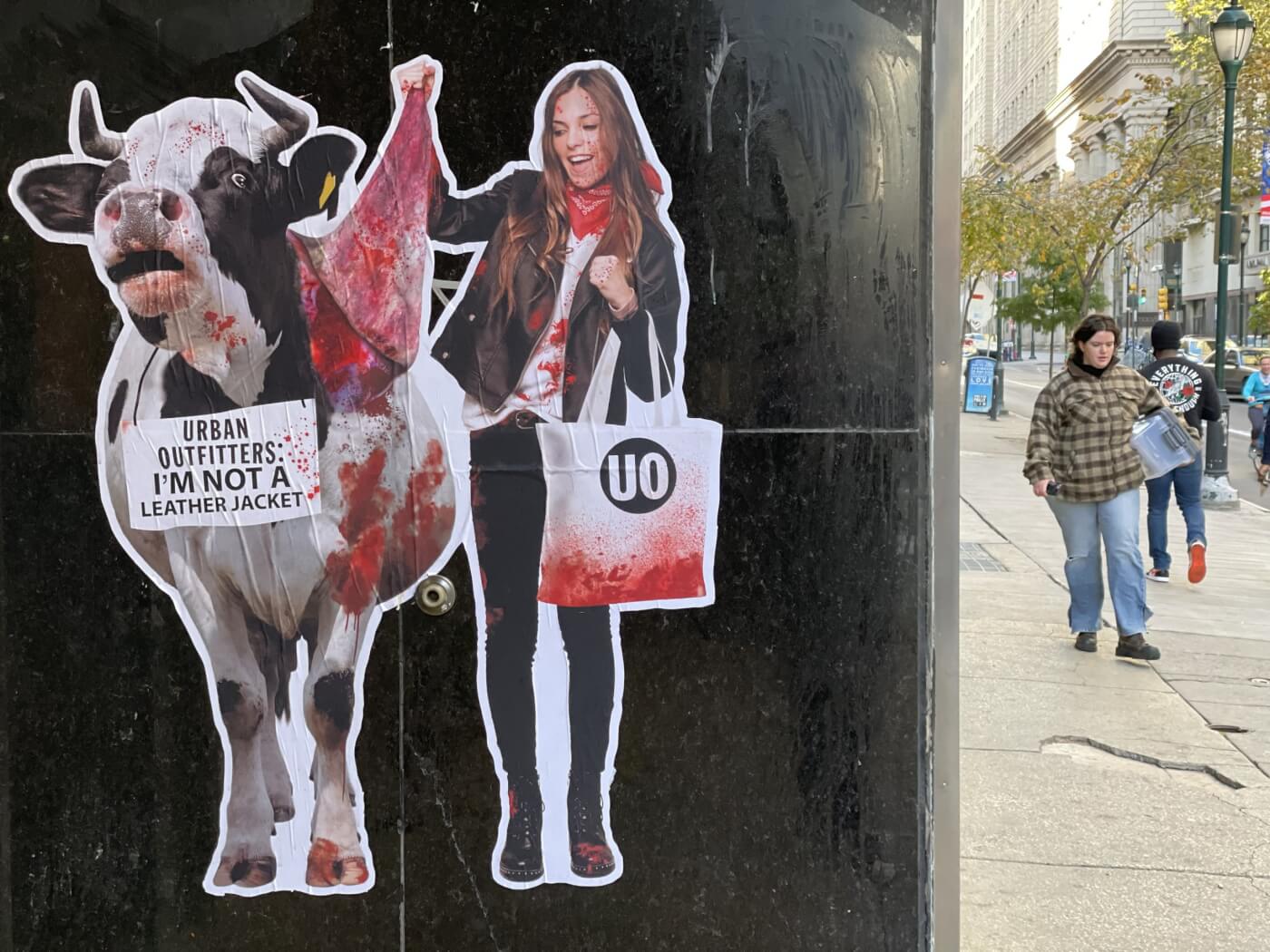 Praxis
Update (June 8, 2021): We know that this generation's trendsetting, environmentally conscious consumers don't want to wear the fleece of alpacas, the wool of sheep who were roughly sheared and left bleeding from deep wounds, or leather made from gentle cows, who are torn away from their families before they're hung upside down and their throats are cut. The question is, when will Urban Outfitters listen to its customers by ending the sale of animal-derived materials? As a shareholder of the company, PETA took our concerns straight to its board at the annual meeting on June 8, right before taking to the streets in a passionate demonstration.
To speak up for the individuals who are killed for clothing, PETA protesters in goat, cow, alpaca, and sheep masks gathered outside an Urban Outfitters store and shot blood-red smoke into the sky to blast the company for selling cruel products.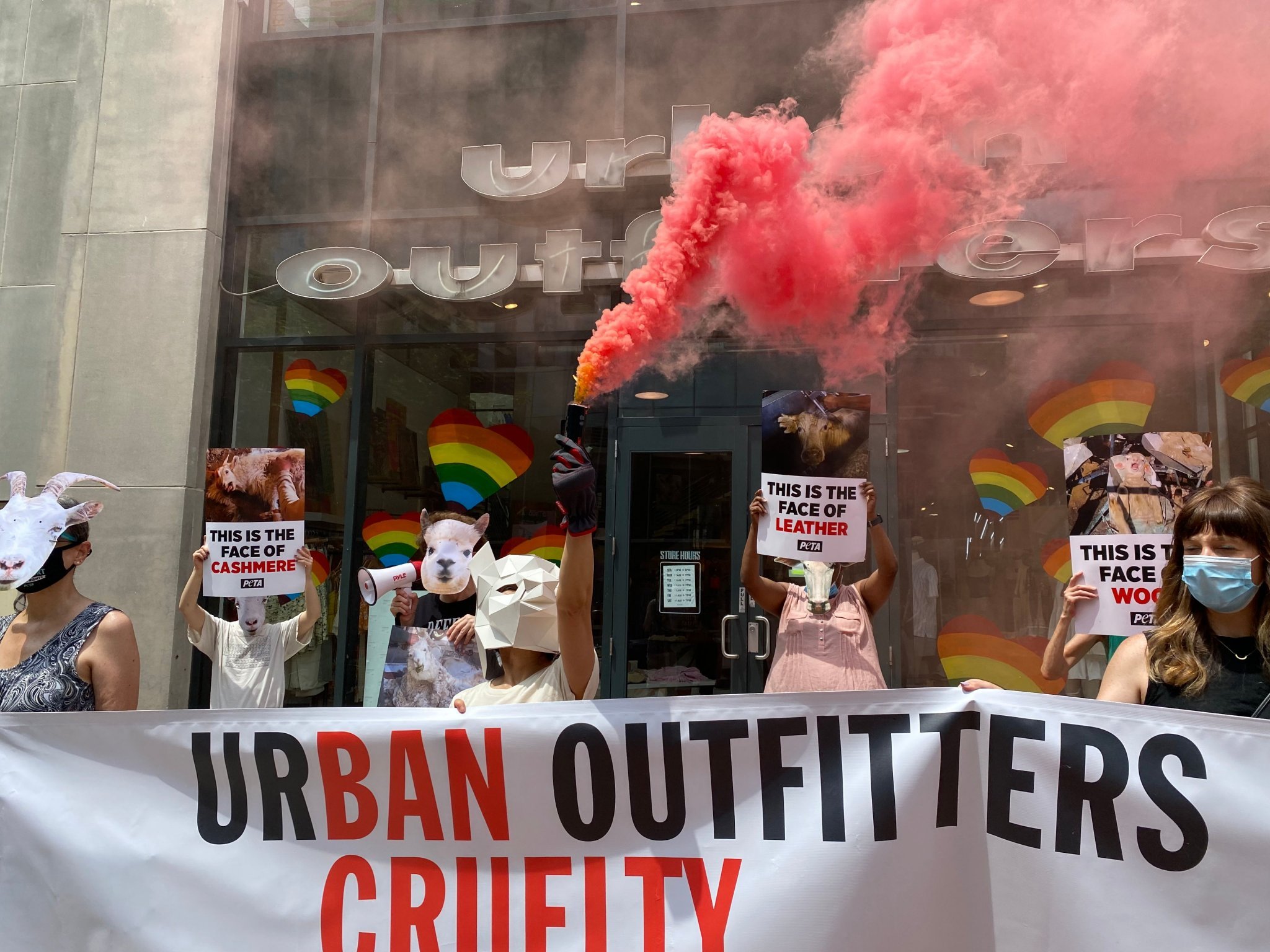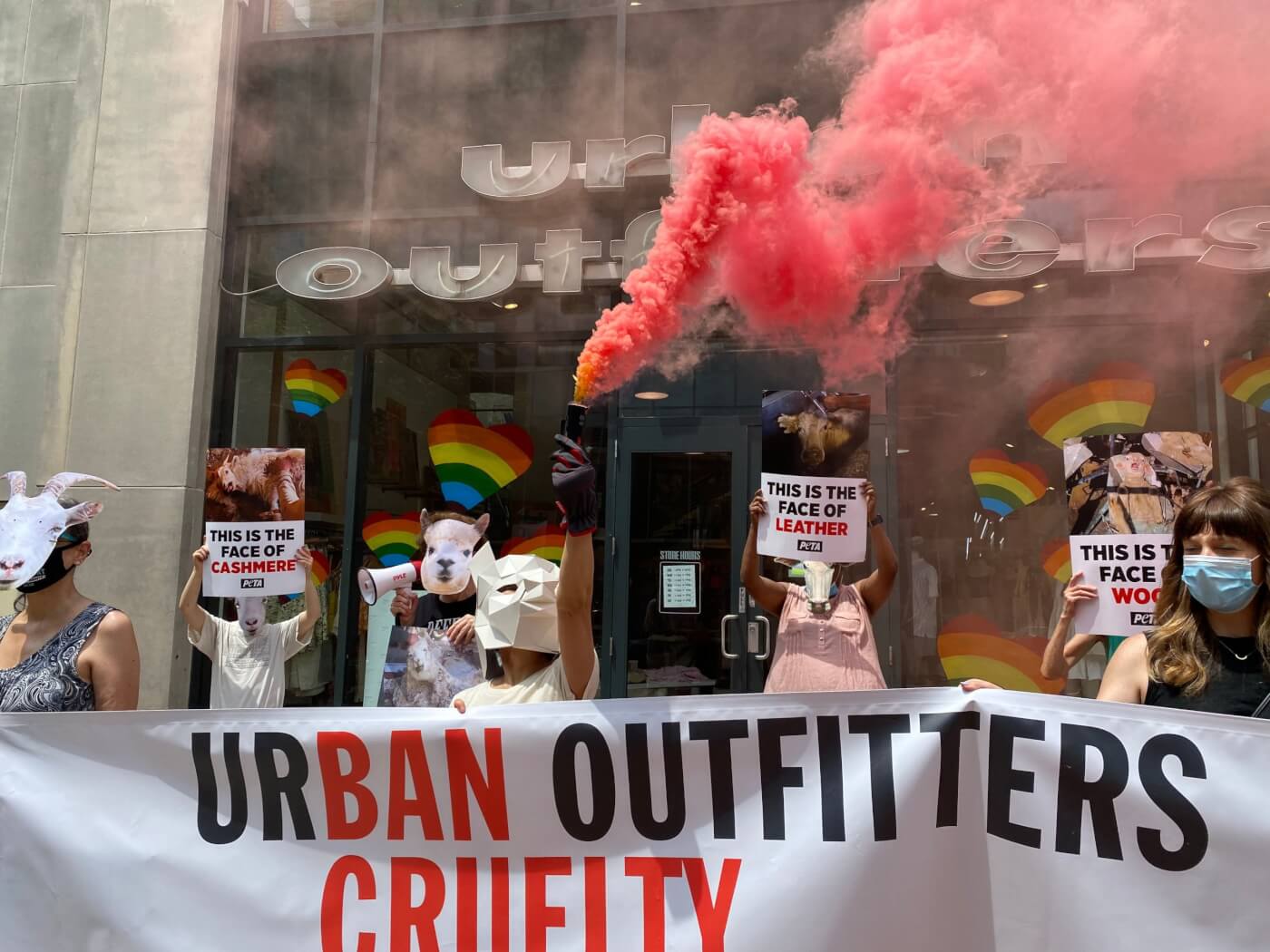 Update (May 17, 2021): Before stepping foot into one of Pittsburgh's Urban Outfitters, Anthropologie, or Free People stores, in-person shoppers may face a provocative reminder from fashion victims themselves. PETA placed 10 ads on bus shelters and kiosks throughout the city, featuring a cow, a goat, an alpaca, and a sheep, pleading with the brands and their customers: "I want you to change."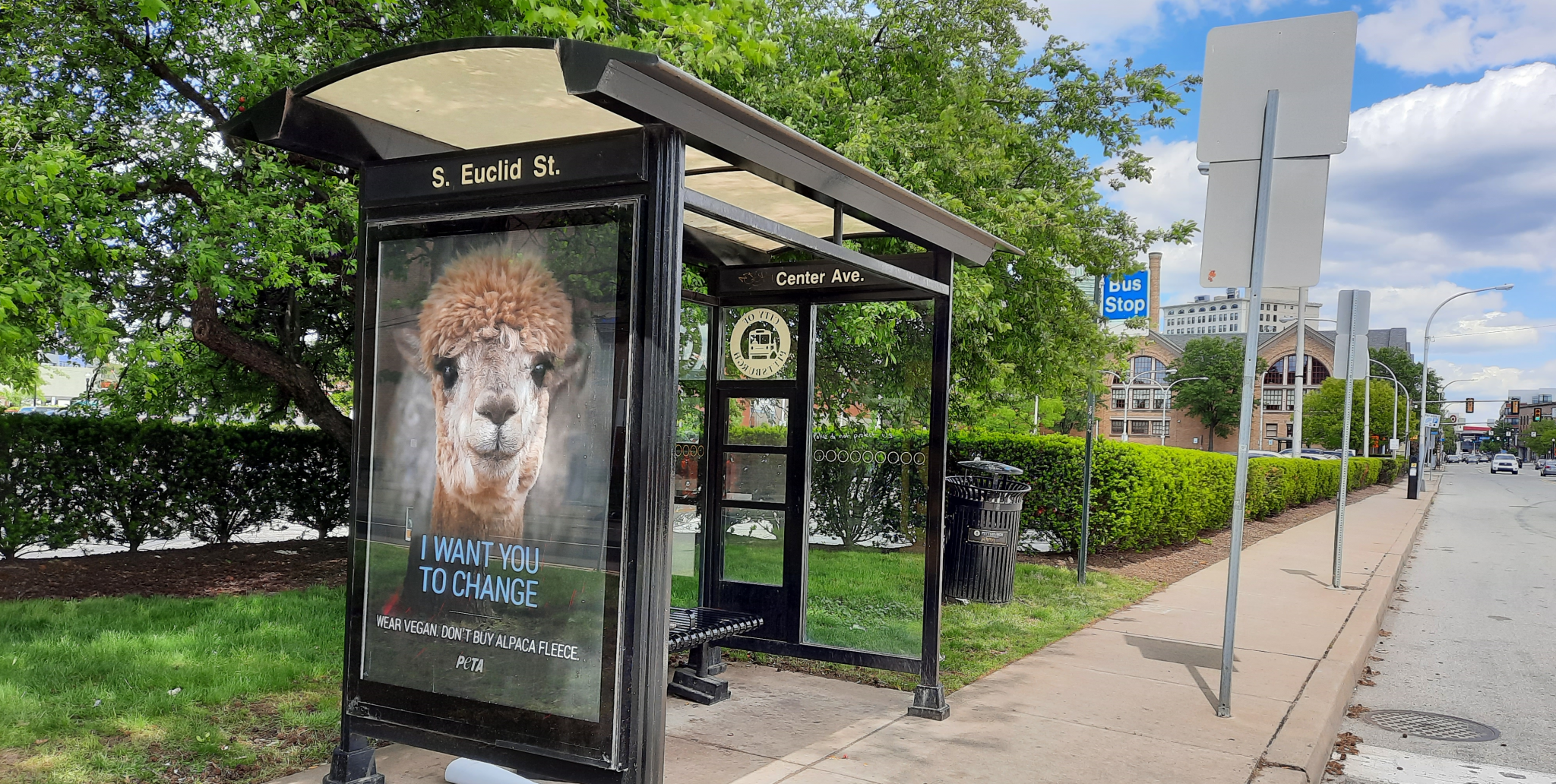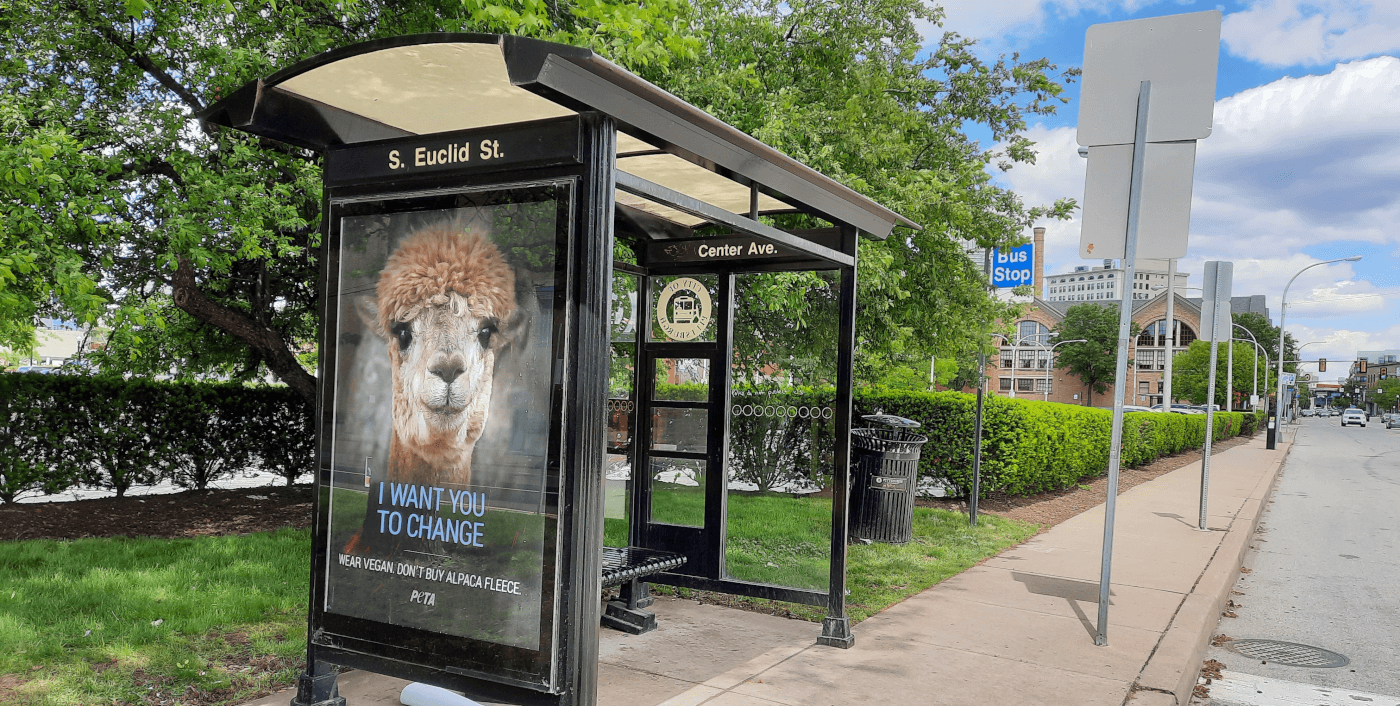 Pittsburgh is consistently ranked as a top city for millennials—prime customers of the Urban Outfitters brands and a group PETA hopes to reach as pandemic restrictions ease and shoppers seek back-to–"real life" wardrobes. The images of animals who are exploited and killed for sweaters, jackets, or handbags serve as a wake-up call for shoppers who still support Urban Outfitters brands.
Update (January 11, 2021): Socially distanced PETA protesters marched outside a Milwaukee Urban Outfitters store to give the company a wake-up call about its sale of wool and other materials that are violently stolen from animals. Supporters confronted customers with gruesome new video footage of wool shearers punching and mutilating sheep.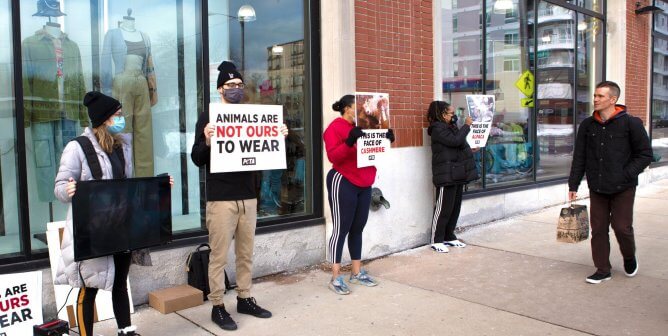 PETA's takeover didn't end there—we also placed ads on two city bike stations outside Urban Outfitters and just a block away from Anthropologie showing everyone the terrible price that animals pay for wool, alpaca fleece, and cashmere.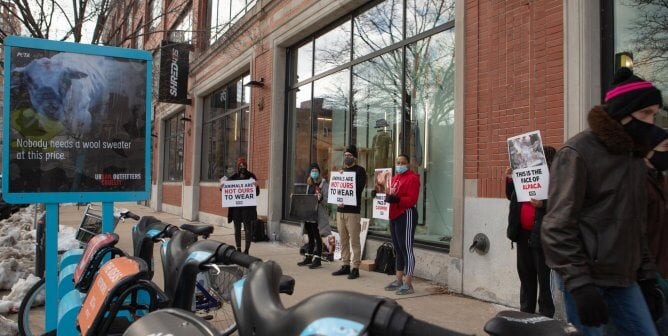 Update (November 24, 2020): In anticipation of Black Friday, PETA went all out for animals with a mobile billboard circling outside the Urban Outfitters, Anthropologie, and Free People stores in Philadelphia. Showing actual video footage obtained during investigations by PETA and other PETA entities into alpaca fleece, mohair, cashmere, down, leather, and wool industries, our billboard reminded shoppers to buy cruelty-free items on the busiest shopping day of the year.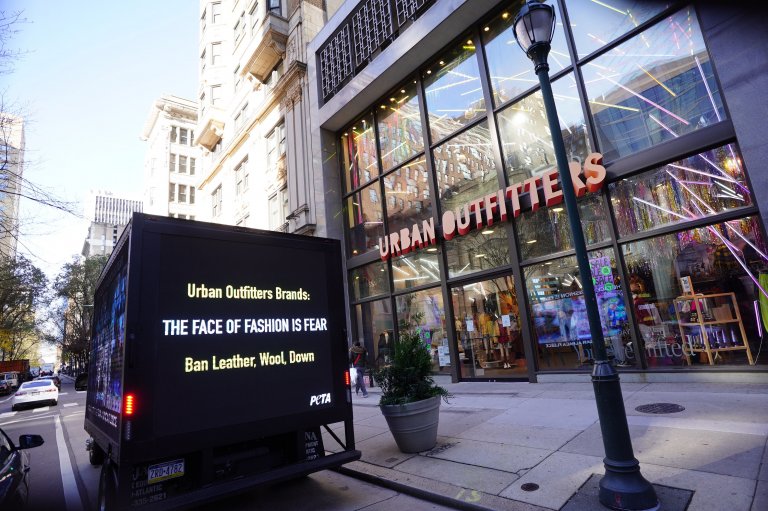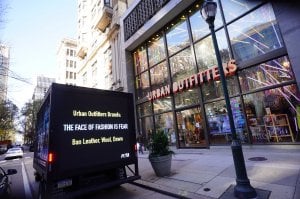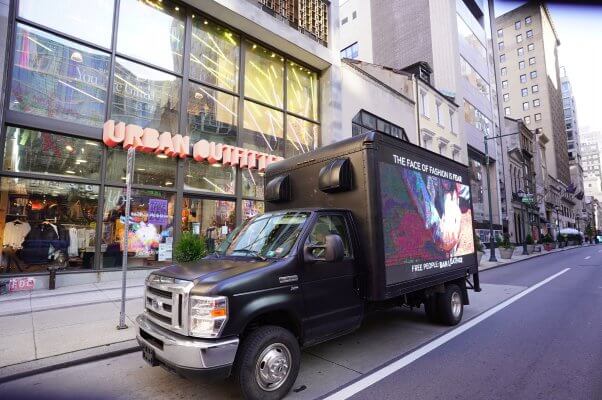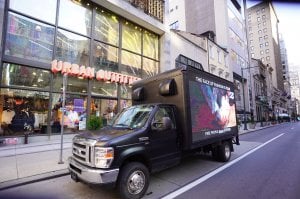 To launch our campaign, PETA entities and supporters took to the streets outside Urban Outfitters, Anthropologie, and Free People stores worldwide to demand that these brands sell only animal-free products.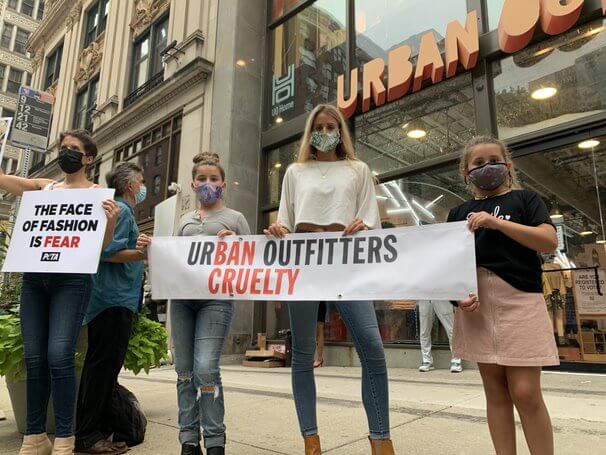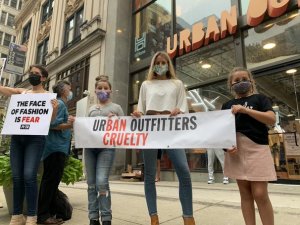 The bold demonstrations followed a recent PETA undercover investigation into the world's largest privately owned alpaca farm, which exposed workers who tied down and mutilated pregnant alpacas, as well as the dozens of other videos that we've released revealing that during shearing, workers hit, kick, and mutilate sheep for their wool; leave goats with bloody, gaping wounds at mohair and cashmere operations; burn, electroshock, beat, and slaughter cows to make leather; yank out geese's feathers by the fistful for down; and boil silkworms alive to produce silk.
Protesters in Philadelphia walked a mile in animals' shoes to show shoppers the real cost of their purchases. They marched from Anthropologie to Urban Outfitters to Free People in the "closed for cruelty" demo, blocking the store entrances with an "alpaca" to remind patrons that alpacas are sensitive, intuitive, and deserving of compassion. They even make quirky humming sounds when they're curious or content.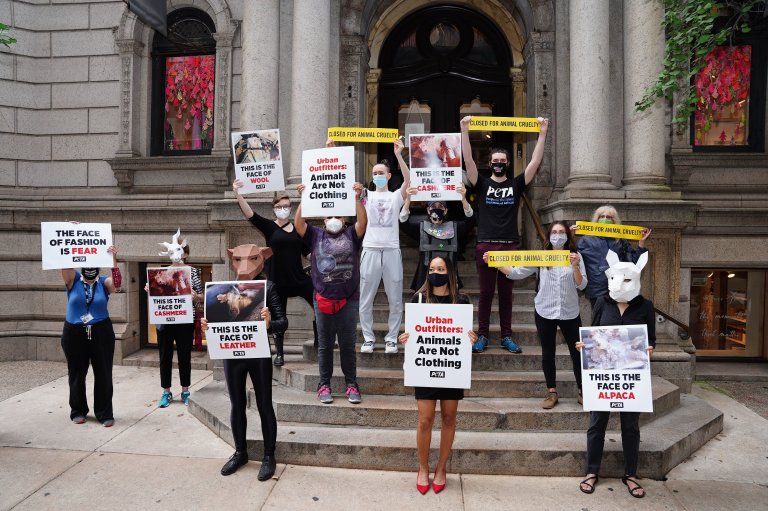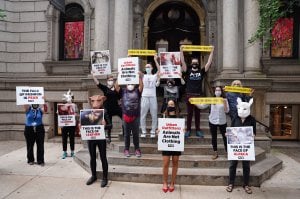 In London and Dublin, activists protested outside Urban Outfitters flagship stores with graphic signs and speakers, playing audio clips of tortured animals that compelled bystanders to confront the painful reality that animals in the fashion industry endure.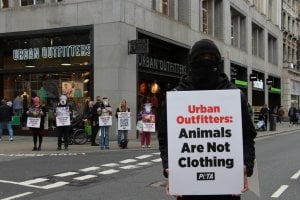 Protesters in Munich dressed as a sheep, a cow, an alpaca, and a goose sectioned off the area in front of an Urban Outfitters store to confront customers with the animals whose lives are completely disregarded by the fashion industry. Geese, for example, lead complex lives, forming lifelong bonds with their mate and community.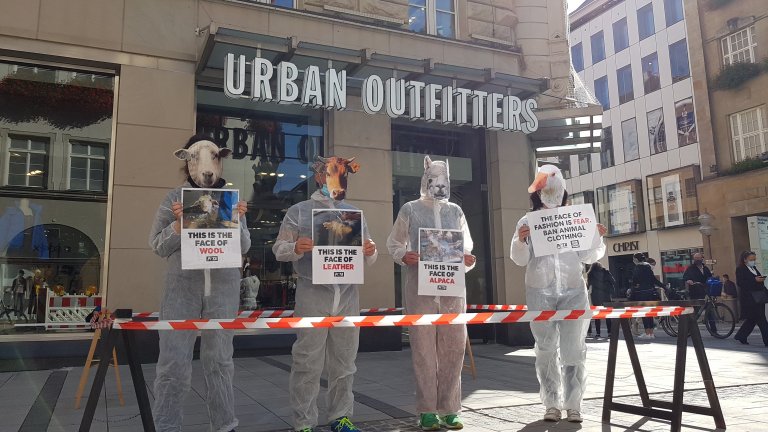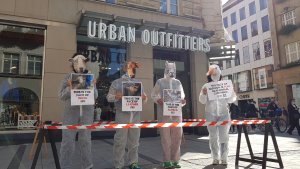 Activists also stood outside the Anthropologie and Urban Outfitters entrances in Paris to remind shoppers that their fall coats aren't worth the pain inflicted on defenseless animals.
In Milan, protesters stood outside an Urban Outfitters store holding signs that depicted terrified animals crying out for help before being slaughtered.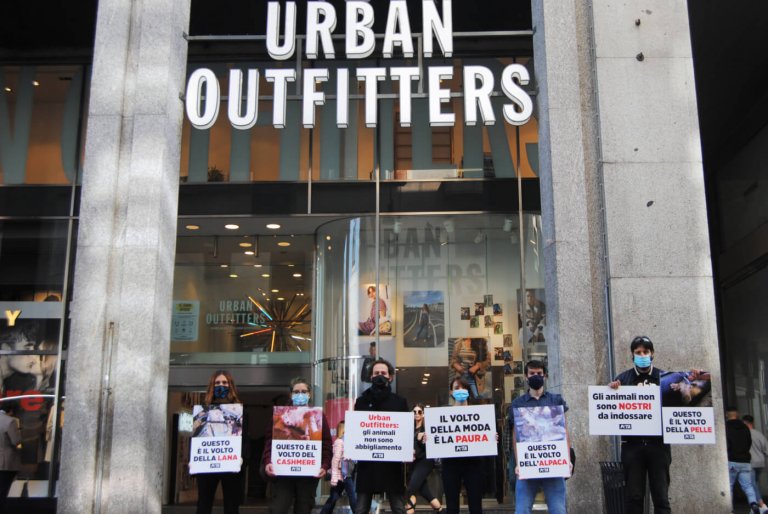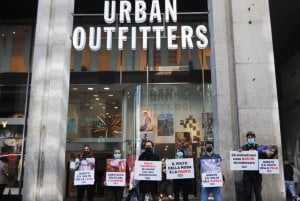 The demonstrations continued in Sacramento and San Francisco, where participants stood outside Urban Outfitters and Anthropologie and placed "closed for animal cruelty" stickers on the store windows.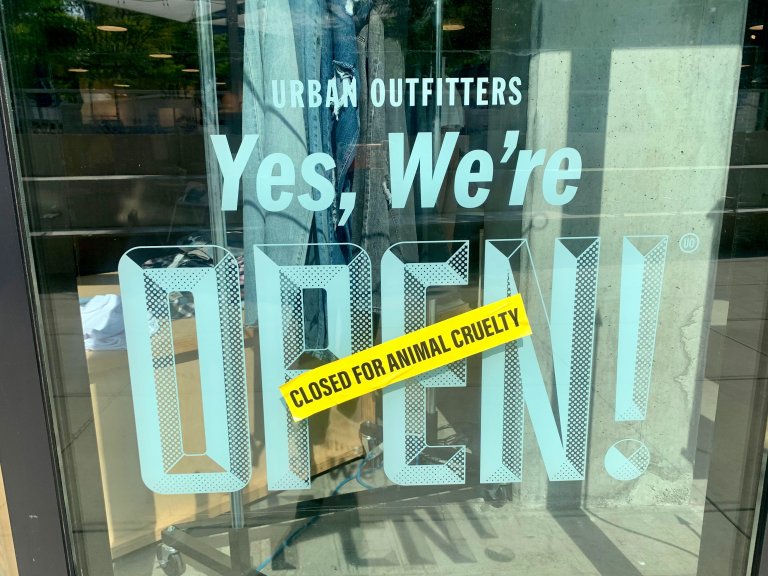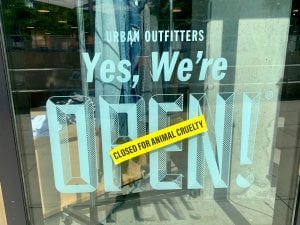 We're also turning the heat up on social media, encouraging everyone to use their platform to demand ethical fashion from Urban Outfitters brands. On our Instagram account @thefaceoffashionisfear, we're featuring footage of bloody, filthy sheep on farms, cows being held down and branded for leather, geese being plucked alive, and other horrors to remind everyone to refuse to support Urban Outfitters brands until they stop using animal-derived materials.
We took to Twitter, too, with "The Face of Fashion Is Fear: a Thread," a series of tweets with footage of alpacas vomiting on shearing tables, workers repeatedly punching sheep in the head, workers cutting chunks of flesh off lambs, and more. Sheep are emotionally complex animals and are deeply connected to their flock—they're even able to distinguish the faces of at least 50 other sheep.
It's routine for terrified sheep to be beaten, stomped on, kicked in the face, and have their throats slit for wool.

Yet @UrbanOutfitters, @Anthropologie, and @FreePeople still sell wool, a product of extreme violence. pic.twitter.com/1onCAWtCwA

— PETA (@peta) September 29, 2020
We need your help! Join our bold protests to turn up the heat on Urban Outfitters even more. If you're unable to join our demonstrations, order free leaflets to distribute outside your local stores and post polite messages on the Urban Outfitters brands' social media accounts urging them to stop using animals for fashion.
And call the corporate headquarters of Urban Outfitters, Inc., at 215-454-5500 (then press 0) and ask to leave a message for CEO Richard Hayne. Urge the company to stop supporting the exploitation of animals for their wool, skin, and hair.
We need your support NOW to win this campaign!
It's past time for Urban Outfitters to get the memo: Suffering is not in style—it never was. With all the vegan textiles available, violence has no place on store clothing racks—and definitely no place in your closet. Check out PETA's "The Face of Fashion is Fear" petition to urge Urban Outfitters brands to stop selling violently obtained animal-derived materials.
PETA's demonstrations over the years have led to significant milestones in the fashion industry, from the widespread decline of animal fur used by major designer brands to the passage of landmark legislation. If you want to help us free all animals from being used for clothing, find out how to organize your own demo: