Alpacas urgently need your help. Anthropologie knows that they're hit, kicked, and mutilated for their fleece—but the company still refuses to ban it.
PETA's latest groundbreaking undercover investigation revealed that at the world's largest privately owned alpaca farm, animals were strapped tightly by the legs into a restraining device resembling a medieval torture rack before being violently sheared. Because they're terrified of being pinned down and defenseless, alpacas cried out, spit, and vomited in fear as workers carelessly sheared them—leaving many animals bleeding from deep, painful wounds.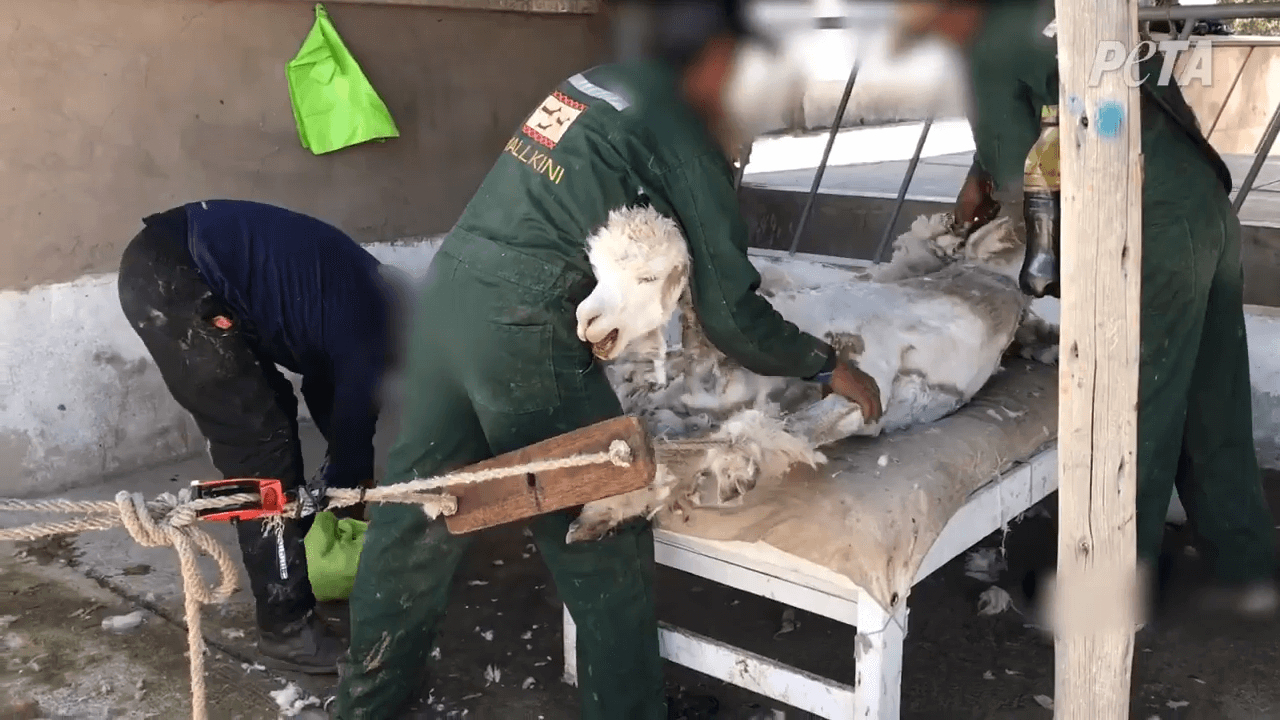 Anthropologie continues to sell clothing made with alpaca fleece despite knowing about the violence and suffering that alpacas endure in the production of these items. The company already offers soft and stylish vegan knitwear and clearly sees the value in taking animals out of fashion, as it previously banned mohair and angora after discussions with PETA. Banning alpaca fleece should be an easy compassionate decision for Anthropologie to make. We now need your help in urging the company to commit to never selling alpaca fleece again. Please call Anthropologie at 1-800-309-2500 to urge it to ban alpaca fleece immediately!
Note: Anthropologie misleadingly claims that the alpaca fleece in its products comes only from trusted partners known for their humane treatment of animals, but there is NO HUMANE WAY to restrain terrified animals and steal their hair.
Use these talking points to guide your conversation:
PETA's latest undercover investigation revealed that workers hit, kicked, tied down, and mutilated pregnant, crying alpacas in Peru, the world's top alpaca-fleece producer.
Anthropologie could easily replace alpaca products with warm, animal-friendly materials like bamboo.
Compassionate consumers don't want to support companies like Anthropologie that knowingly support systemic suffering and abuse of animals. I urge you to ban alpaca fleece immediately.
As long as Anthropologie refuses to ban alpaca fleece, it is complicit in immense animal suffering. I refuse to shop at stores that support the cruel alpaca-fleece industry, and I will be urging my friends and family to take their business elsewhere, too.
After you make the call, let us know how it went. Your feedback is important.
By submitting this form, you're acknowledging that you have read and agree to our privacy policy and agree to receive e-mails from us.
Want to do more? Check out these suggestions:
Use the chat feature on Anthropologie's website to let the company know you won't shop there until it bans alpaca fleece.
Contact Anthropologie on social media and let it know there's no justification for supporting cruelty to animals.