Since PETA began campaigning to expose companies that conduct agonizing and deadly tests on animals, consumers have firmly supported cruelty-free businesses like those on PETA's list of companies that don't test on animals. Realizing this, some unscrupulous companies are concealing the whole truth from consumers about their animal testing policies, but you shouldn't buy their propaganda—or their products.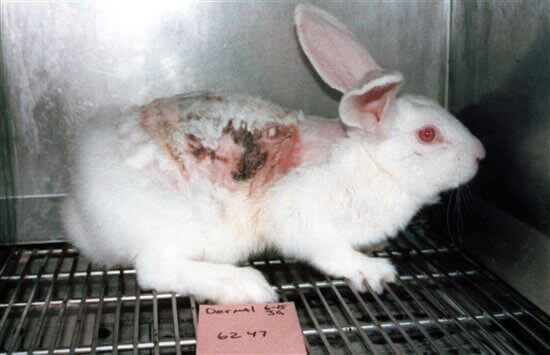 Recently, for instance, Shiseido announced that it would mostly stop testing on animals. While eliminating animal tests is welcome, the company added that it would continue to test ingredients on animals "where it is required by law." So money spent on Shiseido products will continue to fund cruel testing on animals in countries such as China, where animal testing is still required by the government (although PETA's working to change that, too)—meaning that the company has not eliminated animal testing entirely.
Mary Kay is another corporation that seems to be playing word games with its customers, claiming that it doesn't "conduct" animal testing. Yet while Mary Kay might not perform the tests itself, the company does pay the Chinese government to test its products on animals.
PETA has also repeatedly contacted a number of other companies that refuse to reveal their animal testing policies. These companies—which should not be considered cruelty-free until they make a clear statement on animal testing—include the following:
AmazingCosmetics
Amway
Elizabeth Arden
Hello Kitty
Jurlique
Puig (Paco Rabanne, Carolina Herrera, and Nina Ricci fragrances)
Talika
---
Learn more about vivisection on The PETA Podcast:
Listen to more episodes on iTunes and Spotify! Subscribe for new episodes.
---
What You Can Do
By refusing to support companies that test on animals, we leverage our collective buying power to send a distinct message that testing on animals for cosmetics is unacceptable. To make sure that you're shopping truly cruelty-free, please check the online listing of companies that do and that don't test on animals or order your free copy of PETA's first-ever global cruelty-free shopping guide!