No dog should be outside in extreme weather for an extended period of time, but it's more dangerous for some. Bulldogs, boxers, pugs, Cavalier King Charles spaniels, and most other flat-faced dogs are breathing-impaired breeds (BIB) who struggle to breathe even in comfortable weather conditions as a result of the physical characteristics they've been bred to have. When the weather is particularly hot or cold, just being outdoors can put their lives at risk.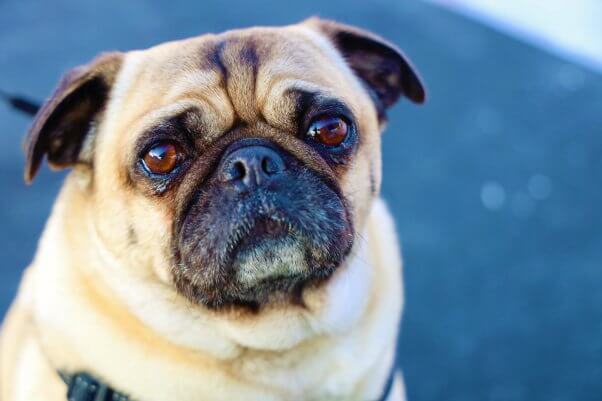 Why Does the Cold Make It Harder to Breathe?
If you've ever found yourself huffing and puffing after just a few minutes of shoveling snow, it may not be a sign that you're out of shape. Cold air causes airway constriction, making breathing more difficult for everyone. When BIBs are outside in the cold, they experience the same constriction—but through their already- tightened airways. Imagine running a mile while breathing through a straw and you may have a glimpse of what it's like for breathing-impaired breeds to play and continue breathing.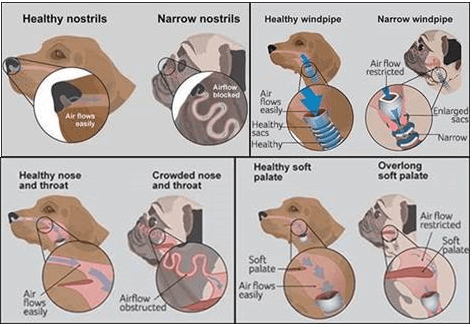 ©PDSA
All dogs suffer when they're left outside in the cold for extended periods of time, but BIBs are likely to be affected more quickly than others. In addition to struggling to breathe, many BIBs—including boxers, pugs, and bulldogs—have very short fur and no undercoat, so they can't keep warm for very long. If your dog has to be outside in the cold for short periods of time, invest in well-fitting winter wear—i.e., coats or sweaters, and if appropriate, booties—to keep them comfortable and safe. It's important that we give our canine companions time to get used to wearing these things—especially paw-wear. Some dogs never get used to booties, so please nix them if they cause distress or discomfort. Make sure they fit properly and don't restrict movement. If your dog has dew claws, look for low-rise boots that won't irritate them. As soon as freezing and salted surfaces can be avoided, put the dog boots away.
Individual dogs have their own levels of tolerance for cold weather, but if you're cold, your dog likely is, too. When the temperature dips below freezing, dogs are at risk for hypothermia—especially BIBs and short-haired dogs. If you're worried about missing the warning signs that your dog is too cold, learn the signs of hypothermia in dogs.
What Are the Signs of Hypothermia in Dogs?
Squinting
Hunched posture
Lifting the paws to keep them off the cold ground
Shivering
Body parts that are cold to the touch (Ears, tail, and paws are particularly sensitive.)
Clumsy movements, stiffness, difficulty walking
Pale gums
Rapid and then slow breathing
Lethargy and confusion
If your dog suddenly stops shivering while still outdoors, that doesn't mean they're warming up or adapting—it's a sign of severe hypothermia, and it's imperative that you immediately bring them inside and seek veterinary assistance.
How You Can Help Breathing-Impaired Breeds and Other Dogs
BIBs are bred to have certain physical traits to the detriment of their quality of life. Breeders and sellers know that flat-faced dogs suffer but still exploit them for profit.
The solution is simple: Stop breeding and buying bulldogs, other breathing-impaired breeds, and all other dogs. All "purebreds" (flat-faced or not) suffer from congenital and often painful conditions. If you have the time, money, patience, and love to care for an animal for life (which could be more than 15 years), please adopt one from an animal shelter. If you already have a breathing-impaired dog, please commit to making their life as fulfilling, healthy, and comfortable as you can—and pledge never to buy another one.