Pugs' health issues are so intense that they can no longer be considered "typical" dogs, according to the Royal Veterinary College. Researchers have found that pugs and pug mixes are almost twice as likely as other dog breeds to suffer from a disorder or an illness. The characteristic pug nose, curly tail, and small head are all genetic deformities that they've been bred by humans to have—all of which significantly affect their health and well-being. Read on for the lowdown on why you should never buy a pug or pug mix.
No Bones About It—Pugs Are One Of the Unhealthiest Dog Breeds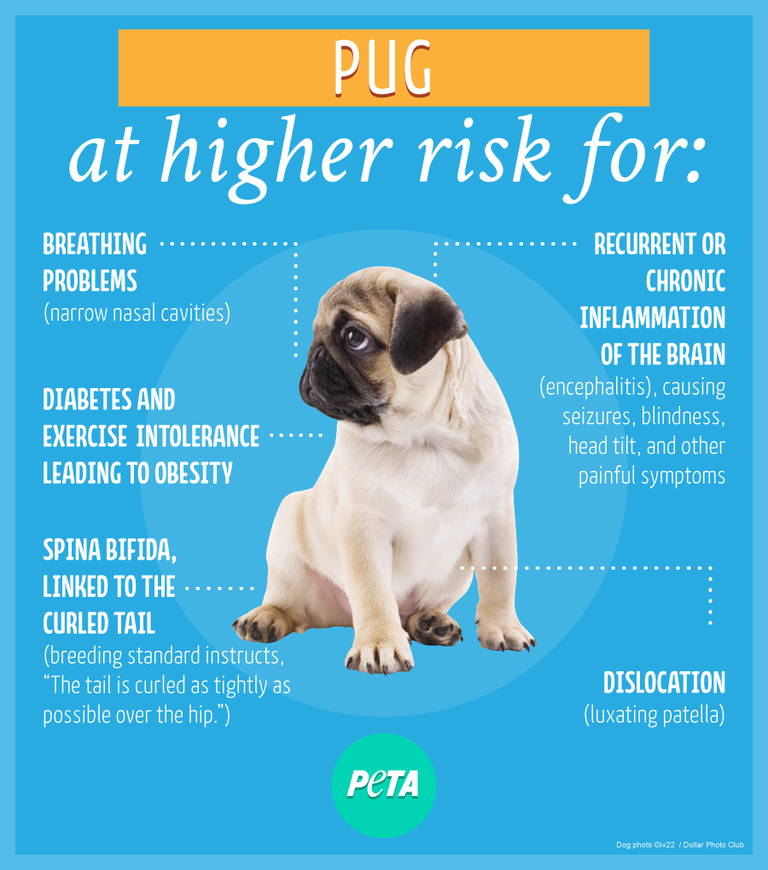 A Pug's Head Is Too Small for Their Face
Pugs' skulls have significantly smaller over the years as humans have bred them to meet certain physical attributes. While their heads are shrinking, the rest of the dog is not—meaning that their brains and other soft tissues are getting squished and crammed into a too-small skull. Their too-small heads are not equipped to fit their teeth, tongue, eyes, or even skin, which leads to various painful health issues.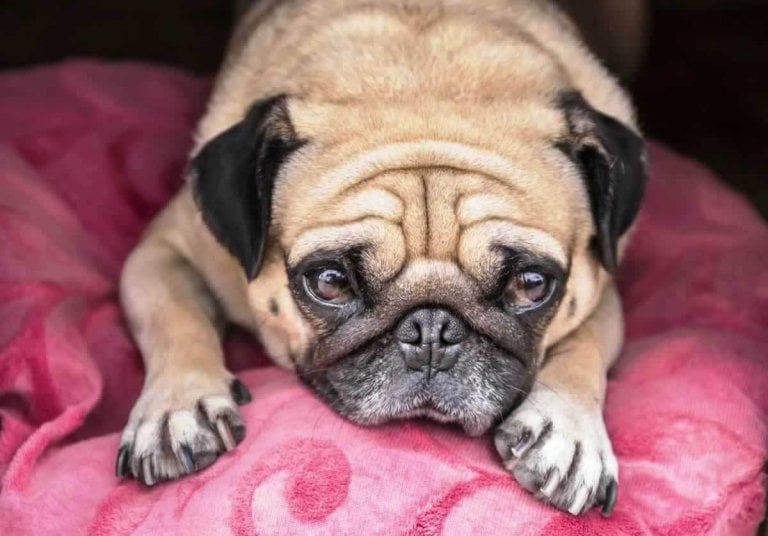 © iStock.com/powerbeephoto
Pugs Are a Breathing-Impaired Breed
Pugs are a breathing-impaired breed and are 54 times more likely to suffer from brachycephalic obstructive airway syndrome—a disease that greatly limits a dog's ability to breathe—than other types of dogs. They're often shown in photos with a wide-open mouth and drooping tongue, but that's because they have to breathe through their mouth since they can't draw enough air in through their narrow nostrils. It's like "trying to breathe through a really narrow straw," according to Dr. Myfanwy Hill, a veterinary surgeon who works at the University of Cambridge.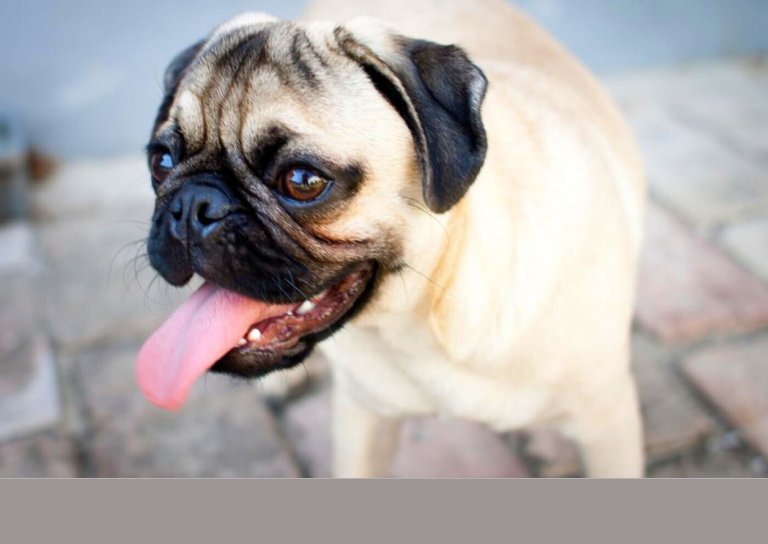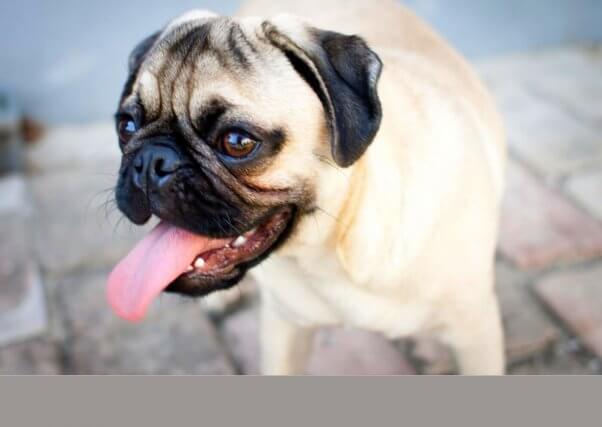 Their Face Wrinkles Lead to Skin Infections
Pugs were also found to be at higher risk of getting skin infections as a result of the folds of excess skin they've been bred to have. The creases on their face can get dirty and harbor bacteria or other nastiness. Since the dogs can't clean their skin folds themselves, they're prone to infection in these areas, which usually causes unrelenting itchiness and painful sores.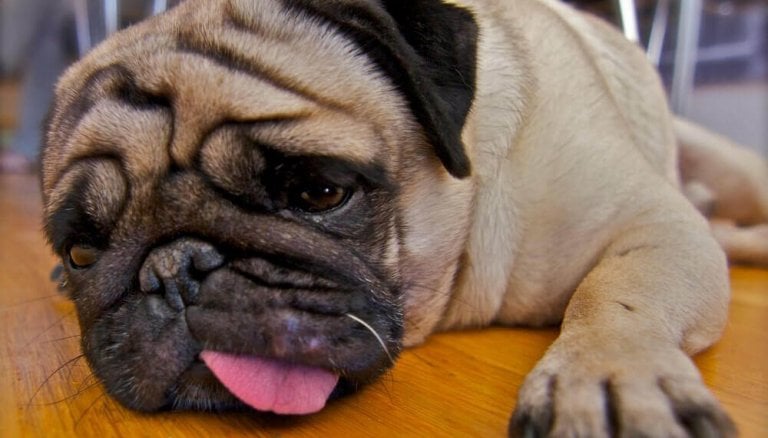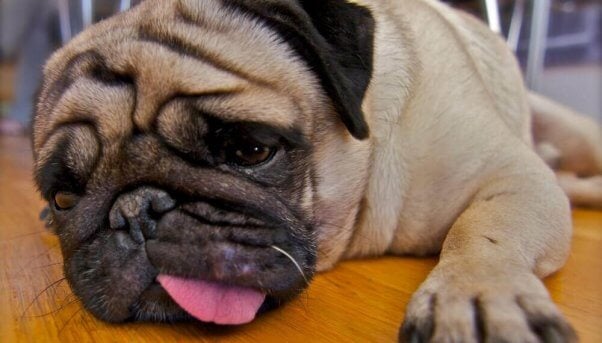 The Pug's Curly Tail Is Often Caused by a Spinal Malformation
The little curlicue tail that many pugs have been bred to have is often the result of a malformed, wedge-shaped vertebra called a hemivertebra, which can lead to chronic pain, wobbliness on the hind legs, and incontinence.
Pug for Sale? Buying a Dog Kills a Homeless Dog's Chances
Buying a pug, a pug mix, or any other dog from a breeder means that a dog in an animal shelter loses a potential family. By adopting a homeless animal from a shelter, you help fight the animal-overpopulation crisis. Adoption fees also help support the important daily work that shelters do, including performing spay/neuter procedures, vaccinating animals, and providing them with other veterinary care.
Did You Buy a Pug Who Suffers From These Ailments?
Many "purebred" dogs become ill, suffer from emotional or psychological disorders, or die prematurely because of traits they were bred to have in order to meet standards set by the American Kennel Club (AKC). If you purchased a dog such as a pug or a member of another AKC-registered breed who struggles with their health or psychological well-being or who died prematurely, we want to hear from you.