The decrepit Waccatee Zoo has long been a PETA target—and for good reason. The South Carolina roadside zoo has failed animals for years, the latest being a tiger with a deep, bloody, open shoulder wound. We asked the U.S. Department of Agriculture (USDA) to send an inspector out as soon as possible and give the animal a veterinary evaluation, and the inspector confirmed PETA's allegations. The agency cited Waccatee for allowing the tiger to get injured and ensured that she received appropriate veterinary treatment. The roadside zoo was also cited for failing to clean several enclosures, including one with thick black grime and others with green algae.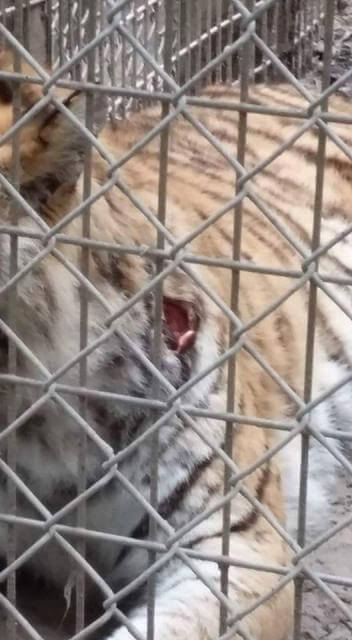 Another longtime PETA target, Georgia's Yellow River Game Ranch, was also recently slapped with a slew of Animal Welfare Act violations: Bears were forced to drink contaminated pool water, insulation was falling from the ceiling (in the food-storage building, no less), and cages were coated with rust.
And then there's the notorious Indiana outfit called Wildlife in Need, where baby animals are torn away from their mothers and passed around for selfies. The roadside zoo's most recent issues include its failure to obtain veterinary care for a kangaroo and three otters who later died. On a freezing 21-degree day, a lion and a dog had no bedding to keep them warm.
The zoo's owner, Tim Stark, verbally attacked USDA inspectors and prevented them from completing a thorough investigation—which inspectors noted created a "hostile and unsafe environment" for future inspections. Of course, this is the same guy who smacked tiger cubs in the face with a riding crop.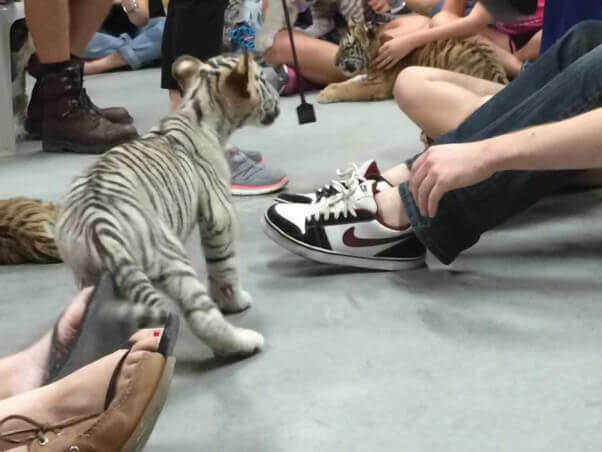 At McClelland's Critters in Alabama, the feds responded to our complaint by inspecting the roadside zoo, and guess what? They found that numerous enclosures had dangerous sharp pieces of protruding metal or were coated in algae and grime. Some of the animals' drinking water had—gag—a "thick green frothy consistency." Dozens of schoolchildren were allowed to interact freely with buffalo and other animals with no employee supervision.
Now, for some good news.
The Tarzan Zerbini Circus wasn't allowed to take elephants into Canada for another show that it runs, the Royal Canadian Circus. Zerbini needs an Endangered Species Act permit to transport the elephants across the border—but its permit was suspended by the U.S. Fish and Wildlife Service (FWS) following our lawsuit against the FWS over its unlawful "pay-to-play" scheme (in which exhibitors who exploit endangered animals, rather than protecting them, are allowed to give a bare minimum contribution to "conservation" groups in exchange for permits). We expect the FWS to make the suspension permanent and have dropped the lawsuit.
And in a win for reptiles, less than an hour after PETA pointed out that alligators can suffer from extreme stress, become ill, and even die when used as photo props, New York's Bowery Collective told us that it had canceled plans to offer live-alligator photo ops at a cocktail party.
We'll keep on hammering away at anyone who thinks animals can be used for entertainment.