Drivers on their way to the 2016 UFO Festival in Roswell, New Mexico, this week are in for an eyeful, courtesy of PETA—which has placed a billboard showing a beckoning alien next to the words "Afraid of Being Probed? Animals Are, Too. Buy Only Cruelty-Free Cosmetics," in advance of World UFO Day (July 2).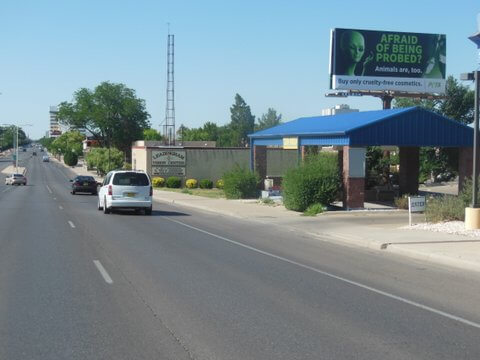 "Shoving chemicals down living beings' throats sounds like something out of a sci-fi horror movie, but that's exactly what happens to animals in laboratories every day," says PETA Senior Vice President Kathy Guillermo. "PETA's message for World UFO Day is that nobody should be probed and experimented on for the sake of a shampoo or a mascara."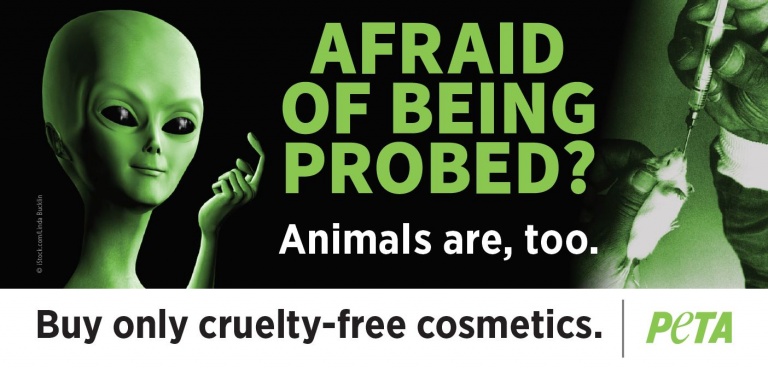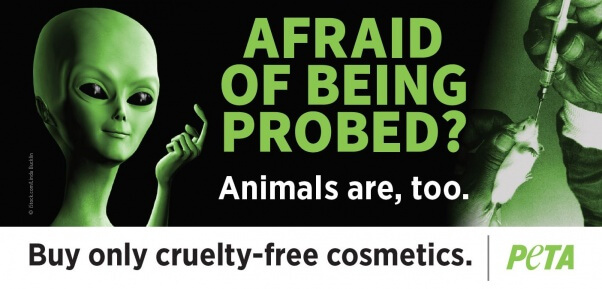 Animals in laboratories are confined to small cages and denied everything that's natural and important to them. To test cosmetics, household cleaners, and other consumer products, rats, mice, guinea pigs, and rabbits are force-fed chemicals or harsh substances are dripped into their eyes or rubbed onto their raw, abraded skin—even though the results of animal tests are not applicable to humans. The animals are killed at the experiments' end.
Fortunately, many companies—including Lush, Urban Decay, John Paul Mitchell Systems, The Body Shop, and NYX—have signed PETA's statement of assurance that they use only modern, non-animal methods to test their products and ingredients. PETA's global list of cruelty-free cosmetics and household-product companies is available here.