The stretch of Atlantic Boulevard between the chicken hatchery and slaughterhouse owned by the infamous Case Farms—which kills an estimated 180,000 birds every day in Canton, Ohio, and supplies meat to KFC, Popeyes, Taco Bell, and Boar's Head, among others—is notorious for its stench, so PETA has placed a billboard between the buildings that proclaims, "Meat Stinks! Go Vegan."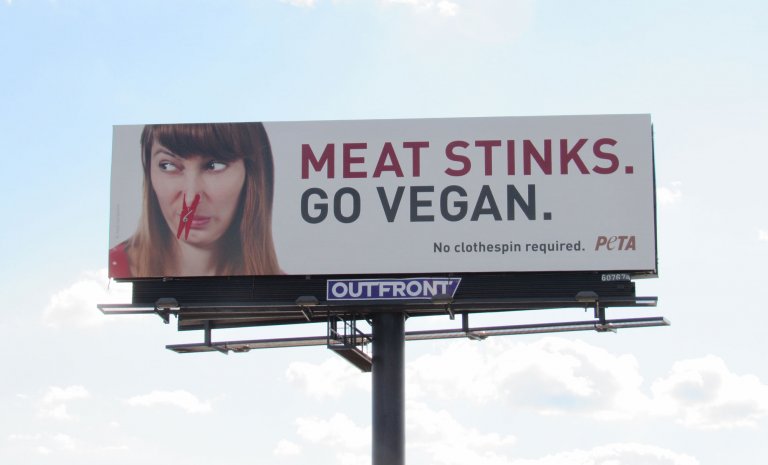 The stench of blood, excrement, and death in every slaughterhouse is enough to turn anyone's stomach. PETA is calling on drivers to wake up and smell the chicken—and realize that the kindest thing that any one of us can do for animals is to go vegan.
Chickens need their wings, you don't. #TryVegan pic.twitter.com/W3ljKfDOEv

— PETA (@peta) February 7, 2016
Chickens killed for their flesh are crammed by the tens of thousands into filthy sheds, where intense crowding and confinement lead to outbreaks of disease. They're bred and often drugged to grow so large so quickly that their legs and organs can't keep up, making heart attacks, organ failure, and severely deformed legs common. At the slaughterhouse, their throats are often cut while they're still conscious, and many are scalded to death in defeathering tanks.
In 2014, the U.S. Department of Agriculture cited Case Farms for boiling nearly 50 birds alive, burying nearly 40 live birds under dead ones in trash bins, and allowing dozens of others to freeze to death or sustain broken legs on the way to the slaughterhouse. The company has also faced criticism over employee safety concerns: In 2015, federal workplace safety inspectors fined it nearly $2 million.
Help End Cruelty to Chickens
Want to keep the most abused animal on the planet off your plate? Luckily, there are tons of delicious and nutritious vegan chicken options for you to try! Check out a few of our favorites:
Help End Cruelty to ALL Animals Exploited for Food
Going vegan can help spare the lives of all animals used for food. Luckily, it's easier than ever, thanks to PETA's vegan starter kit. Click the button below to order your free kit and start saving lives today.