After inspectors found animals kept in appalling conditions without proper care, the U.S. Department of Agriculture (USDA) cited two disreputable roadside zoos in North Carolina for violations of the federal Animal Welfare Act (AWA). PETA keeps these two hellholes constantly in our sights and had just filed a complaint about Jambbas Ranch Tours before the inspection. 
Jambbas Ranch Tours
A USDA visit to Jambbas Ranch Tours last month following a PETA complaint led to a citation for AWA violations after inspectors discovered a thin elderly llama who had a "thick creamy discharge" oozing from an eye socket (the eye "has been gone for some years"). As PETA had told the USDA, the llama also appeared to be suffering from diarrhea—the animal had a large area of what appeared to be dried feces on the back legs but was given no medical treatment for these conditions.
The inspector also observed a raccoon whose tail and part of whose hindquarters showed complete hair loss, as PETA had reported. The animal was being given an ineffective flea- and tick-control medication, which wasn't prescribed by a vet as required by law. Immediate veterinary care was ordered to treat the raccoon's condition.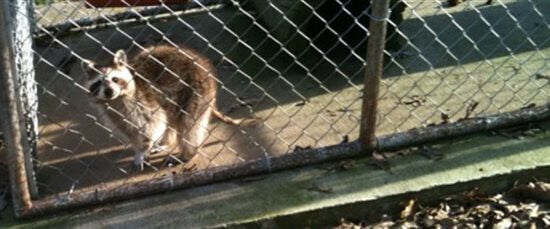 Cherokee Bear Zoo
An inspection of the Cherokee Bear Zoo last month resulted in a repeat citation for failure to feed a young tiger cub a healthy, edible, and contaminant-free diet. The cub is described as "small and underweight for its age. The coat looks dull, dry, and brittle."
The shabby animal prison (one of three around Cherokee, North Carolina) also received a citation for failure to vaccinate the same tiger cub. The operators were warned of the need to correct this failure "from this day forward."
Pathetic Prisons
Roadside zoos range from small menageries to large compounds—but they are all unhealthy environments for animals. The owners' focus is on their customers' desires, not the animals' needs, so neglect and abuse are common.
How You Can Help These Animals
These cruel operations stay in business only because people patronize them, so please never visit a roadside zoo, and encourage your family and friends to stay away too.