Statement from PETA President Ingrid Newkirk in response to the court's ruling that Anita Krajnc is not guilty of charges stemming from giving water to dehydrated, slaughter-bound pigs on a sweltering day in June 2015:
The judge recognized compassion as a virtue in this case, and common sense prevailed in the finding that Anita Krajnc was not guilty for showing mercy to terrified, thirsty pigs on their way to slaughter. Her abiding kindness has inspired people all over the world to put down their pork chops and recognize that sensitive living beings are crammed onto trucks in all types of weather so that their throats can be slit.
Originally posted March 10, 2017:
Yesterday, PETA members and staff, including President Ingrid Newkirk, joined with members of Toronto Pig Save to block trucks hauling pigs into the appropriately named Fearmans Pork slaughterhouse in Burlington, Ontario, long enough to give the animals—who'd traveled through a night of high winds and temperatures way below freezing—what was likely the only small act of kindness they'd ever known.
#Ontario: PETA Pres Ingrid Newkirk supports Anita Krajnc on her final day of #PigTrial for showing compassion to pigs headed to slaughter. pic.twitter.com/dZ6om2hlOd

— PETA (@peta) March 9, 2017
It was the final day in the trial of animal advocate Anita Krajnc, who is facing six months in jail and a $5,000 fine for giving water to thirsty pigs crammed inside a transport truck entering the Fearmans slaughterhouse on a scorching-hot day in 2015. On March 9, the final arguments in the case were made by wonderful attorneys (and PETA members) James Silver and Gary Grill in the Ontario Court of Justice while we showed our support for Anita.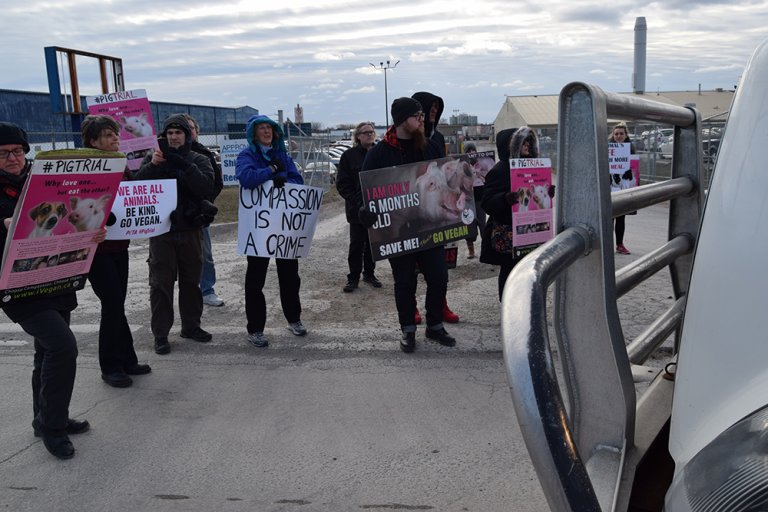 As Ingrid comforted the pigs, the fierce animal defender broke down in tears.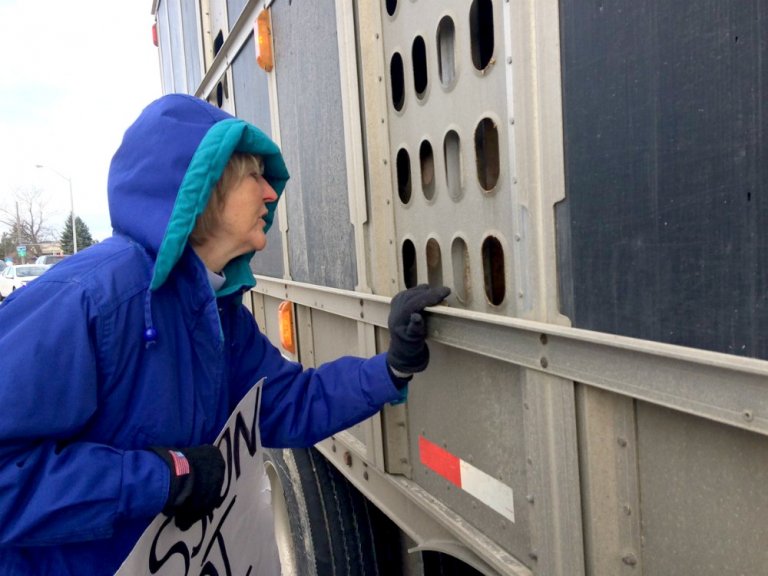 "It was so cold," she recounted. "They'd been getting dragged through the bitter cold all night crammed in that metal truck. Some of them were probably stuck to the sides. We blocked the truck long enough to try to comfort them, pet them, let them know that we hear them and we see them and we're trying. But the truck was going to take them into the slaughterhouse regardless, and we were powerless to stop it.
"We couldn't save those pigs, but we can save other pigs from being gassed or having their throats slashed and from being scalded to death. It is estimated that 1 percent of the millions of pigs who go through this slaughterhouse are still conscious when they enter the scalding tank. The police made us step away from the pigs, but our consciences should make all of us step away from the meat case. Making these animals suffer and taking their precious lives isn't worth the momentary, passing taste of their flesh. Caring people, if they cannot stand to come and watch the pigs as they're hauled to their deaths—to see the fear and sadness in their eyes, to smell the filth in the trucks, to hear their calls for help—need to take responsibility and switch to a vegan diet today. If they are already vegan, they must take every chance to tell others what these pigs endure and to show them how to eat without meat. I burst into tears, but crying doesn't help the pigs. What is important is that we act."
Recent peta2 Hero for Animals Award winner Alena Hidalgo is doing exactly that. Watch as she talks about rescuing a pig: