Ten years ago, the U.S. Fish and Wildlife Service (FWS) estimated that approximately 40 circuses were importing and exporting protected species such as elephants and tigers to and from the United States on a regular basis.
Today, that number is zero.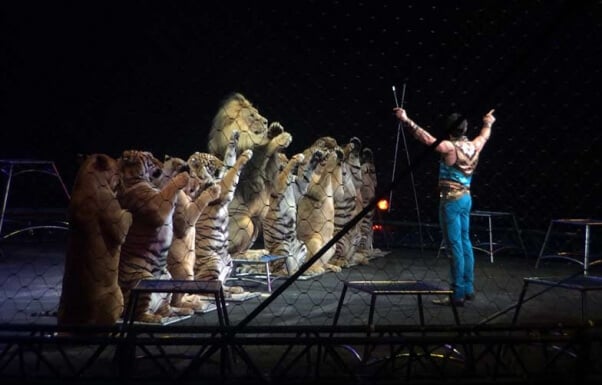 PETA's legal team has been instrumental in making that dramatic decline happen. The now-defunct Ringling Bros. and Barnum & Bailey Circus stopped taking animals in and out of Mexico after PETA sued the FWS for issuing the circus the permits to do so.
The FWS was also issuing permits to the notorious Hawthorn Corporation to take animals in and out of Canada to perform with the Tarzan Zerbini Circus (which also calls itself the Royal Canadian Circus and Shrine Circus). After PETA sued the FWS, Hawthorn stopped getting such permits.
PETA hit the FWS with another lawsuit for issuing permits to Tarzan Zerbini that had allowed it to export and re-import endangered Asian elephants for its Canadian circus tour. The permits were subsequently suspended. Tarzan Zerbini is touring Canada this year without any wild animals and is touting record-breaking ticket sales.
Best yet, no circus in Canada is traveling with wild animals this year. And Mexico has banned the use of wild animals in circuses.
The days of hauling wild animals from one venue to the next are quickly coming to an end. In addition to Ringling's demise, Cole Bros. Circus went dark and Carson & Barnes canceled its summer tour. New York City and Los Angeles approved bans on wild-animal displays, California and Rhode Island have banned painful bullhooks, and more than 600 malls in the U.S. now ban wild-animal exhibits.
What You Can Do
Tell UniverSoul Circus that its days are numbered unless it gives up its cruel animal acts.