What do you see when you look at a purse or a watchband made of alligator skin? There's a huge disconnect, as shoppers buy these accessories without thinking of the animals who suffered and died for them. Buying a crocodile-skin Birkin bag or any animal skin is paying for cruelty. This PETA investigator worked undercover on an alligator factory farm to show you the real story behind these horrid handbags.
PETA Eyewitness Exposes the Cruelty of Wearing Alligator Skins
"All I can see is the reflection of light in the eyes of alligators, languishing in the shadows."
Each building on the farm contained dozens of small, dark rooms with 100 or more alligators each. The investigator described the warehouse as "eerily quiet," although there are thousands of animals inside. In nature, alligators are very vocal, using many calls to mark their territory or find a mate. But as the PETA investigator walked down the main hall, he heard no noise—not even cries from the distressed animals. 
What is an alligator farm like? "In one word: disgusting."
Alligators used for their skin spend their lives in crowded, dark pits before workers callously kill them on industrial farms such as this Texas supplier of Hermès. At only 1 year old, they're slaughtered and left to die in bloody ice bins. When mechanical stunners such as bolt guns failed, PETA's investigator saw workers stab and cut into the spines of alligators who were still conscious.
Not only are alligators able to feel pain, the ones on the farm also continued to flail their legs and tails for minutes after their attempted slaughter. These sensitive, intelligent animals experience an almost unimaginable amount of suffering on industrial farms.
"I work 10 hours a day, standing in a pit of murky, brown, putrid water, surrounded by alligators."
Alligators are meant for life in the water. Their strong tails and webbed feet help them glide through rivers and marshes. These aquatic animals can swim great distances in their natural environment—but in warehouses, they're crammed into small rooms. Uneaten feed and fecal matter rotted in the stagnant water in a heartbreaking scene of neglect.
PETA's investigator, who spent two months on the job, handled alligators before they were killed. His 10-hour shifts consisted of standing in a dark pit and feeling around for alligators in the filthy water. With his senses on high alert, he had to lift animals out of the water and carefully grasp and carry them—all while trying to prevent bites and whips from their strong tails.
The work was painful for the PETA eyewitness, too, who had to soak his hands in ice every day at lunch—just to continue documenting the farm's filthy conditions.
"The putrid, rotted smell is so overpowering, it is difficult to stop my natural gag reaction."
The "smell coming from these pits" was worse than "the stench of the most noxious pig farm," said this seasoned investigator. He described the smell of feces as "overwhelming," even though he is accustomed to the smell of animal waste. Why did he stay?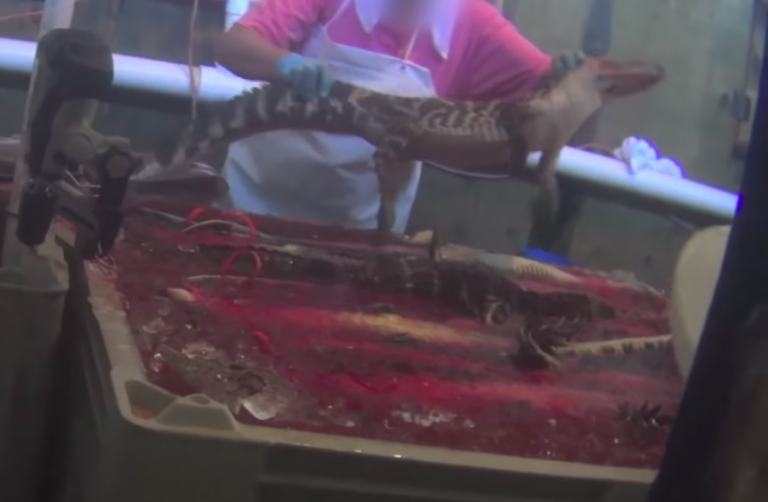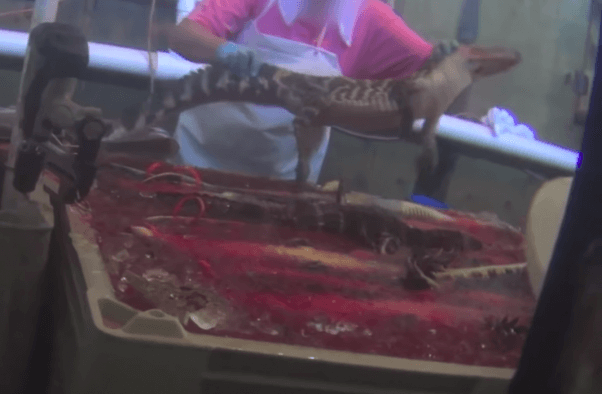 "I realize that someone has to do this job so that the suffering of these alligators can be exposed."
What kept this PETA investigator going was "watching alligator farm coworker after coworker walk off the job, some after only a couple of hours, because of how disgusting and dangerous" the conditions were. He bravely stayed—despite the physical pain of bites and the mental agony of seeing the slow deaths of alligators—so that PETA can topple the exotic-skins industry.
His commitment to alligators was rewarded with huge PETA victories after the video footage was released. The parent company of Tommy Hilfiger and Calvin Klein announced that it would ban exotic skins from all of its fashion brands. Just a few weeks later, retail giant Nordstrom also decided to stop selling exotic skins. This PETA undercover investigator's commitment to the job has prevented countless alligators from being killed in the fashion industry.
Never Buy Leather of Any Kind
Faux is the way to go! Check the labels to make sure your wallets, watchbands, and other accessories aren't made of any type of exotic skins. PETA's investigation into the biggest ostrich slaughterhouses in the world exposed workers forcibly restraining the birds, electrically stunning them, and then cutting their throats so that their skin could be used for "luxury" accessories.
Thankfully, the fashion industry is being redefined with sustainable vegan leather options that will replace animal skins—permanently. Here are some of our favorite vegan leather statement pieces.
Avoid all animal-derived materials when shopping for new clothes, bags, and accessories. Not sure how to start? Read PETA's guide to wearing vegan.
Your Actions Can Save Alligators and Crocodiles
As a conscientious consumer, you can prevent these majestic beings from experiencing the pain and trauma they would face on a farm. Female alligators are devoted mothers who stay near their nests for over two months while waiting for their eggs to hatch. They protect the newly hatched alligators and nurture their young for a year.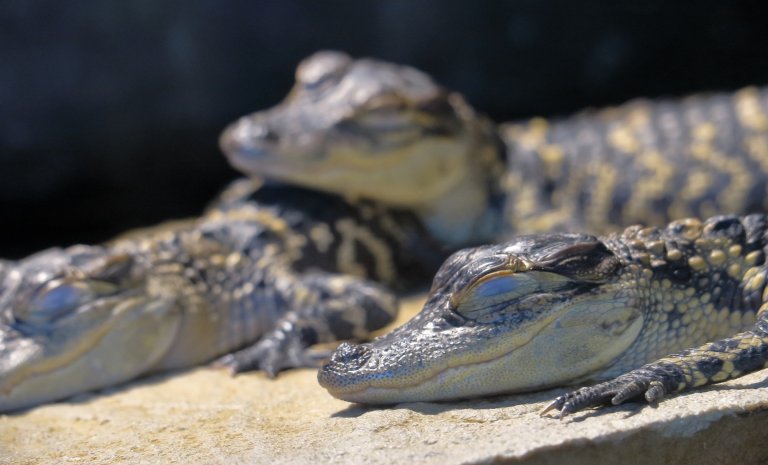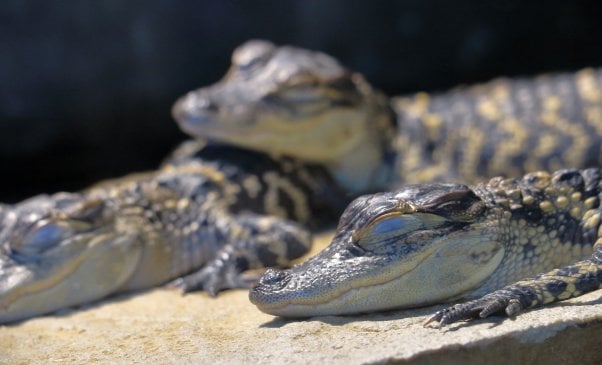 Your voice makes a difference. Please speak out for crocodiles and alligators, curious and sensitive animals who just want to be left alone to swim free and protect their young: