On the heels of Canada's vote to ban whale and dolphin captivity, actor Alec Baldwin is speaking up for captive cetaceans in the U.S. by asking SeaWorld to stop using dolphins in cruel circus-style acts, which includes standing on their faces.
Yes, you read that right. In 2019 in the United States of America, it's still legal to use dolphins as surfboards.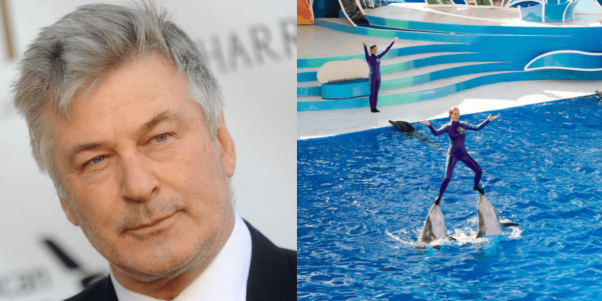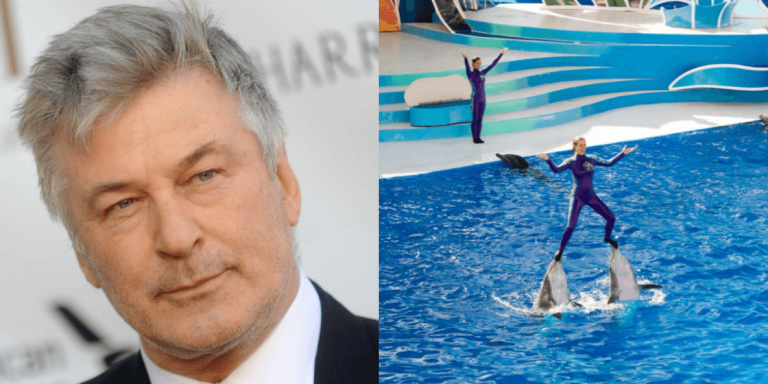 Left: © StarMaxInc.com Right: ©dreamstime.com/Izanbar
Baldwin is asking SeaWorld executives the following question on PETA's behalf at the company's annual online meeting on Wednesday:
Hi. My name is Alec Baldwin, and I have a question on behalf of PETA.

PETA's new report on the suffering of dolphins at SeaWorld reveals open wounds and extensive scarring on their faces and bodies, but trainers still use them as surfboards anyway, riding on their backs and standing on their faces in demeaning circus-style shows. Allowing trainers to "surf" on dolphins' backs or pose on their faces puts their health and welfare at risk. Dolphins don't naturally let humans do these things. This cruel treatment offers absolutely no educational value to the public. It also sends a harmful message to children about the acceptable treatment of animals.

My question is this: When will SeaWorld stop allowing trainers to use dolphins in harmful circus-style shows that display cruelty, such as riding on their backs and standing on their faces, disguised as entertainment?
As a father of five, Baldwin—who has a long history of speaking up for marine animals—has said that he will never take his family to SeaWorld. In 2013, he and his wife, Hilaria Baldwin, sent a letter urging Macy's to pull the plug on SeaWorld's float in its annual Thanksgiving Day Parade. He also wrote a letter on PETA's behalf urging his hometown of Massapequa, New York, to block a bid by SeaQuest—the notorious aquarium and petting zoo chain—to open a new location there. The company eventually withdrew its application (#WinForAnimals).
How Can You Help? Demand Better From SeaWorld
Join PETA, Blackfish director Gabriela Cowperthwaite, and cetacean behavioral biologist Dr. Toni Frohoff in calling on SeaWorld to stop abusing dolphins by allowing trainers to ride on their backs and stand on their faces in these circus-style shows. All you have to do is click on the button below.