VICTORY UPDATE: After intensive campaigning by PETA and tens of thousands of activists who sent e-mails, Air Transport Services Group (ATSG) has told PETA that it is ending the transport of monkeys to laboratories!
Originally posted January 8, 2015:
Following successful PETA campaigns, nearly every major airline in the world has stopped shipping monkeys to laboratories, where they're tormented. So labs are resorting to paying a much higher price to hire charter airlines to transport these sensitive and intelligent animals to their deadly destinations. And these careless airlines are racking up numerous, repeated violations of the Animal Welfare Act.
As reported in The New York Times, in the most recent occurrence, Air Transport International (ATI), a subsidiary of a charter airline company called Air Transport Services Group, was transporting 1,148 monkeys from China to laboratories in the U.S. in December when it was cited by the U.S. Department of Agriculture (USDA) for several violations. The inspector noted that monkeys were denied food and water for more than 24 hours and that the airline failed to obtain documentation verifying that the monkeys had received food or water before transport.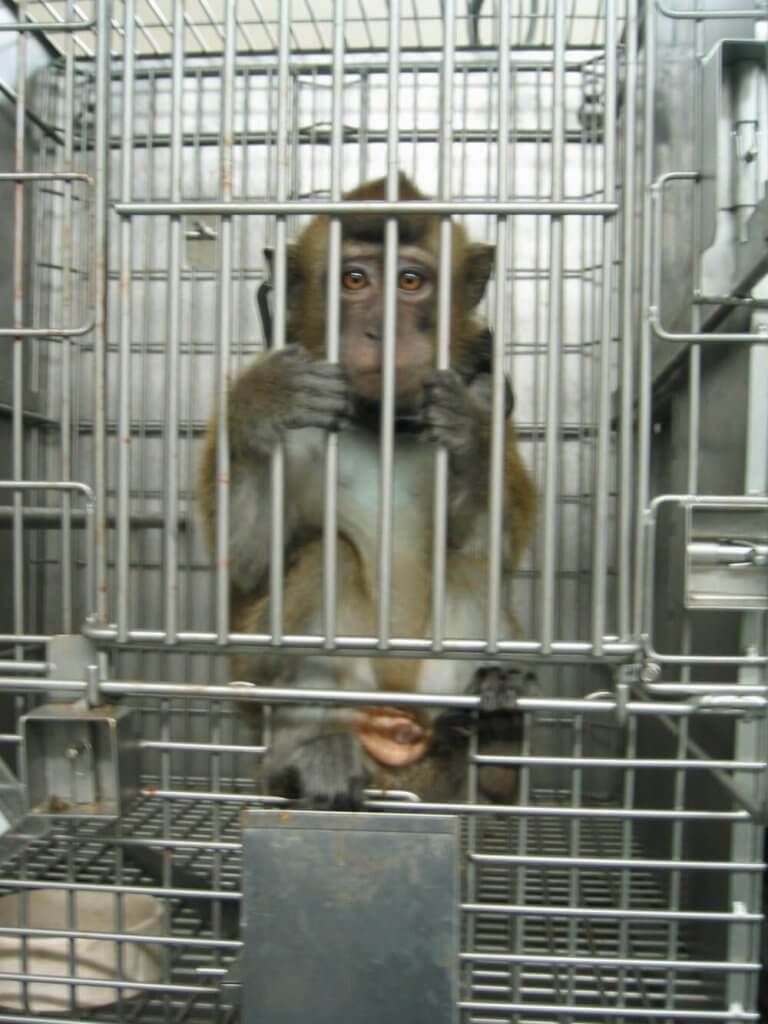 The inspector also cited the airline for deficiencies in two of the crates that allowed the animals to extend their limbs outside, which could have resulted in injuries, and for fluids leaking from several crates, meaning that—since they were not given any water to drink—the animals were likely forced to make the long journey sitting in their own waste and possibly the waste of other monkeys.
Earlier this year, the airline was cited for illegally transporting thousands of monkeys without a federal license to do so and for not providing monkeys with food or water for as long as 32 hours. It was also cited for an incident in which a bloodied monkey was cut multiple times on his face by a piece of a sharp metal that had become detached from his crate.
ATI has been shipping thousands of monkeys from China to laboratories in the U.S. to be imprisoned, cut into, poisoned, crippled, deprived of food and water, addicted to drugs, infected with deadly diseases, and killed.
PETA has contacted the USDA and asked the agency to take swift action against ATI. Please take a minute of your time to urge ATI and its parent company to join nearly every other airline in the world and stop accepting blood money for transporting primates to laboratories.