"SeaWorld … BLOWS." That's why PETA is gifting this year's top 2022 Oscar® nominees an inflatable orca emblazoned with that message. The orcas will be included in the "Everyone Wins" Nominee Gift Bags—given independently to top Oscar® nominees by premier marketing agency Distinctive Assets—along with an "Empty the Tanks" waterproof bag for fun trips to the beach or pool. The VIPs—including Will Smith, Jessica Chastain, Javier Bardem, and Penélope Cruz, among others in the acting and directing categories—will also receive a prestamped postcard to send to SeaWorld's CEO, letting him know that his company must stop forcibly breeding dolphins and whales and retire the marine mammals to seaside sanctuaries.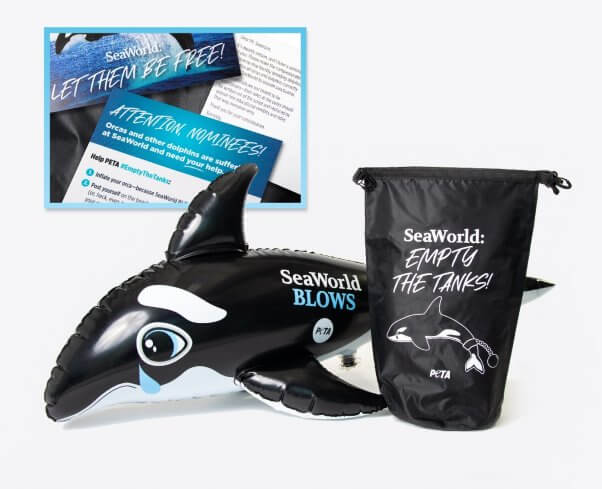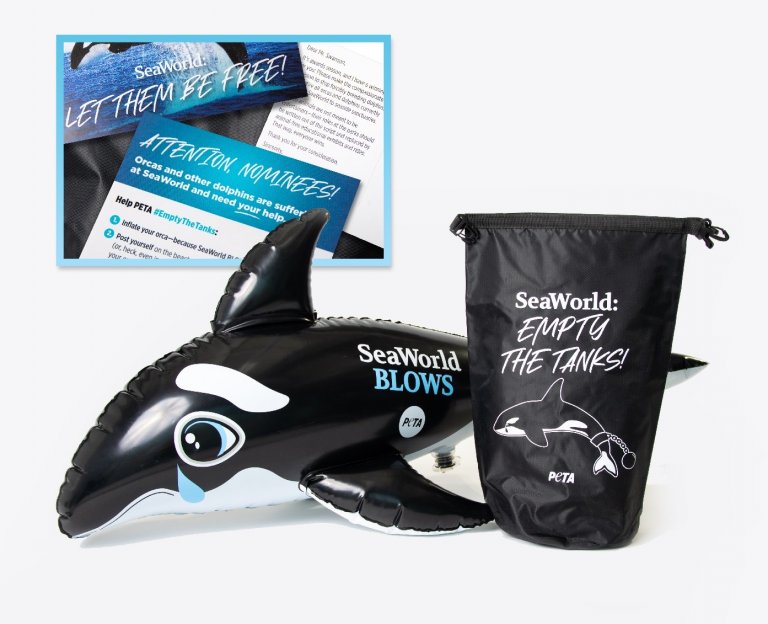 This year, PETA is joined once again by the gift guru himself, Lash Fary of Distinctive Assets—the man behind these exclusive gift bags—to shed light on the horrors of these abusement parks.
In nature, beluga whales and bottlenose dolphins maintain dynamic relationships with large social networks, choose their own mates, and swim free in the ocean. As captives at SeaWorld, they're used as breeding machines to create generation after generation of animals who are also imprisoned for life in small concrete tanks. More than 40 orcas and over 300 other dolphins and whales have died at SeaWorld, many prematurely.
Although SeaWorld ended its sordid orca-breeding program, the company continues to sexually abuse dolphins. Unwilling male dolphins are masturbated, and females are torn out of the water and sometimes drugged so they can't fight back while staff members shove tubes filled with semen into their uteruses. Some dolphins endure this process repeatedly—only for their babies to die or be shipped off to other SeaWorld parks.
Many celebrities have used their platforms to speak out about SeaWorld's cruelty, including Pamela Anderson, Bob Barker, Bella Thorne, and Lily Tomlin. We hope PETA's gift inspires more compassionate celebrities and their fans to boycott SeaWorld.
Tell SeaWorld how you really feel about its treatment of dolphins and other marine animals. You can join the top Oscar® nominees in urging the company to stop breeding dolphins and whales. Ask that the long-suffering captive marine mammals be moved to seaside sanctuaries where they can thrive in the rich diversity of the sea while still receiving the care that they require.
Note: The "Everyone Wins" Nominee Gift Bags are NOT affiliated in any way with the OSCARS® or the Academy of Motion Picture Arts and Sciences, which does not award, sponsor, endorse, or provide these gift bags. Neither the Academy nor Distinctive Assets wants there to be any association between the "Everyone Wins" Nominee Gift Bags and the OSCARS® or the Academy.