This year's Iditarod will mark the race's 50th anniversary …
… but there's nothing to celebrate about 50 years of running dogs to their deaths.
Since the Iditarod began, more than 150 dogs have died while being forced to run about 1,000 miles—100 miles a day—through biting winds, blinding snowstorms, subzero temperatures, and treacherous ice. The leading cause of death for dogs on the trail is aspiration pneumonia—caused by inhaling their own vomit—and many more die in other horrific ways, including asphyxiation, heart attacks, trauma from being struck by a vehicle, freezing to death, and excess fluid in the lungs.
Those who survive don't fare much better: Up to half the dogs who start the race don't even finish it because of extreme exhaustion, illness, injury, and other causes. During last year's Iditarod, nearly 200 dogs were pulled off the trail, forcing the remaining ones to work even harder.
The dogs' suffering doesn't end when the race does. During the off-season, dogs are kept in grotesquely cruel conditions and are subjected to neglect and abuse.
PETA's exposé of dog-sledding operations owned by Iditarod mushers revealed that arthritic, crippled, and injured dogs were denied veterinary care; chained dogs had worn-down, raw, and bloody paw pads from frantically running in tight circles around the plastic barrels that were their only "shelter" in below-freezing cold; and dogs were dragged and injured, even killed, during training.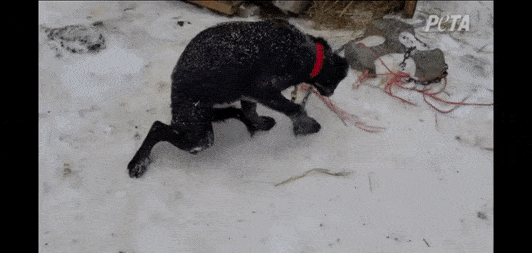 Sports constantly evolve: Women weren't allowed to compete in the marathon event at the Olympics until 1984; the Tokyo Olympics just added sports such as skateboarding, surfing, and karate; and the horse-riding portion of the pentathlon is being replaced with cycling after a competitor was caught on camera whipping a horse.
Times are changing, and the Iditarod is running itself into irrelevancy by clinging to its speciesist tradition of abusing animals for entertainment.
PETA's in a Race of Our Own—to End the Iditarod
PETA has kept the heat on the Iditarod through passionate demonstrations.
ad campaigns…
…action alerts, and more.
Spectators nowadays don't want to support industries that abuse animals, and it shows. Following pressure from PETA along with countless supporters, many companies have cut ties with the Iditarod, including ExxonMobil, Coca-Cola, Jack Daniel's, Chrysler, Wells Fargo, and Alaska Airlines. And we won't stop until this cruel and deadly event is left in the dust.
Forcing Dogs to Race to Death Isn't a 'Sport'—Help PETA End the Iditarod!
The deaths of dogs during the Iditarod are so routine that the official rules deem many of them an "Unpreventable Hazard." But these fatalities can be prevented—by ending the race altogether.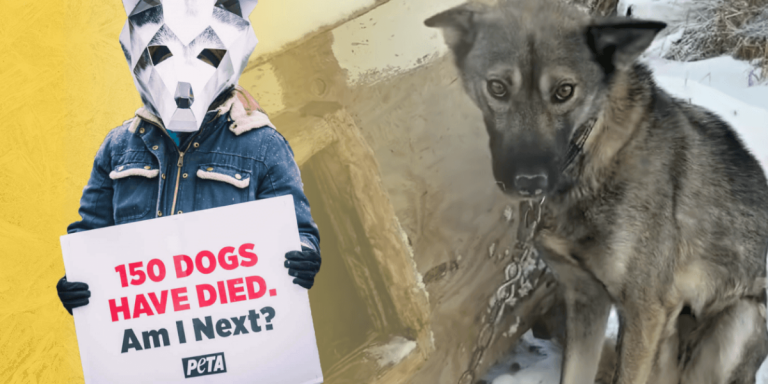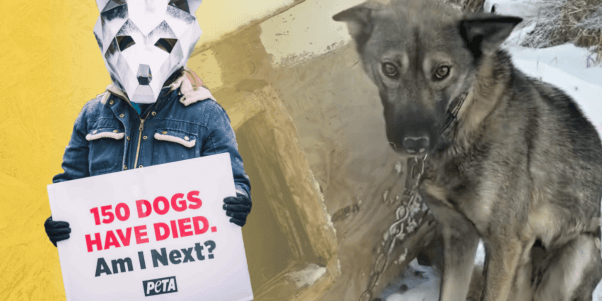 You can learn more about PETA's work against the cruel Iditarod here. You can take a stand against the event by purchasing PETA's spoof Iditarod merchandise and by taking action below: