Over 60 years ago, the National Institutes of Health (NIH) established the flagship National Primate Research Centers (NPRCs) to become a major source of U.S.-bred primates for use in experiments. In these facilities—the California NPRC, Oregon NPRC, Southwest NPRC, Tulane NPRC, Washington NPRC, Wisconsin NPRC, and Yerkes NPRC—monkeys have been torn away from their mothers as infants, raised in complete darkness, restrained for hours at a time in psychological experiments, infected with lethal diseases, mutilated in experimental surgeries, and more. Many have spent decades alone in cages barely bigger than their bodies. All this torture is because of the misguided idea that tormenting them will give us insights into how our bodies work. Considering just how biologically different monkeys are from humans, it's not surprising that none of the promised vaccines for COVID-19, HIV, malaria, or tuberculosis have materialized at any of the centers.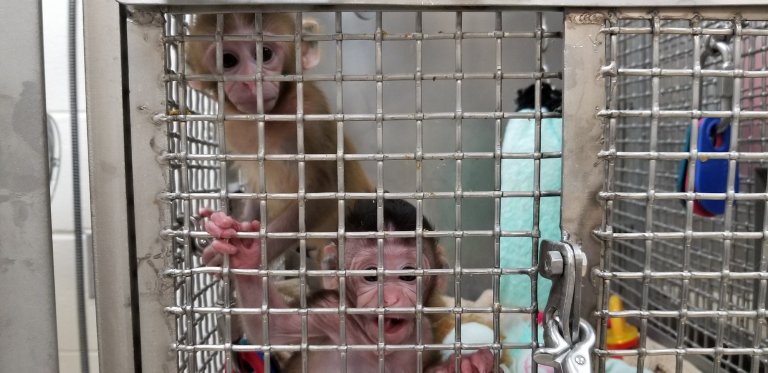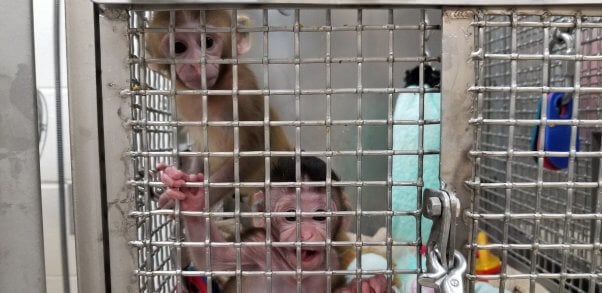 Using other primates to address human health concerns is a failed paradigm. In 2013, NIH finally admitted that experiments using chimpanzees—our closest living relatives—had failed to advance our understanding of infectious diseases and ended them. In 2015, Harvard University closed the New England Primate Research Center in the wake of serious and chronic animal welfare violations and the difficulty of providing monkeys in laboratories with even a modicum of humane treatment. It's time for NIH to cut its losses and close down all the NPRCs.
Please tell NIH to close down its

seven

cruel NPRCs with these

seven

easy steps:
1.

Call NIH's director.
Take a minute to call NIH Interim Director Lawrence Tabak at 301-496-4000 and politely urge him to close down the NPRCs. Feel free to use some of our talking points:
Monkeys are not good models for human illness. They are not miniature humans.
The money currently being directed toward supporting the NPRCs should be redirected toward cutting-edge, human-relevant, non-animal research.
Please close down the NPRCs, retire the animals to reputable sanctuaries, and allow them to have the kind of life that they so richly deserve.
Let Us Know How Your Call Went
2.

Contact NIH's director on Facebook and Instagram.
Write a brief, polite comment urging Tabak to close down the NPRCs and post it to NIH's Facebook page and Instagram page.

3.

Contact NIH's director on Twitter.
The NPRCs' painful and deadly vaccine experiments on tens of thousands of monkeys haven't led to any vaccines for humans against MERS, tuberculosis, malaria, AIDS, or COVID-19. Monkeys aren't humans, and using them as stand-ins doesn't work. Please tweet at NIH (@NIH) and Tabak (@NIHDirector) and ask that they close down the NPRCs.

4.

E-mail the agency.
Use the buttons below to send e-mails to NIH officials, calling for the immediate closure of the Washington NPRC, the Oregon NPRC, and the Wisconsin NPRC and the release of the monkeys to appropriate sanctuaries.

Close Down the Washington NPRC
5.

Share this video with your friends and family members, and post it on social media.
Information is power, and in this two-page report, PETA summarizes the indisputable and staggering failures of the NPRCs—and calls on NIH to stop funding these moral and scientific disasters.

7.

Tell Congress to fund modern research methods instead of cruel experiments on animals.
We need lawmakers to understand how much money NIH currently wastes funding the NPRCs. Please send a polite e-mail to your members of Congress urging them to mandate that NIH stop squandering taxpayer dollars on cruel, useless animal experiments and instead focus on modern, non-animal research methods.