Update (April 13, 2023): We did it! Following a PETA campaign lasting over 17 months, the University of Tennessee Health Science Center (UTHSC), which oversees the College of Medicine (UTCOM), wrote to us announcing an end to UTCOM's use of live animals in surgical and emergency medical residency training programs on its Chattanooga campus.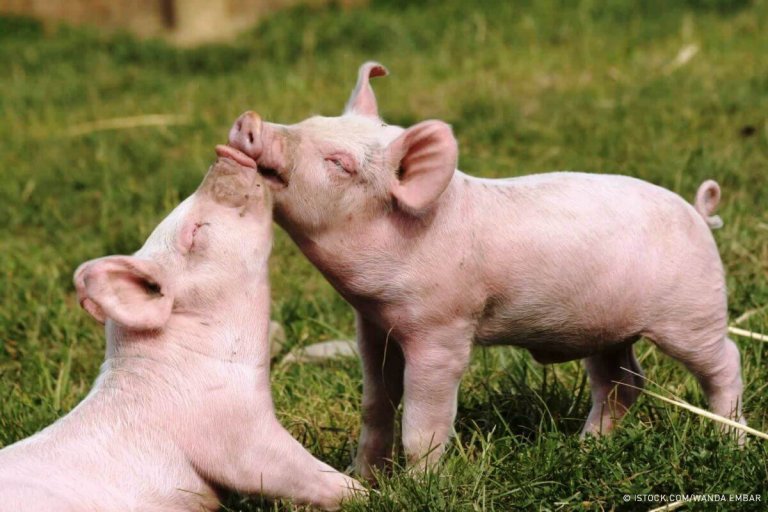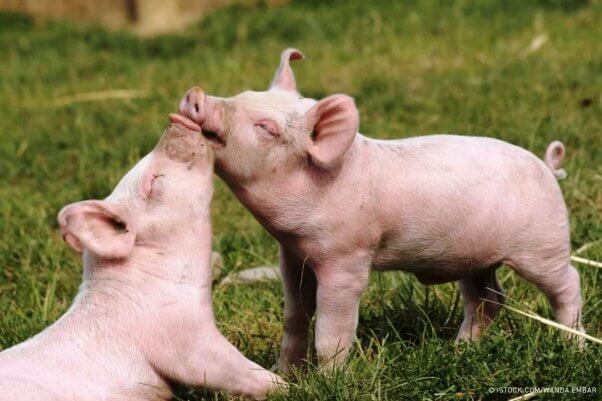 The decision came after more than 97,000 PETA supporters wrote to university leadership urging an end to medical training drills in which pigs were mutilated. Among other campaign actions, Emmy Award winner and star of Babe James Cromwell wrote to UTHSC Chancellor Peter F. Buckley; PETA sent complaint letters to University of Tennessee (UT) System President Randy Boyd, Buckley, and his predecessor; PETA representatives confronted Buckley along with other UT officials at campus events and spoke at UT Board of Trustees meetings in February 2023 and October 2022; and we ran an eye-catching full-page ad in the Commercial Appeal, the most widely circulated newspaper in the Mid-South U.S. Last year, after hearing from us, UTCOM's hospital partner, Erlanger Health System, announced a new policy banning its staff—and its emergency medevac provider, LIFE FORCE—from participating in live-animal medical training drills, including those at UTCOM.
"Over the past year, we have had the opportunity to evaluate the continuing use of live animals in these surgical and emergency medical training programs and we have concluded that this will no longer be a necessary component of this training." —Peter F. Buckley, M.D., Chancellor, University of Tennessee Health Science Center
We're thrilled that UTCOM is doing right by pigs, physicians, and patients by ending its gruesome surgical and emergency medical training drills in which live animals were mutilated.
Now, urge Oregon Health & Science University to stop using live pigs as stand-ins for humans in its obstetrics and gynecology residency training program's practice surgeries and switch to more effective human-patient simulators:
---
Original post:
PETA has learned that the University of Tennessee Health Science Center (UTHSC) College of Medicine (UTCOM) is mutilating live pigs and using them as stand-ins for bleeding and critically injured humans during emergency medical training. Unlike the humans they replace, all the pigs who live through the training sessions are killed at their conclusion.
Studies have shown that the best available emergency medical training comes from non-animal human simulators. By using pigs, UTCOM personnel are receiving inferior training. Why? Pigs' anatomy and physiology are vastly different from those of humans—their skin is thicker and their blood takes longer to coagulate, for example—which makes maiming pigs irrelevant to human emergency medicine.
Emergency medevac provider LIFE FORCE—based at Erlanger Health System, which is UTCOM's teaching hospital partner—participated in these training sessions at UTCOM. Its employees had to practice invasive procedures on live pigs—including IV insertion, oral intubation, and chest tube insertion—or risk losing their jobs. PETA received information that LIFE FORCE staff described the training as a "waste of time" and "cruel and misguided."
But after pressure from PETA and more than 75,000 of our supporters, Erlanger Health System announced a new policy banning its staff from participating in training that uses animals.
"Erlanger's policies and procedures do not include the use of live animals for any purpose including training. … To further support this endeavor of utilizing high-fidelity simulation models, Erlanger recently opened a new simulation lab for training which features six of these simulation models ranging from newborns to adults." —Blaine Kelley, Public Relations Manager, Erlanger Health System
But UTCOM continues to be on the wrong side of history. Worldwide, this type of bloody training is the exception, not the rule. For example, in 2017 the U.S. Coast Guard, following a PETA eyewitness investigation and extensive discussions with us, ended what the agency's leader at the time called "abhorrent" trauma training on animals in favor of advanced human-simulation technology. More than 70% of NATO nations now provide military medical education without harming any animals, and more than 97% of emergency medicine residency programs in the U.S. and Canada don't use any animals for training purposes.
PETA sent a letter to UTHSC Chancellor Peter Buckley—and Emmy winner and star of Babe James Cromwell sent a letter to him as well—demanding a switch to more effective, ethical, non-animal training methods. Buckley replied that he would "check into this going forward" but has not yet taken further action.
We also wrote a letter to University of Tennessee System President Randy Boyd and the University of Tennessee Board of Trustees pointing out that UTCOM's use of animals appears to be a blatant contradiction of UTCOM-Chattanooga's claim that animals aren't used in its emergency medicine residency training. Furthermore, we cited an internal e-mail in which UTCOM leadership acknowledges that the public's discovery "that [UTCOM is] still using animals … will be very damaging to the College of Medicine and [its] credibility."