Top 10 Products to Stock Your Desk With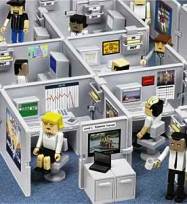 The following are my top 10 picks for things to have on or in your desk to help you through your busy day:
1. Aromatherapy. Spending all day under fluorescent lights, responding to high-importance e-mails, tackling big projects, and prepping for important meetings can all take a toll on your emotional well-being. To help ease stress throughout the day, try small amounts of aromatherapy. You can find great essential oils from Aura Cacia, and you might also look at these Instant Aromatherapy roll-ons from Bath & Body Works.
2. Lip balm. No matter what the season, external elements can take a toll on your lips, but so can the continuous exposure to air conditioning and heating in your office. I always keep some vegan lip balm handy in my desk drawer. A personal favorite of mine is the Viva Las Vegans lip balm from the PETA Catalog.
3. Dental-hygiene gear. Spinach salad covered in garlicky vinaigrette for lunch, anyone? Stashing a travel toothbrush, some toothpaste, and floss in your desk can get your chompers and breath back under control after a potent lunch, and it's just a really nice thing to do for your teeth anyway! Try easy-to-find and cruelty-free dental care products from Tom's of Maine.
4. Lotion. If you sometimes glance down at your hands when hitting Ctrl-Alt-Delete on your keyboard and notice that they have begun to look a little reptilian, consider keeping some lotion at your desk. I have a pretty pump-bottle of lotion at mine, and I offer it freely to coworkers. Check out The Body Shop's lovely fragranced Japanese Cherry Blossom pump lotion.
5. Emergency nail kit. It's always great when you get a hang nail at work and then you forget about it, scratch your leg, and tear a nice run in your nylons, isn't it? Well, with a little preparedness, you can prevent both. Keep a nail file on hand and some clear polish in case you get a run in your hose. Check out Revlon's beauty tools and nail care products.
6. Shine-erasing paper from e.l.f. I have combination skin and get a bit shiny as the day goes on, but these wonderful shine-erasing papers from e.l.f. work their mattifying magic every time. At $1 a pack, you can have one at home, one in your bag, and one at your desk!
7. Girl-power kit. For the ladies, it's good to be prepared for the unexpected—and also for when your female coworkers are unprepared. I like to keep some extra feminine-hygiene products (try Natracare) on hand as well as some herbal tea bags from Yogi Tea to help with PMS symptoms.
8. Fun pens and office supplies. I find taking notes in pink and purple more fun, so I am sure to stock up on awesome products from cruelty-free office-supply company Pilot.
9. Nonperishable single-serving condiments. Fight Club and Choke author Chuck Palahniuk would be impressed with my collection of single-serving items. In my desk, I keep a small stash of single-serving packs of salt, pepper, red pepper flakes, and often some nutritional yeast to jazz up my lunch.
10. A copy of the "Vegetarian Starter Kit." Because I work at PETA, people typically don't come up to my desk while I am eating lunch to discuss going vegetarian, but if you do work at an office where people seem to want more info on what vegetarians eat, it's helpful to have a quick reference guide with recipes to pass on to them.
Tell us about the items you love to keep in your desk!
Respond